Ricciuti tackles Spartan races, mud runs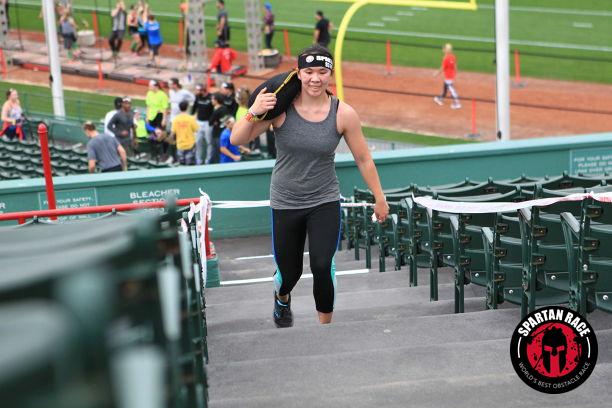 Scaling walls, dragging heavy weights and scrambling under barbed wire may not sound fun to many, but for senior Teresa Ricciuti it's a fun way to work out. Since the summer of her sophomore year, Ricciuti has competed in seven Spartan races.
Spartan races are run on a variety of courses and involve long endurance running and sprinting while completing a series of obstacles similar to those on the show "American Ninja."
"I had recently quit gymnastics and I started watching this show called 'Spartan Episode Team Challenge,'" Ricciuti said. "I was intrigued by the extreme obstacle courses and the challenging ways people strengthened their bodies."
According to Ricciuti, finding a class to focus on ninja training was difficult until she found Eric Matta, the co-founder of Ultimate Obstacles in West Boylston and Spartan SGX coach.
"A lot of the training we do focuses on running technique, heavyweights, full body and grip strength workouts," Matta said. "At the gym, there's a workout space, but eighty percent of the gym includes ninja warrior obstacles."
According to Matta, the sport leads to inherent risk, and Ricciuti herself has experienced injuries in her back and knees. While training Ricciuti focuses on strengthening the weaker muscles in her body while also taking time to heal her body after any injuries.
One of the first races Ricciuti competed in was a Stadium Sprint at Fenway Park.
"The race was three miles sprinting up and down stairs and between bleachers," Ricciuti said. "It also required athletes to carry heavy bags, like sandbags and water jugs. It wasn't too intimidating and it was a good introduction to the sport."
As stated by Ricciuti, most Spartan races are in more earthy environments, like in forests and on farms, rather than stadiums.
"One of the most difficult races I have ever done was a 16 mile Beast Course in the mountains of Killingham in Vermont," Ricciuti said. "The race had portions of running, swimming and obstacle courses. In this race, everyone dies of exhaustion, but at the end of the race it is such a rewarding feeling."
Spartan Races have various difficulty levels and Ricciuti plans to keep competing in the future. She wants to strengthen her skills and challenge her body in hopes of one day competing in "American Ninja Warrior" herself.
"Not a lot of kids Teresa's age would take part in an activity like this," Matta said, "I think it's a neat sport to challenges your body in new ways. Teresa is one of those people who like to push what she can do."