Uchida takes talent to television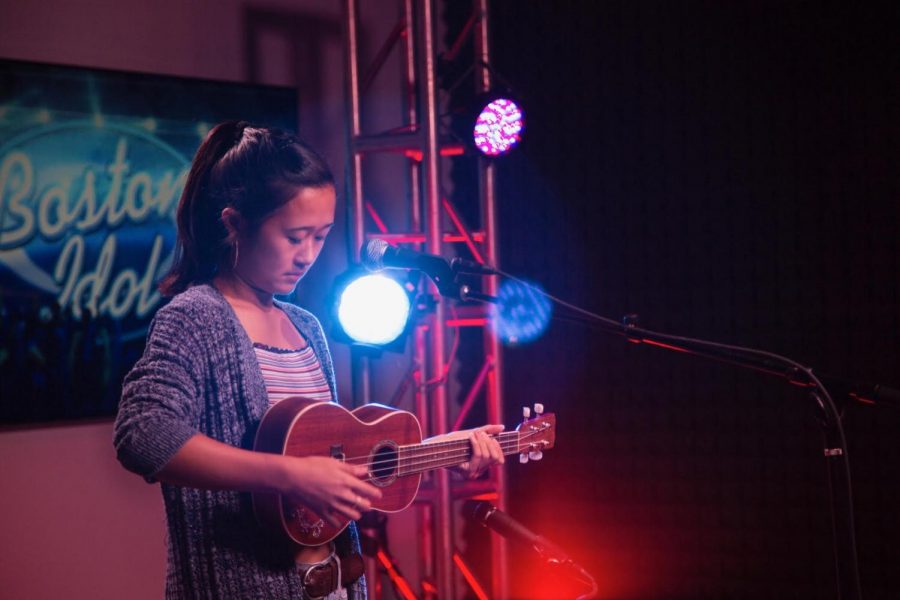 Junior Liliko Uchida has no fear when it comes to expressing her musical talents, even on television. She recently competed on Boston Idol, a singing competition, where she sang an original piece accompanied by her ukulele.
Boston Idol was a singing contest where people ages 15 to 28 could send in videos of themselves singing, and then ten finalists were chosen. The grand prize winner received a "Silver Ticket" to an audition with the executive producer in one of American Idol's celebrity judge audition cities.
Uchida has enjoyed singing, songwriting, and performing on stage for a majority of her life.
"I think the first time I performed was in a kindergarten talent show and ever since then I really liked singing on stage, so I decided to do it more," Uchida said.
Uchida said she took an exciting approach to her Boston Idol audition unlike her other performances..
"It was actually kind of spontaneous," Uchida said. "I didn't really tell my parents, I just sent in a video cause I knew if I told them they'd be like 'No you have to do it this way,' and I hate that so I kind of just sent it in."
After being selected as one of the ten finalists, Uchida went into a Boston studio where they filmed her singing.
"It was more confusing than it was nerve-racking," Uchida said. "I don't think I was ever nervous. I was just excited and confused because what you see on TV is very different from what actually happens, so I think being able to see that was really cool for me. I also didn't go to win I just went for the experience and I think I got that."
The competition was broadcast on WCVB-TV.
Sophomore Karmyn Shreeve is also into singing and music, and has formed a bond with Uchida over their common interest.
"I honestly really wasn't surprised [Uchida was a finalist]", Shreeve said. "I was really excited for her to go. I hope that her music career will really grow. This is a great first step because she really deserves it and has been working hard…She's really into music and you can tell."
Music is something Uchida really enjoys and she does see it in her future, but not as a full time career.
"I don't think I want to make it as my career unless I get lucky, which is really hard to do so I would like to be able to incorporate it into other things," Uchida said. "When I was younger I wanted to be a doctor and sing at the Children's Hospital, but I'd rather incorporate it into my job than make it my job. I think it's a nice hobby to have but I don't want it to become something stressful for me."