Girls' rugby remains undefeated through practice, hard work
Hang on for a minute...we're trying to find some more stories you might like.
With a majority of the team being completely new to the sport, girls' rugby sees their hard work being paid off during their first season as an MIAA sport as they are currently undefeated.
While almost half of the girls on the team's starting lineup are new players, countless practices and advice from senior co-captains Maddie Scott and Sam Dickie have prepared them for games
"They have really stepped up, and it seems like they have been playing for longer," Scott said. "There is so much potential and they are really living up to the potential that they have."
Sophomore Lydia Grist started playing this year and has found it difficult to learn all of the rules and regulations.
Coach Emily Philbin believes the addition of new players will have a positive effect on the program in the long run.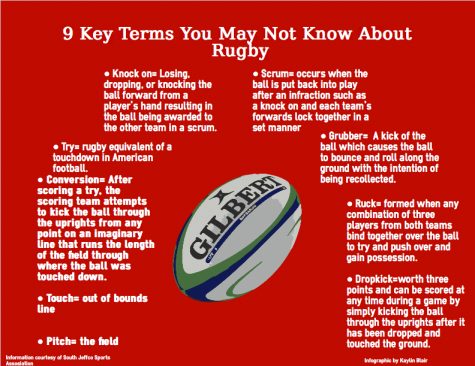 Infographic Kaylin Blair
Although some people believe rugby is more dangerous than other sports, other than having  to persevere through a few minor injuries, the team has managed to stay safe and healthy.
"Safety is a really big factor in the program and in the game so there really aren't that many injuries, or not nearly as many as people think because there is a big emphasis on safe tackling," Scott said.
According to Philbin,  technique is also heavily exercised in rugby.
"Everyone thinks that you just crash into each other like it's this crazy animal sport where everyone is just jamming into each other, but it requires athleticism," Philbin said.
Many misconceptions skew the image of rugby.
"We're actually really nice," Grist said.  People think we're tough because we hit each other in the games."
"There's a lot of honor and respect between opponents," Scott said.
The goal of the team this year is to win the League Title, and they are hoping to go far in the postseason.