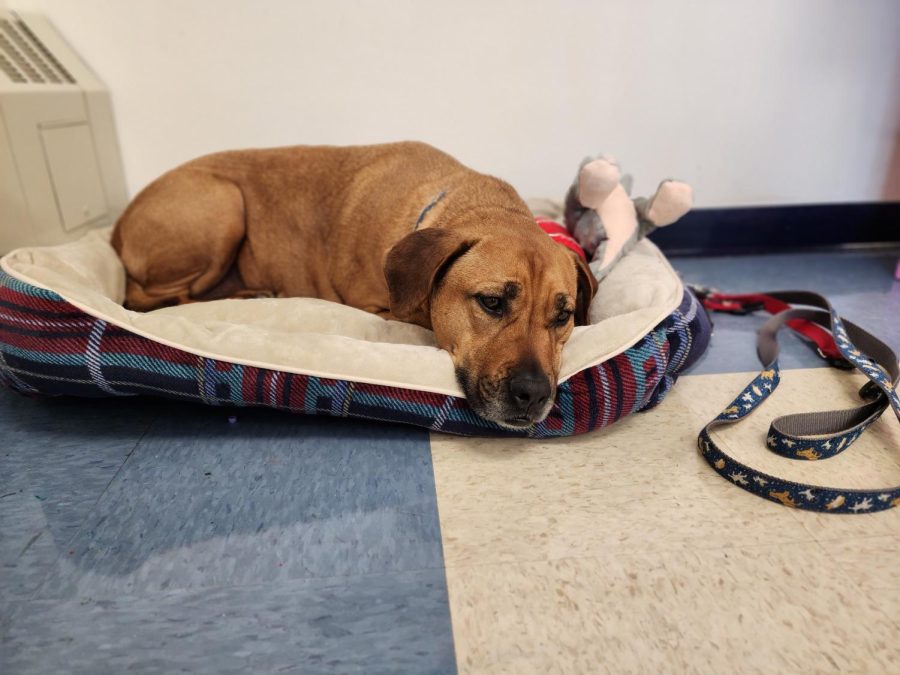 Maple Jane
American Mutt, six year old Maple Jane, has recently gone through therapy dog training in order to accompany art teacher Rebecca Duffy on Tuesdays in her classroom, C206. 
What are Maple Jane's hobbies or secret talents?
"Her hobbies and secret talents are that she never eats the kids' toys, which is pretty cool. She always knows if someone is sad. She also likes to rescue people from dancing."
What is her favorite treat?
"Milk-Bone Brushing Chews."

Does she have any bad habits? 
"Yes, she sits all over the couch and sheds, even though she has a spot to sit with her [toy] duck."
Where does she like to go on a walk?
"She is happiest here [at Algonquin] running around the Serenity Garden and just being off leash. If she is off leash on trails she tends to run after squirrels and such."
Why are you excited she is a therapy dog here?
"I think this [art] room is very project-based and self-directed, so we have a bunch of down time. A lot of my students tell me that this class is one of their calmest times of the day, so I just thought [Maple Jane] would be a nice addition."
Donate to THE ALGONQUIN HARBINGER