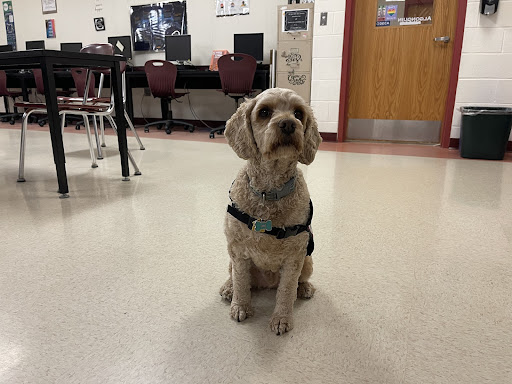 Teddy
Teddy, a Cockapoo, has become a therapy dog and will be in Applied Arts and Technology teacher Kristine Norrman's classroom in room C105 on Mondays and Thursdays.
What are your hobbies? Secret talents?
"Teddy's hobbies are chewing on doorstops, trying to get as much love as possible, and giving lick baths. His secret talents are that he can dance, high five and play dead."
What are your favorite treats? 
"He doesn't love a lot of treats. He is mainly a dog food kind of dog. He likes the Natural Balance Mini-Rewards Dog Treats. He doesn't like food that people eat."
Do you have any bad habits?
"He barks when people knock by the door, which isn't necessarily a bad habit and he jumps onto people when he's excited for some love."
What is your favorite place to go for a walk?
"Anywhere you take him. He loves running and sprinting anywhere he can like the beach. He loves to run in any wide open place without a leash."
Why are you excited to be a therapy dog?
"We just love having him in the classroom and seeing kids open up who don't normally make small talk. Students that are very quiet will come up from the back of the room and spend some time with him. It's been quite lovely."
Donate to THE ALGONQUIN HARBINGER