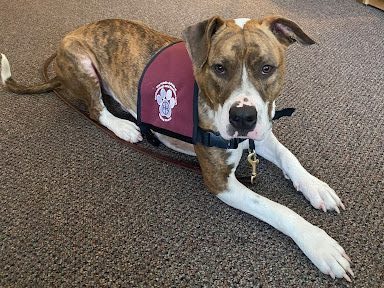 Milo
Milo, a one year old Cunucu, has enjoyed his new duty as a therapy dog since joining adjustment counselor Kelly Viera on Wednesdays in room H214. 
What are his hobbies? Secret talents?
"He loves running, we have a fenced-in backyard and he sprints around the yard. He can shake hands and he can sniff [out treats].
What are his favorite treats?
"Anything. He loves food and he's super food motivated."
Does he have any bad habits?
"He is very loud; he's vocal. He wants people to know when he's around so you might hear him barking once in a while."
What is his favorite place to go for a walk?
"He loves walking around the neighborhood, or walking anywhere. He loves to be outside and sniff things."
Is he excited to be a therapy dog?
"I think so. He has a [therapy dog] vest, and when I pull out the vest he knows we're going somewhere and will run to the door. He volunteers at the library in our town as a reading buddy, and I think he likes to come to school. When I leave in the morning and he doesn't come, you can hear him barking at the door."
Donate to THE ALGONQUIN HARBINGER