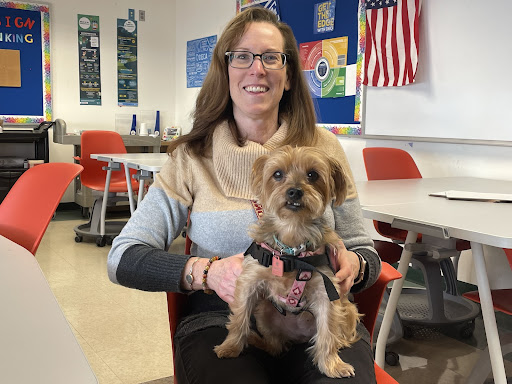 Molly
Business teacher Patricia Riley's Yorkie, Molly, has lately undergone therapy dog training to join classes on Wednesdays in E110.
What are your hobbies? Secret talents?
"She loves to sit on the couch and cuddle; her main hobby is cuddling."
What are your favorite treats?
"No hide chews. She really enjoys them!"
Do you have any bad habits?
"She doesn't like when I leave the house. She gets really lonely and sad."
What is your favorite place to go for a walk?
"Kervin Park in Pittsfield."
Why are you excited to be a therapy dog?  
"Whenever we pull up to ARHS, she gets super excited since she loves meeting new people."
Donate to THE ALGONQUIN HARBINGER