A look behind the scenes of Cirque du Soleil's 'Corteo'
Performers flew through the air, dazzling and captivating the audience at Cirque du Soleil's show, "Corteo," on Jan. 12 at the DCU Center in Worcester, with audience members unaware of the dynamics that go into staging such complex performances.
According to the DCU center, "Corteo" premiered in 2005 and has been performed for over 10 million spectators in 20 countries. The show is being presented at the DCU Center Arena in Worcester for five shows from Jan. 12 to Jan. 15, before moving to Manchester, NH. "Corteo" follows the story of a clown who imagines his own funeral taking place at a carnival as graceful acrobats, lively music and stunning costumes transport audience members to a gravity-defying world.
"In this show, you will see all of his dreams come to life," Senior Tour Director Michael Veilleux said. "You will see beautiful imagery and how it's divided between the spirits or the heavens and the lower aspect."
All the music for "Corteo" is performed by live musicians and the detailed curtains surrounding the oval-shaped stage are handmade. Audience members sit on all sides of the stage, creating a unique viewing experience. "Corteo" consists of 110 crew members, including production managers, technicians, acrobats and musicians.
"At 100 people, you need people who are willing to get the job done," Veilleux said. "We have a really, really good group here."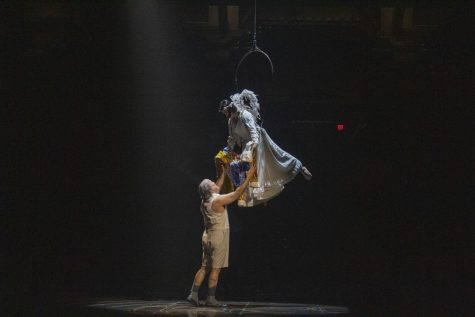 Cirque du Soleil was founded in 1984 and has over 20 different shows. According to Veilleux, it is the largest touring circus in the world and the first one to not feature animals. 
"[Cirque du Soleil is] focused on the human body and what the human body can do," Veilleux said. "When you think about it, in the '80s, this circus was street performers who started a business. They applied for a grant, and they got the grant and had just enough money to head out to LA one-way… from that point onwards, the success of the company was crazy."
The incredible displays of human skill are what draw people to touring shows like "Corteo." The pressure on its crew members is immense, but they take the challenges in stride.
"For all of us on tour, failure is not an option," Production Manager Ken Mills said. "Every night we have 3,000 to 5,000 people who pay to see the same show, like today, and our goal every single night is to give the absolute best show possible. No matter if there's 100, 5,000 or 10,000 people in the audience."
Performers must consider many factors while onstage. 
"I have to focus on my acrobatics, to set up and prepare myself," stage performer David Henderson said. "I have to be aware of the surroundings on stage, with cast members all around, doing their thing. I have to be cognizant of the audience, making sure that I'm giving you guys enough love and energy, as well as making sure that I'm in the right spot."
According to Henderson, improvisation is a necessary skill during performances. 
"As much as we can, we try to follow our pattern and our routine," Henderson said. "But in live shows, things happen. You have to roll with the punches and jump in somebody else's spot if they may not be there or get out of the way if you're in the wrong spot."
"Corteo" has performed all over the world, sometimes requiring the crew to travel to new destinations every week. They have faced difficulties along the way, but they go to great lengths to keep their audiences satisfied. 
"Sometimes we're changing countries every week," Veilleux said. "That means immigration, that means work permits; for example, when we arrived in London, the prime minister decided to leave. We still didn't have our work permits until a couple of days before the show. That's how I got most of my gray hair, and we had to call some ministers and beg for them to put our applications at the top of the piles because we wouldn't have been able to do the show otherwise."
"
Our goal every single night is to give the absolute best show possible. No matter if there's 100, 5,000 or 10,000 people in the audience,
— Production Manager Ken Mills
Both Veilleux and Mills, as well as senior publicist Alexandra Gailard, never expected to end up working for Cirque du Soleil. While Mills worked in entertainment on cruise ships before his first tour, Veilleux's original career path had nothing to do with performing.
"I was in the army, and I had just gotten out," Veilleux said. "This guy said, 'Do you want to come on tour with me?' Things worked out, and I worked my way up. I realized it's so similar to the army. You're traveling all the time, you're ready to go, you have good team spirit and a can-do attitude."
Prior to joining Cirque du Soleil, Gailard worked in the hip-hop and rap industry as a PR manager. She began working for the circus after the COVID pandemic.
"I had ten days to change my life," Gailard said. "[I thought,] 'You have to take the opportunity, improve your English in one month and be on tour.'"
Through their hard work and dedication, members of "Corteo" and Cirque du Soleil seek to impress and connect with the audience.
"It's all about human capabilities, pushing our limits, and trying to evoke emotions and provoke reactions," Veilleux said.