REVIEW: 'Only Murders in the Building' leaves viewers guessing
Hulu's murder-comedy "Only Murders in the Building" that dropped at the end of last summer became the most-watched premiere day for any comedy series in Hulu's history, which isn't a surprise due to the remarkable comedy in the series.
Created by Steve Martin and John Hoffman, the ten 35-minute episodes of season one of "Only Murders in the Building" follows three strangers who live in a New York apartment building, The Arconia. These strangers share one thing in common: a passion for true crime. They all become suspicious of the death of Tim Kono, a tenant in their building, which was ruled a suicide. Together they create a podcast titled "Only Murders in the Building" and dive deep to discover what really happened the night Tim Kono died.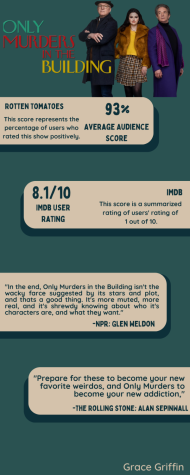 "Only Murders in the Building" (whose second season drops June 28, 2022) follows the main characters Mabel Mora (Selena Gomez) who is just visiting the Archonia before being looped into this murder mystery. Oliver Putnam (Martin Short) has dreams of being a director but isn't successful, so he jumps at this opportunity to direct the podcast. Lastly, Charles-Haden Savage (Steve Martin) is a retired actor who becomes obsessed with this mystery like the other two. Through unruly investigations these three learn what secrets hide within their building. Once they start publishing their findings on their podcast, fellow building members grow annoyed and angry with their efforts to reopen a closed case which causes an obstacle in finding out what really happened to Tim Kono.
What really brings this series together is the chemistry between the three main actors. There are no awkward jokes here; every scene flows and they balance comedy and serious mystery scenes very well. Sometimes I am just not in the mood for some shows but "Only Murders in the Building" provides the perfect blend of comedy and mystery for all of your moods! 
This new season drops the first two episodes in late June, then one episode every Tuesday, so viewers will have something to look forward to every week. What's different about this season is the addition of new actors such as Carla Delevigne and Amy Schumer, which are looped into what happens next after season one left viewers on a cliffhanger.
Have you ever watched a murder series where you know what's coming? "Only Murders in the Building" challenges you with twists you would have never seen coming and leaves you guessing, what really happened to Tim Kono.