The Great Debate: Should we return to remote learning?
February 2, 2022
Remote learning should be implemented to lower Omicron cases
Despite the large influx of COVID-19 cases so far in 2022, little change in school policy has taken place. It is time for the seriousness of this issue to be taken into account and for remote learning to be implemented.
After Algonquin went fully in-person at the end of April 2021, COVID-19 cases remained relatively stable and were quite low as the 2021-2022 school year began. However, with the Omicron variant's high transmission rate, cases skyrocketed in December and January, giving a significant need for the school to go fully remote indefinitely and let the number of cases calm down.
The hybrid learning model was put in place for the first three terms of the 2020-2021 school year. Then, students were finally able to attend school in-person all five days a week in late April 2021, as case levels remained low and vaccination rates increased. And when the 2021-2022 school year began, cases were once again low for the first couple of months.
However, in early December, the highly contagious Omicron COVID-19 variant arose with the first cases being found in South Africa and Botswana. Once the first case of Omicron was discovered in the United States, it wasn't long before there was a surge of cases at Algonquin. This spike took place around the time of winter break, but cases are still rapid as we make our way well into January.
As demonstrated in the MetroWest COVID-19 Dashboard, case levels are continuing to go up, and this is true for both the community and the school itself. With the data in mind, it is very clear that going to school five days a week will cause cases to continue to rise. Even though the majority of the student body is fully vaccinated and will likely not see hospitalization if COVID-19 positive , there are many members of the greater school community who aren't. Many might be immunocompromised and aren't able to receive the vaccine as a result of age or their ongoing illnesses. Therefore, staying in person will likely cause a big risk for public health.
The high transmission rate of the Omicron variant will further cause these health risks. While going fully remote might seem very nerve-wracking due to some students' negative experiences with online school, it is the best option to keep the school safe. I believe that if remote learning was implemented, it would look similar to our current in-person model, but it will most likely have a single lunch period, since cafeteria space isn't needed for students to eat lunch. 
The best decision for district administrators would be to keep remote learning in place for two to three weeks while COVID-19 cases settle. Not only would this period of social distancing lower the transmission rate, but it would also give the facilities staff adequate time to sanitize the school. In addition, it would give students time to get their booster vaccine before returning to school, as this shot can require a recovery period for some. 
It is time for administrators to start making changes beyond separating desks and limiting group work. The best decision for the district is to go remote for a short period of time in order to lower cases.
About the Writer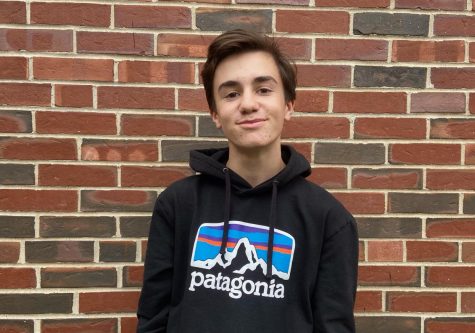 Jeffrey Dratch, Opinion Editor
Jeffrey started writing for The Harbinger during freshman year after taking journalism class. After writing his first article in class, Jeffrey loved the...
Leave a Comment
Remote learning should remain in the past
Despite the recent uptick in COVID-19 cases, Algonquin administrators have decided to keep school open for in-person learning. While some may disagree, this is the best option.
Although beneficial against the spread of germs, remote learning can be detrimental in many ways. For one, the actual learning time is reduced. During remote learning in the 2020-2021 school year, many teachers opted for asynchronous work. Despite working for some, many individuals struggled with this forced independence. Those who lacked good study skills found that learning at home is riddled with distractions that encourage procrastination. As a result, many students fell behind in their classes. 
Additionally, cheating became exponentially easier during remote learning. While there are some measures teachers can take to prevent this, such as requiring that Zoom cameras be on and monitoring when test-takers leave tabs, many students have found ways around this. Cheating not only harms students' short-term learning but can also help develop hard-to-erase habits that can be harmful later on.
Unrelated to schoolwork itself, many students might find themselves in worse mental states. According to the American Psychological Association, academic and social development are likely to slip during online learning for many students, where there is less opportunity for interaction and collaboration. A significant con of remote learning is that students miss out on the chance to engage with one another and their teachers in person, an often-overlooked benefit of in-person instruction.
Furthermore, not all students live in supportive (or safe) households and may view school as an escape from their home environment. They should not be obligated to remain in that space and demonstrate their learning at the same time. Some individuals also do not have access to homes with functioning internet. And while the school can offer devices to use at home, they don't offer anything to help with WiFi. 
It is understandable that students and families are worried about COVID-19, especially with the new variant Omicron. However, the implementation of remote school is a step in the wrong direction. It isn't just as simple as going online for a few weeks. If implemented, we would most likely have to endure what we did last year: fully remote, hybrid, and then finally back in person. I can't speak for everyone, but that experience wasn't the least bit enjoyable. 
During these difficult times, administrators are trying their best to accommodate and address all concerns that students and their families may have. However, it is just simply not beneficial at the moment to switch to a remote-learning model, no matter how questionable and uncertain the current COVID-19 situation may be. Instead of going remote, students should take the proper precautions at school: wearing their masks correctly, remaining six feet apart whenever possible and getting the vaccine/booster if eligible.
About the Writer
Jula Utzschneider, Editor-in-Chief
Jula began writing for The Harbinger her freshman year after taking Journalism. While at first hesitant, she grew to love reporting and specifically opinion...
Leave a Comment