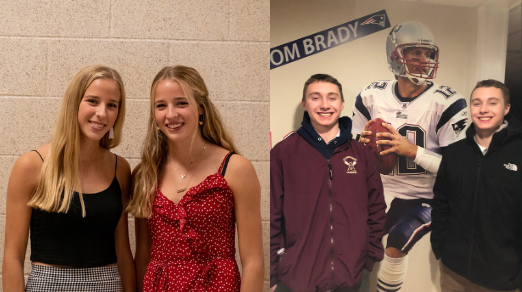 Photo Jonny Ratner and courtesy Larsen family
PROFILE: Two sets of twins carry passion for lacrosse to college
May 8, 2020
Chiota twins' competitive work ethic to continue at Hamilton
Starting in the third grade and continuing to the college level, senior twins Chloe and Olivia Chiota have been dominating the lacrosse field, while also enjoying volleyball during their high school experience. 
The Chiota twins have been a powerful force on the varsity lacrosse and volleyball teams, and both plan to play lacrosse for Hamilton College and enjoy the college experience living together.
  The twins have been playing lacrosse since they were in third grade, but when transitioning to high school, Olivia and Chloe decided to try out for the volleyball team. The following year, they made varsity as sophomores. They have been putting in the work by constantly practicing with one another, playing for a lacrosse club team, Bay State Bullets, and dedicating time to the gym. 
In lacrosse, Chloe and Olivia both play midfield and take the draw to start off the game. Chloe was named the 2019 Mid-Wach League All-Star and T&G Super Team honorable mention. Olivia received the Mid-Wach League All-Star honorable mention and T&G Super Team honorable mention.
"Lacrosse is my sport; however, volleyball was less pressure-filled and more skill-based instead of exertion-based," Olivia Chiota said.
The Chiota's have a competitive work ethic and believe being a twin has helped advance that on and off the field. When one would decide to work out, it would then push the other to do the same, instead of falling behind. From an academic standpoint, they would help one another when learning or understanding new concepts.
" [being a twin] definitely has been beneficial because we would always have someone to work or compete with," Olivia Chiota said. 
The Chiotas also believe being a twin has also impacted how other people see them. Oftentimes, their flaws are exaggerated when one does better in a certain area. 
In volleyball, Chloe, who received the Metro-West All-Star Award and T&GFirst Team All-Star in volleyball, had better statistics based on her position, a right side, compared to Olivia who is a middle, a position that doesn't play as much.   Olivia won MidWach A-League All-Star and Telegram and T&G First Team All-Star for her performance as a middle.
"It's hard being compared to someone all the time, or lumped together," Chloe Chiota said. 
When adjusting to the college level play and lifestyle, the sisters said having each other will drastically help.
Since they committed to Hamilton College, Olivia and Chloe have gotten the chance to get to know the other commits. 
"I am excited to go into college with a team of people that I already know to just make the transition a little easier," Chloe Chiota said.
"From what I've seen from a team aspect, it seems as though they [college athletes]  do everything together and create a strong culture which will be really nice," Olivia Chiota said.
Leave a Comment
Larsen twins strive for success at Saint Anselm
Ever since they stepped on the ice together for the first time in a maroon and gold jersey, senior twins Nick and Noah Larsen have been two of the best student athletes in the Class of 2020.
The identical twins are committed to play lacrosse at Saint Anselm College, following in the footsteps of their older brother, Matt Larsen, who played at the Wentworth Institute of Technology. 
The Larsens were two of the captains on the hockey team this season and are also lacrosse captains for the 2020 season. 
"We aren't perfect as captains, but we try to agree on what's best for the team," Noah Larsen said. 
The brothers also train together, whether it's working out in the weight room or shooting some lacrosse balls on a sunny day. Both twins earned all-star recognition and shared player of the year awards from several news channels that cover high school lacrosse.
"I want to be successful, and I want to win," Nick Larsen said. 
Noah added that they like to push each other while training because they're always competing against each other. 
When asked who is the superior twin, the answers weren't surprising and emphasized their competitive nature.
"Look at Twitter," Nick Larsen said, referencing an old tweet from T-Hawk Tweets, a student-led Twitter account that ran a poll asking students who was the superior twin when both twins had been lighting it up on the lacrosse field as sophomores. 
Hundreds of students voted, and Nick ended up winning by a small percent when all the votes had been counted.
"I'm the alpha, no question," Noah Larsen said in response to the same question. 
As they prepare for the adjustment to college life, the Larsen twins added that they will not be rooming together at Saint Anselm, but they are prepared to continue performing at a high level and stay just as studious in the classroom as well. 
Leave a Comment