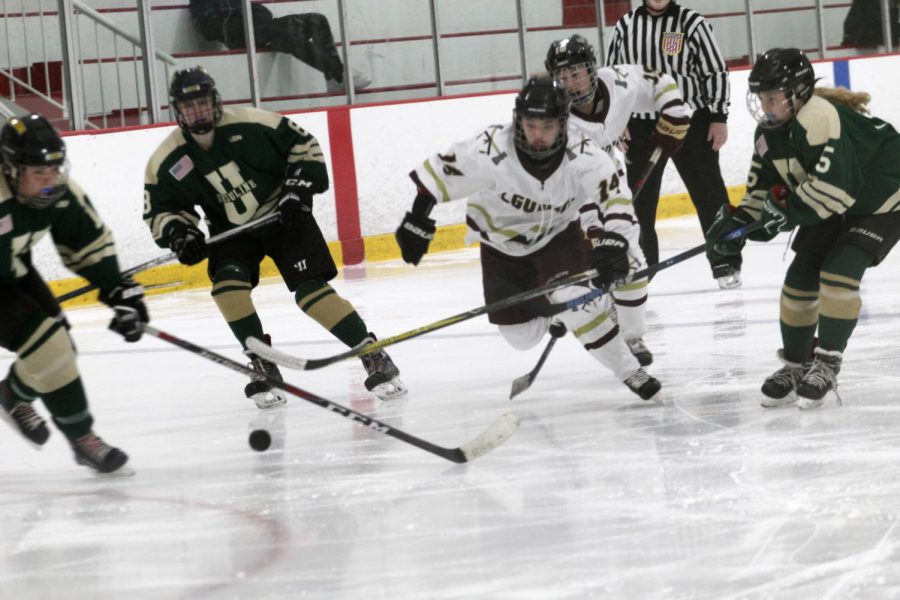 Girls' Ice Hockey
Coach: Mike Hodge
Captains:­­ Senior Ava Domolky, juniors Kerryn O'Connell and Heather Hodgkins  and Marlborough senior Amy McGlashing 
Upcoming Big Game: Dec. 21 vs. Lincoln Sudbury at Valley Sports Arena
Q&A with senior captain Ava Domolky
What is your goal for the team this year?
"My goal for the team is to work cohesively and strive to make it to the Garden [for playoffs]."
As a team, what do you need to do in the pre-season (and throughout the season) to achieve this goal?
"I think team bonding is one of the most important aspects, and giving 100 percent at practice, not just at games."
Who are some of the strongest returning playersand why?
"We have a lot. The [junior] captains Heather Hodgkins and Kerryn O'Connell were chosen as captains because of their attitude and strength on the ice."
Who do you think will be your toughest competition this year and why?
"We always have had a rivalry with Shrewsbury, and this year it will be an evenly matched game."
Donate to THE ALGONQUIN HARBINGER