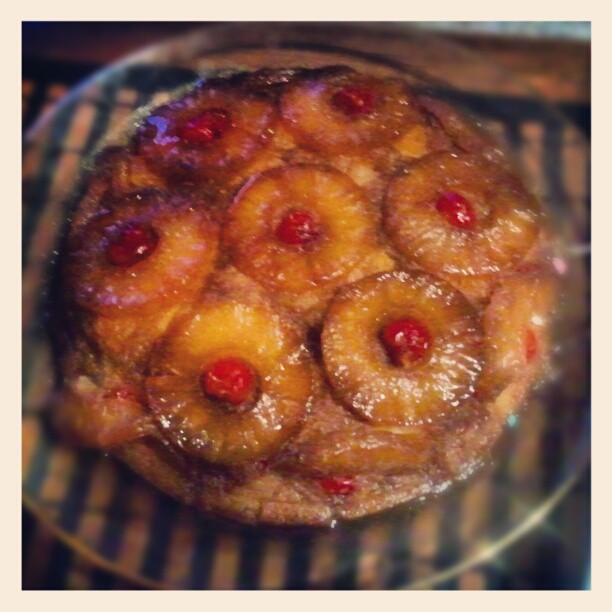 Permission Diana Moon
Psychology teacher Christina Smith's recipe for cranberry upside down cake
Ingredients
1/2 lb. (1 cup) very soft unsalted butter; more for the pan

1 cup very firmly packed light brown sugar

1/4 tsp. ground cinnamon

2 cups cranberries, fresh or frozen (thawed, rinsed and dried), at room temperature

1 cup granulated sugar

1 large egg yolk, at room temperature

2 large eggs, at room temperature

2/3 cup sour cream, at room temperature

1 tsp. pure vanilla extract

1/2 tsp. table salt

7 oz. (1-3/4 cups) cake flour

1 tsp. baking powder

1/4 tsp. baking soda
Position a rack in the lower third of the oven and heat the oven to 350° F. Lightly butter the bottom and sides of a 9-inch round cake pan with sides at least 2-1/2  inches high. (A spring form pan will work; just be sure to set it on a foil-lined baking sheet to catch any leaks.)
Put 4 Tbsp. of butter in the buttered pan. Put the pan in the oven until the butter melts, about 5 minutes. Remove the pan from the oven and stir in brown sugar and cinnamon until well combined. Spread the brown sugar mixture evenly over the bottom of the pan and spread the cranberries evenly over the sugar.
Put the remaining 12 Tbsp. butter in a medium bowl. Using a wooden spoon, cream the butter with the granulated sugar and egg yolk until blended, about 20 seconds. Switch to a whisk and stir in the eggs one at a time. Whisk until the batter is smooth and the sugar begins to dissolve, about 30  seconds. Whisk in the sour cream, vanilla, and salt. Sift cake flour, baking powder, and baking soda directly onto the batter. Using a whisk, combine the ingredients until the mixture is smooth and free of lumps.
Spread the batter evenly over the cranberry mixture in the cake pan. Bake until the center of  the cake springs back when gently touched and a skewer inserted in the center comes out with only moist crumbs clinging to it, 50 to 65 minutes Set the pan on a rack to cool for 5  to 10 minutes (the cranberry syrup in the bottom of the pan will be too thick if you wait longer). Run a knife between the cake and sides of the pan. Invert the cake onto a serving plate and remove the pan. Let cool for at least 15 minutes before serving. This cake is best served warm and fresh.