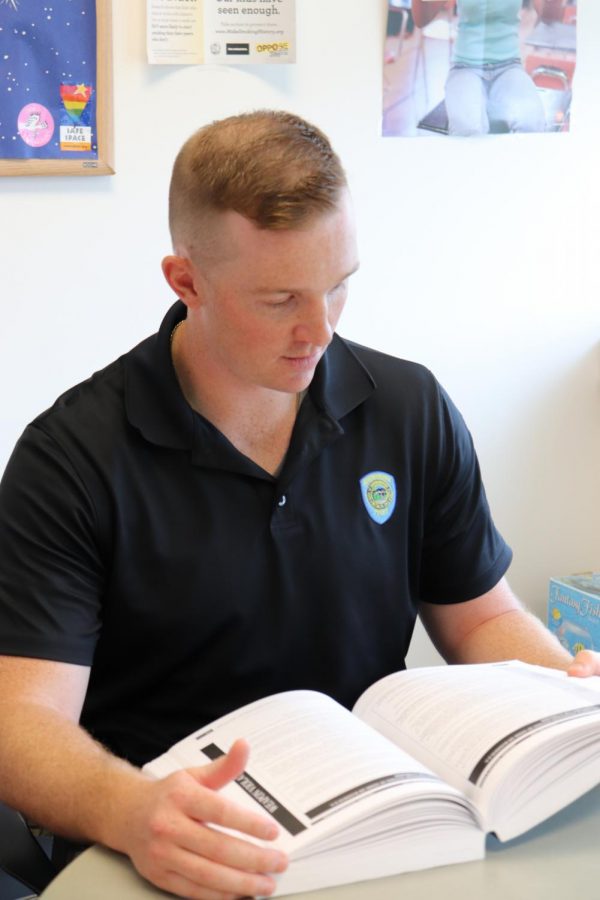 School resource officer: Kevin Fruwirth
School resource officer Detective Kevin Fruwirth is excited to see what the year holds for him as he starts his new position and looks forward to helping the Algonquin community.
Fruwirth studied Criminal Justice and Communications at Curry College, and received his masters from Worcester State University.  He was a patrolman for the Northborough Police Department for three years, and hopes to get to know the community better in his new role.
"I'm most excited to meet the students because everyone is different, and it makes this job interesting," Fruwirth said. "I think it's a great opportunity for me to meet new students and teachers in the community."
As a school resource officer, Fruwirth's schedule varies day to day.
"Every day is different," Fruwirth said. "As a detective, I still get assigned cases to follow-up on and investigate. Typically I am in the schools every day and working with the students and faculty."
Fruwirth explained that school resource officers help the school in a variety of ways. 
"If somebody wants to report a crime, they can come directly to me if they feel comfortable enough," Fruwirth said. "I'm a resource; whatever the students or faculty need, if I can help them out I will."
Previous school resource officer Michael Bisset believes that Fruwirth is the perfect candidate for this position.
"He is open-minded," Bisset said.  "He's always willing to consider multiple angles to any situation. He is also very self-motivated, which is a very important characteristic for this position."
Fruwirth hopes that he can be approachable to students and wants the best for the community.
Donate to THE ALGONQUIN HARBINGER