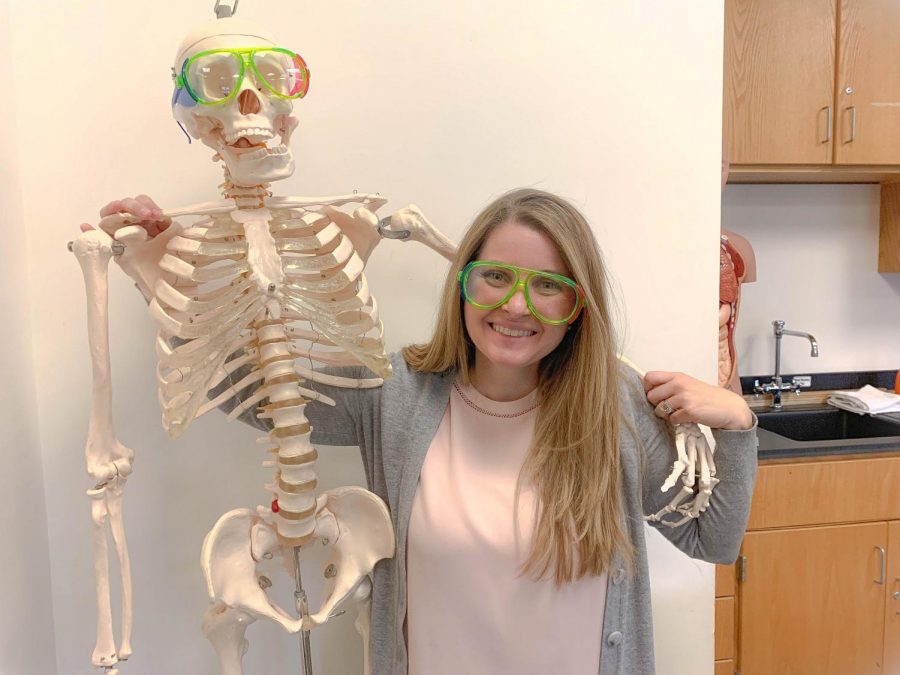 Biology: Courtney Gilpin
After years spent teaching in and out of Massachusetts, new Biology teacher Courtney Gilpin brought her passion for nature and a wealth of experience to Algonquin.
At a young age, Gilpin discovered the interest in science and nature that would eventually lead her to teaching. 
"Growing up, I was outside every day," Gilpin said. "Having the opportunity to be outside and to explore nature…instilled that passion in me, that I wanted to learn more about science."
With inspiration from her own high school teachers, Gilpin eventually applied her passion for nature to teaching science.
"I was influenced by my fantastic teachers, whether they were in the science area or not," Gilpin said. "I did have two fantastic high school science teachers that really helped bring science to life…and their passion for teaching definitely transferred to me."
Gilpin began working in Northborough and Southborough schools in recent years after teaching in Ohio and Minnesota.
"When I first moved to Massachusetts two years ago, I spent a lot of time subbing at Algonquin and…at Melican Middle School," Gilpin said. "I had a sneak-peek of what a great community the Northborough-Southborough school district is, so that's something I wanted to be a part of."
Gilpin hopes to become more engaged in this community as she looks to her future at Algonquin. 
"I'm looking forward to giving back and becoming more involved in the Algonquin community, and the community of Northborough and Southborough in general," Gilpin said. 
As she does so, Gilpin can draw on extensive experience with community outreach from previous teaching positions.
"At my last school where I taught high school, I was part of at least three or four big activities," Gilpin said. "Like a ninth-grade transition program, homecoming…and I developed a science club, and we always did a lot of community connections."
Her teaching experience and dedication to the community are also apparent to science teacher Lori Mott, Gilpin's teacher mentor. 
"We're really lucky to have her," Mott said. "I think she's passionate about biology and she comes with…ten years of experience."
Building on her passion for science and nature, Gilpin hopes that her students can take away a big-picture understanding of biology. 
"I want students to make those connections between what we're learning in class and real life, and to have a great appreciation for how complex and beautiful life is," Gilpin said. 
Donate to THE ALGONQUIN HARBINGER