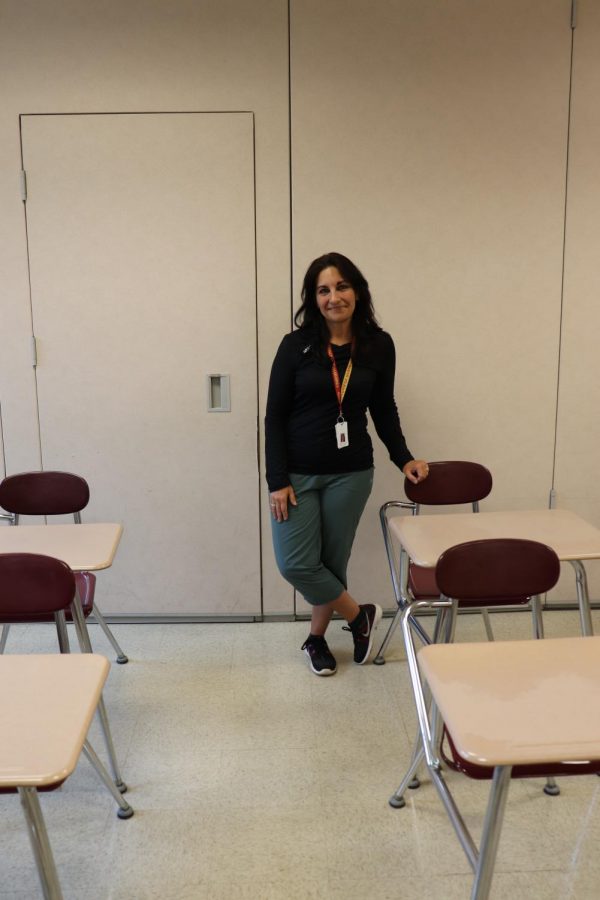 Health and Fitness: Caroline Current
Health and Fitness teacher Caroline Current hopes this year is the beginning of a lengthy career at Algonquin after joining the community as a long-term sub last year.  
Current will remain in the position she held as a long-term sub, teaching Health & Fitness classes to sophomores. 
"It was actually really nice working as a long-term sub, because it gave me a feel of what all the staff was like, and I really fell in love with Algonquin and the students," Current said.  "When I was hired back for the fall, it was a dream come true."
Current feels her background as a pediatric dietitian has helped her as a teacher.
"Prior to teaching, I was a registered dietitian for Fallon Clinic, and I was a pediatric nutritionist, so I had lots of connections with teenagers," Current said. "I also conducted classes there, so I had some teaching background from that position."  
With a background in nutrition, Current not only utilizes her experience in health advice but also her experience working with and raising teens.
"I've definitely become more sensitive to what teens go through… their connection with their bodies, their concerns, and their stress levels, not only nutrition wise but just in general," Current said.  "I have two daughters, one's 20, and one's 16, so I think my perspective as a parent as well as a nutritionist gave me a good background that led me to teaching."
Fellow Health and Fitness teacher Melissa Arvanigian, can't wait to see what Current brings to the curriculum.   
"I'm looking forward to continuing to see what she brings to our department," Arvanigian said.  "She has a lot of great ideas and I think it's very important for us to continue to grow together."
Current hopes Health and Fitness classes can impact her students in the long run. 
"I'm so happy to be a T-Hawk and I really hope that when [students] are taking Health and Fitness, they feel good about themselves and feel that they can take care of their health, not only their body but their mind and their emotional well-being," Current said.  "I'm hoping that they enjoy the class and that they really get something out of it that they can utilize their entire lives."
Donate to THE ALGONQUIN HARBINGER