'Extremely Wicked, Shockingly Evil and Vile,' cinematic masterpiece or overdrawn melodrama?
June 2, 2019
Cinematic masterpiece: Efron transforms as charming, terrifying Bundy in Netflix film
Who doesn't love a movie starring Zac Efron? The answer is: pretty much no one…until he stars as Ted Bundy.
Director Joe Berlinger's exceptional film, "Extremely Wicked, Shockingly Evil and Vile" transforms this childhood heartthrob into one of the most famous serial killers, Ted Bundy.  
Berlinger's film examines Bundy's life without scenes of his crimes, but focuses on his relationship with his girlfriend Liz Kendall (Lily Collins), and the deception Bundy takes on during his life.
The movie begins in the late 1960's in Seattle where Ted Bundy and Liz Kendall are strangers at a bar. The young pair dance by a jukebox, and Bundy ends up staying the night and making her breakfast the next morning at her house. They go on to get engaged and plan a future together, when suddenly, Bundy gets pulled over with ropes, trash bags and a wrench in his car. He goes to trial, prison, which he escapes from twice and attempts to convince Liz that he is innocent.
The film compliments Berlinger's documentary about Bundy, "Conversations with a Killer: The Ted Bundy Tapes." However, the documentary and film have contrasting focuses. Instead of filming scenes of the horrific killings that Bundy committed like in the documentary, the movie focuses on Bundy's deceptions of the people closest to him.
The movie does an exceptional job at examining Bundy's manipulation and how his charm and good looks keep him safe for years, until he is finally caught. As an actor, Efron has never disappointed and that stays true in this film. In scenes in the courtroom, while speaking to the judge, Efron matches the persona of Bundy; a smooth talker with stone cold eyes.
Bundy's charm affects his girlfriend Liz the most. To Liz, Bundy is the man who loves and cares for her and her child. I felt for Liz, she struggles with her emotions and abuses alcohol to cope with loving a killer. She portrays Bundy's lover and her self conflicts terrifically.
In a few scenes, Berlinger included clips of college aged girls who attended the trial, similar to Bundy's victims, who said they thought Bundy was "dreamy." These girls accurately represent the disturbing charm that Bundy has on young women. At some points in the movie, I thought Bundy was really innocent, until I snapped back into reality.
Berlinger's concept was definitely accomplished in my opinion. I was able to see a serial killer make people laugh, smile and be happy. Berlinger showed how Bundy used his charm and good looks to his advantage.
"Extremely Wicked, Shockingly Evil and Vile" shows us how close you can be to evil and not understand it. I appreciated the perspective that the movie showed: Bundy as a funny, charming young man who had a lot of secrets.
In my opinion, this movie is definitely worth two hours of your time. If you're interested in crime shows, childhood heartthrobs and an old-fashioned retro setting, grab some popcorn and learn about Ted Bundy's deceptive life and how easy it may have been to be caught under his spell.
About the Writer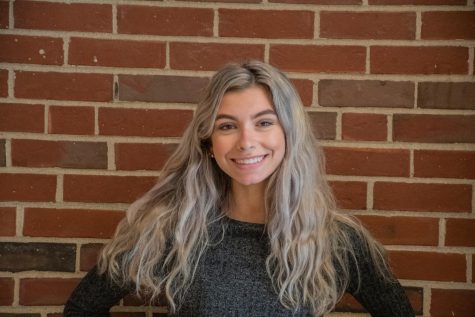 Cecelia Cappello, Social Media Editor
Cecelia began working for the Harbinger during her junior year after taking journalism class.  Ms. Coppens helped Cecelia find an interest without even...
Leave a Comment
Overdrawn melodrama: Uses cliche tropes to retell the same story
Netflix's original movie, "Extremely Wicked, Shockingly Evil and Vile," is about the notorious American serial killer, Ted Bundy (Zac Efron), is extremely boring, shockingly long and sad, yet I surprisingly don't hate it.
For those who don't know who Ted Bundy was, here are the basics. Bundy was a well dressed, handsome, middle aged man. Between 1974 and 1978 Bundy killed and sexually assaulted dozens of young woman across the U.S. After being put on death row, he confessed to 28 murders, but hundreds more were suspected up until his execution in 1989 and into today.
"Extremely Wicked, Shockingly Evil and Vile" takes the Ted Bundy story and tells it through the perspective of Elizabeth Kloepfer (Lily Collins), Bundy's longtime girlfriend. The movie can be described as a scripted drama because despite  the true aspects of the movie, some aspects of it are overdramatized. It takes place from the 1960's through the 1980's, giving a timeline of Bundy's killings and how he maintained his innocence up to his ultimate confession of the crimes as he faced execution. Viewers see how Kloepfer deals with the events, trials and scrutiny surrounding Bundy.
Oscar-nominated director, Joe Berlinger's film is a depressing drama and proves that the actors can do everything right just to lose all of their energy with a boring perspective and boring writing. It had many opportunities with an interesting (and true!) storyline to work with. I would have liked a movie with either Bundy's perspective rather than Kloephers or the perspective of Bundy's victims and or survivors.
Shining light on what Bundy's girlfriend saw in him was a good idea but was executed poorly. Many of the events they show in the movie were ones that have been told time and time again in other adaptations of the story. It just wasn't interesting enough seeing a sad Kloepfer crying, smoking and drinking the whole time wondering if Bundy committed the crimes. This was a mistake that killed the movie for me. If you're looking for what it's like to date a monster, this movie has it. Trust me, it's not what you expect.  
Efron plays such a good Ted Bundy, it's unsettling. Forget everything you knew about the range of this former Disney star. Efron's "High School Musical" may be a more entertaining movie, but he truly does take Bundy and make him his own despite the terrible angle the movie takes. Although viewers may get bored as the movie goes on and on and on again, the actors save it.
From the creepy smile, charming persona and intimidating attitude, Efron knocks Bundy out of the park. Efron's not the only standout actor in the movie. Although she mostly cries and smokes the whole time, Lily Collins also gives depth to Bundy's girlfriend Kloepfer, even if it wasn't that necessary. These two make the movie worth the watch.
Although taking a different jab at the Ted Bundy story is smart, the level of boring in this film takes no prisoners. If you want to watch something interesting I recommend watching the "Conversations with a Killer: The Ted Bundy Tapes," or "The People V. OJ Simpson." At least these true stories are told well.
Leave a Comment