REVIEW: "Five Feet Apart" inspires viewers to live life to the fullest, spreads awareness for cystic fibrosis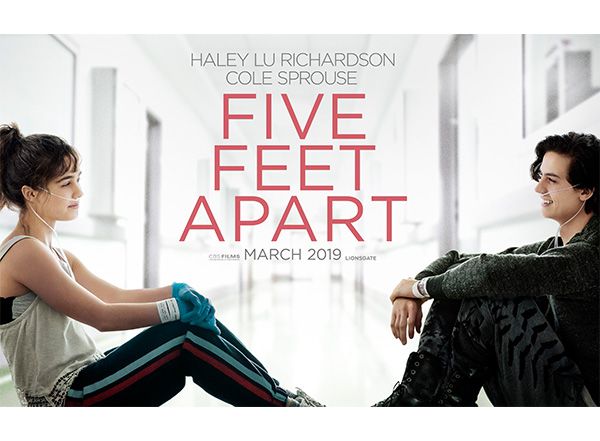 With first dates and love notes, "Five Feet Apart" is a run-of-the-mill teen romance, except that all of the main characters suffer from a common, life-threatening genetic disease called cystic fibrosis.
Protagonist Stella (Haley Lu Richardson) is optimistic, organized and so relatable that I often forgot she had cystic fibrosis. She lives in a hospital 24/7, adjacent to her best friend Poe (Moisés Arias), who also has cystic fibrosis.
When another cystic fibrosis patient, Will (Cole Sprouse), moves into the hospital, Stella tries to avoid him after their first meeting because he sounds like the "I don't care" type of person to Stella, and she is the opposite. Stella cherishes every  breath, while Will can't wait for his last.
So, no, it was not love at first sight, but opposites do attract. As time goes by and they begin understanding one another, they start falling for each other fast.
Tragically, Will and Stella can never kiss, hug or even hold hands. It is extremely dangerous for cystic fibrosis patients to touch each other, since they can end up catching each other's bacteria, so Stella and Will have to stay at least six feet apart at all times. It was hard to watch at some points in the movie because anyone could tell that Stella and Will are madly in love, and it is so heartbreaking that they can't touch.
Despite not being able to touch, Stella is able to teach Will how to enjoy life and shed his "I don't care" personality.
All the main characters are impossible not to fall in love with. They're such quirky and amazing people, each with their own flaws and strengths. This movie could not have been the same without the wonderful acting of Richardson, Sprouse and Arias. It was so realistic that I forgot I was watching a movie; instead it felt like peering into someone else's life and watching it unfold. There were parts of the movie that made me cry because the acting was so incredible and believeable.
This movie spreads awareness about cystic fibrosis and the people that have it. It really shows how cystic fibrosis patients are normal human beings who do normal things and their disease does not define them as a person.
"Five Feet Apart" is more than just a love story between Stella and Will. It has a truly powerful message that everyone should take away from this brilliant film: live life to the fullest, because you never know what might happen tomorrow.