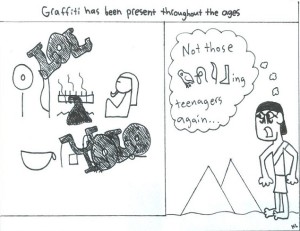 Matt Palmer & Robert Kerstens, Columnists

November 27, 2013
"Tim wuz here 420 Blaze it" -Tim ******* Since the addition of the Everyday Rules Clause to Section VII of the student handbook, bathroom graffiti has become an illegal activity punishable by up to a 10 day suspension for repeat offenders. However like a petri dish packed with deadly pathog...
Mark Hatem, Staff Writer

November 27, 2013
Although my days here at the Gonk are numbered and the effect that a potential shift to flipped classrooms would have on me is minimal, I feel it is my duty to defend what is right for the future education of the Tomahawks. The idea of a flipped classroom is simple; you listen to lectures online (wh...