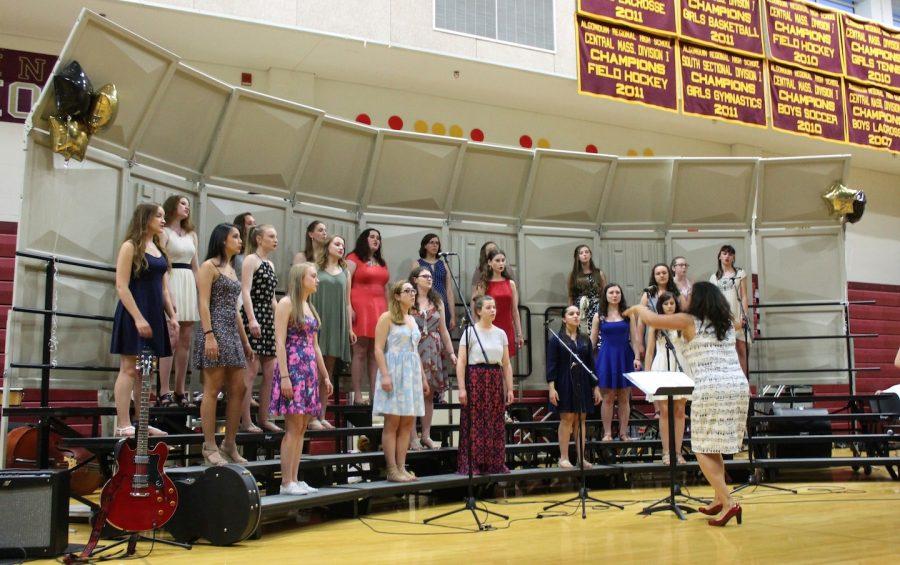 Photo Kelly Slovin
Two pieces honoring the life and legacy of Eric Christopher Green, who passed away suddenly at age 12 in 2012, were commissioned and featured at the Pops Night concert on June 1.
Green, a member of the class of 2017, passed away unexpectedly; his life and death made a lasting impact on his classmates. In tribute of their friend, Jazz I performed "Kaleidoscope" by Erik Morales and Wind Ensemble played "A Kind and Gentle Soul" by James Swearingen. Morales and Swearingen, two professional composers, wrote the pieces in honor of Green.
"The students who played in the Wind Ensemble were in eighth grade when [Green] passed away," Wind Ensemble director Amy Collins said. "They weren't able to play the commission [then] because they had moved up to the high school by the time. They're seniors now; and they got to play [the commissioned piece] at Pops Night. That was special. It touched a lot of people in the audience that knew Eric."
Collins chose the June 1 Pops Night to perform the songs in remembrance of Green because the 2015-2016 school year would have been his first playing in the bands featured at the concert.
One of Green's classmates, junior Alex Cosentino, remembers him fondly as someone who was "always smiling and would always light up a room with his positivity."
"He was one of those rare people where you questioned how they could be so kind and wonderful," Cosentino said.
Composers Morales and Swearingen tried their best to respectfully incorporate parts of Green's life into their pieces. Morales accomplished this goal through the use of many trumpet solos, the main instrument Green played. Swearingen incorporated trumpet, snare drum, and flute playing together for a measure to end the piece, since they were played by Green, his brother, and his sister respectively.
"['A Kind and Gentle Soul'] is really fun," junior Michael McGlynn said. "I think my favorite part is when the trumpets are playing the same parts because it sounds like they are echoing each other."
"['Kaleidoscope'] is a groovy piece that highlights the beauty of the trumpets through multiple solos," junior Bec Marder said.
Other highlights of Pops Night came from various pop and rock tunes and movie soundtrack performances, directed by Collins, Band Director Eric Vincent, and Chorus Director Kathrine Waters.
"It's great that the kids are learning about various kinds of pop music that are historical," Waters said. "It's a way to share music with parents, grandparents on an even footing."
For Vincent, Pops Night serves as a sending-off for seniors.
"I really liked seeing the seniors perform because it's their last concert with us," Vincent said. "That's one of the things that makes the Pops concerts special; it's comes right before graduation and it's kind of the last hurrah for the kids we've seen through the program for 4 years. It's kind of a sending off for them."
Pops Night also united senior music students for a final time.
"I feel like this year's senior class is a particularly tight-knit group," Waters said. "They really had a sense of this being their last time to perform together when they've been together for so many years."
Collins agreed that one of many key parts of Pops Night was celebrating and recognizing seniors.
"It was a nice chance to wish them well and have celebration-type concert at the end of the year for them," Collins said.
For Collins, The Star Wars pieces played by Wind Ensemble stood out especially.
"I was exceptionally proud of the Wind Ensemble performing Star Wars this year because it's a really challenging piece," Collins said. "They did it justice."
Waters particularly enjoyed the Carole King medley chorus students performed.
"It went through so many periods of her music and it was great because the kids didn't know anything about her before they started and by the time they were done, they just wanted to sing her all the time and have fun with it," Waters said. "They really made it theirs."
In all, Collins believes Pops Night culminates and celebrates everything music students have accomplished throughout the year.
"It's great to see how vast the program is and how many kids are involved in it," Collins said.