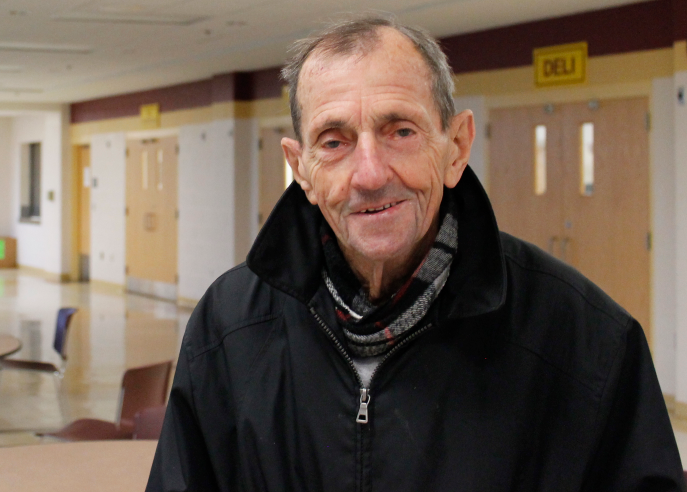 Rafaela Coelho
Richard "Dick" Walsh shuffles through the halls and cafeteria often pausing to pick through a trash can or to crack a joke with a passing teacher or student. His unassuming frame carries a long history of hard work and passion for ARHS. He is a man who has spent 61 of his 83 years contributing to Algonquin's legacy.
After retiring from a long career as a coach, teacher, and administrator at ARHS, Walsh has spent a large portion of the day inside the school building doing various assigned and volunteer duties including opening the school each morning and helping with clean up in the cafeteria during lunches.
After meeting with superintendent Christine Johnson and Business Director Cheryl Levesque on September 18, Walsh was, for the most part, restricted from the building during school hours and reassigned to athletics-based weekend and after school duties. Students and teachers past and present responded en masse to the recent abrupt change of Walsh's duties within the building.
The community's passionate response to Walsh's brief absence emphasized his value to the school because of not only his history with athletics, but also his commitment to ARHS as a whole.
"I thought it [support for Walsh]  was touching; it was a very nice recognition of his long, long service here, and that is nice when the community recognizes that kind of commitment and contribution to the school," Principal Tom Mead said.
After one week of restricted duties, Walsh's role has been adjusted to allow him some responsibilities in the building during the school day. According to Walsh, he is now able to volunteer in the cafeteria before school until 8:30 and during lunch to help the custodial staff.
"It feels a lot better than not being here at all," Walsh said.
"We work with our faculty to find the place where they can best make their contribution," Mead said. "So it was in the spirit of that that this shift of his day to day contributions was made."
After Walsh's initially restricted duties, many students and faculty members were saddened by no longer seeing Walsh throughout the building during the course of the school day.
"Every time you walk the halls you just assume you are going to see him [Walsh], you assume you are going to see him having conversations with kids and faculty members," applied arts and technology teacher Nicole Ruffo said.
Faculty members shared that they value Walsh for many reasons.
"He is such a selfless person, and I think, in many ways, that he is the heart and soul of this place, and it did not feel right that he could not be in the building," social studies teacher Stephen Godbout said.  "He is our identity; he is Algonquin, and to have him not in the building just did not feel right. In all my years here, you always knew he was here somewhere, but his presence was missed, although he is back now a little so that is good."
Other teachers appreciate Walsh's outgoing and friendly personality.
"His presence in the building is not only important for what happens in the cafe, but he is someone who gets to know the students and the staff," drama teacher Maura Morrison said.  "He is a real fixture in our school and it is his humor that people look forward to."
Walsh worked as a physical education teacher for 23 years and then became Athletic Director in 1971.  He coached football for 23 years and baseball for 10 years.  He has been responsible for building supervision on non-school days since 1959.
Until recently, many students were unaware of Walsh's long history at ARHS. Since his retirement in 1995, Walsh could often be seen going through the trash during lunches and picking out aluminum cans and food which led to misconceptions by some of the student body who saw his actions as peculiar.
Walsh, in fact, gives the food scraps to his two beloved dogs and recycles the aluminum cans for the deposit money, which he keeps until a new project needs funding at Algonquin.
"I used to never know what Mr. Walsh was doing with the cans, but when I heard that he donated all the money that he got from them to the school I thought that was really cool and I think the cafeteria definitely felt different without him," senior Meaghan Kane said.
Many students know that the stadium field is named after Walsh, but this is not the only contribution he has made to the athletics facilities.
"We had a lousy track and I was going to retire after forty years, and my wife said that we will have a big party for you and I said, 'If you have a party for me I will not be there,' because I hate that kind of stuff," Walsh explained. "So we made an agreement with the school committee that if they put a new track out there, they can name the field after me, but I did not want to do that either. The reason they named the field after me was because of that.  It is not named for [me] because I want it to be named for me."
Walsh also contributed significantly to the ticket booth.
"A couple of years ago, there is a class in the industrial arts that builds things, so I told the guy in charge down there that we need a new ticket booth," Walsh said.  "So I said if you guys build a ticket booth I will pay for the wood.  So I paid for the wood and the new ticket booth was built by the kids."
Walsh still has plans he would like to accomplish for the future of Algonquin.
"I would like to put something out by the field, let's say between the two soccer fields, that is a shelter," Walsh said.  "That way if older people want to watch games, or if it rains they can use that.  That would be a goal that I have to accomplish before they put me in the ground."
Walsh's impacts stretch far beyond the athletics facilities.
"He would go see a play, he would go to an event like a variety show or lip sync if he was around that late at night, he would do the senior cookout, so it was not just sports.  I think that a lot of people think it is just sports, but it was everything," Ruffo said. "He just loved to see the kids involved and he knew so many kids by name because he got to know kids on a personal level."
"I think his unconditional support for everything within the school is what makes him so special," English teacher Emily Philbin said.
Although he retired from teaching long ago, many continue to learn from Walsh.
"Work hard and be humble, that is what I have learned from him, and that is what I hope the kids have learned from him," Godbout said.
"He has always been around and he teaches students, faculty members, and staff an important lesson and it is called dedication and being dedicated to a cause.  I think that has made for his biggest impact," Ruffo said.
For many members of the Algonquin community Walsh "bleeds maroon and gold."
"I am happy to be back because this is the place to be," Walsh said.