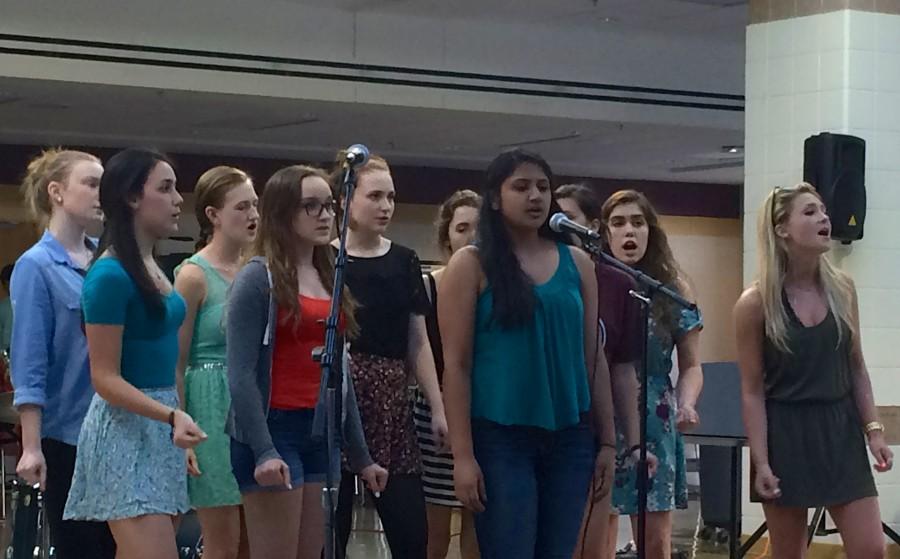 Cassidy Wang
The Tri M Open Mic Night attracted performers of various means of entertainment on May 12 in the Cafeteria.
Juniors Shyala Jayasinghe and Spencer Cardillo (on piano), kicked off the night through Jayasinghe singing "Love of My Life" by Queen.
According to Jayasinghe, she achieved her goal of performing solo for the first time.
As the night progressed, a variety of capabilities were exhibited including two original poem readings by junior Jack Tzianabos and a comedic number from senior Evan Ribaudo – in which he raved about first impressions, Disneyland, and past relationships. Music genres ranged from Jazz to Rock, and Folk.
"I love seeing the different styles that the kids bring," Tri M advisor Amy Collins said.
According to Collins, alumni performed this year as well, which sets Open Mic Night apart from other events in the school.
"Just seeing how much they've grown from when they've left here, coming back and sharing that with Algonquin and letting the kids know what they can do if they continue doing music in any way in their life beyond high school, I think that's really important," Collins said.
Music teacher Kathrine Waters, and her daughter, senior Elisabeth Waters sang "For Good" from Wicked. For Collins, that moment was touching.
"It's really, really cool to just see how much everyone can bring and all the different talent that goes on," senior Julia Baker said, who performed with Ladies First, Algoncappella, and ended with the Jam Boys.
Baker believes the most memorable moment about performing that night was when everyone was surprised to see her strut out and perform in a suit with the Jam Boys.
For freshmen, Open Mic Night was their debut Tri M music performance.
"I like hearing other people's music, I like just being around music. It just makes me feel happy, good, and strong. There's a certain energy you get when you perform that's unlike anything else you've ever felt before," freshman Bridget Brady said.
Ever since she was young, Brady had an interest in writing songs. That night, Brady performed an original.
"I've performed them for my music teacher, but never in front of the school – so this is big!" Brady said.
Since 2009, Tri M Open Mic Night has been offered over the AP exam week so students have the chance to come, grab some coffee, and study while enjoying different acts. Tri M started sponsoring the night of performances to honor music teacher Dennis Wrenn after he passed away. In addition to providing entertainment, Open Mic Night also strives to collect money for a scholarship in Wrenn's name.
"Musically, it was a great night. I think the people enjoyed it. A lot of parents and students came too, which was nice," Collins said.
"It was a little bit more laid back because it was a coffeehouse, you didn't have to dress up or anything," freshman Connor Macchi, who sang with Algoncappella, said.