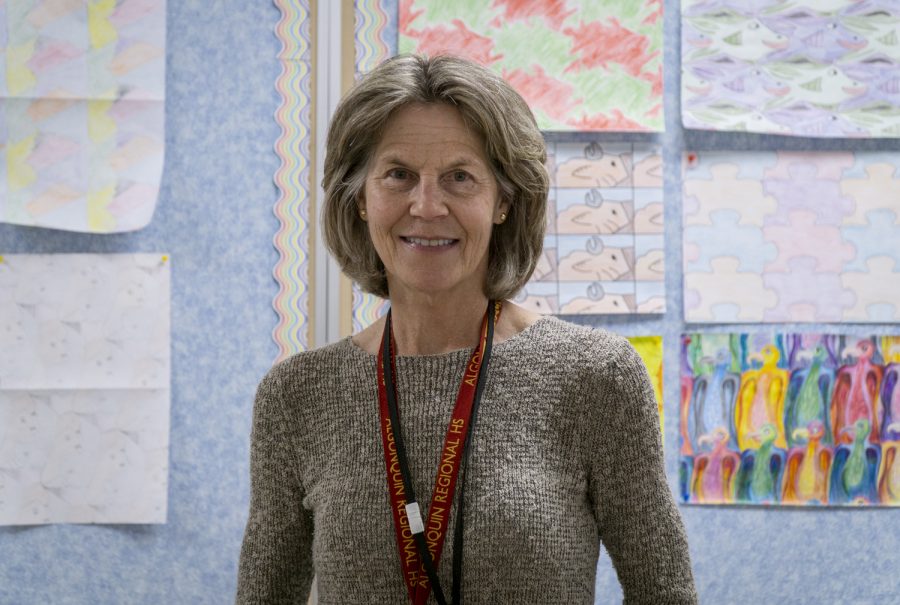 Priya Maraliga
Math has been a constant in Ellen Marieni's life, from her early professions to the 20 years she has dedicated to teaching at Algonquin. In those two decades, her role has extended beyond just teaching math in this school's community, and her retirement will leave behind a significant gap.
Marieni began her career in math early as a math major, choosing to follow it as an analyst and finance manager. Later, after taking time off to raise her family, Marieni earned her master's degree at Harvard and began teaching high school mathematics at Algonquin.
"I've taught everything from Integrated Math 1 to Pre Calc, at different levels," Marieni said. "The best part about teaching math is when the kids get something that they've been struggling with, and when I've been able to guide them to get to that point. I can see it in their eyes how excited they are."
Marieni has also had many roles in the school such as being the National Honor Society adviser for eight years and representing the math department in the Faculty Senate for several years. She has also been passionately coaching girls' cross country for eight years. 
"It's given me the opportunity to interact with students outside the classroom and really get to know them, and I love running and sharing that with others," Marieni said.
Her extensive experience in the math department and other activities has also transpired into her role as a mentor teacher, so she has guided many teachers new to Algonquin or new to a subject. Fellow math teacher Nancy Hart was one of those teachers and has formed a friendship with Marieni after working together over the years.
"She is a super confident math teacher, dedicated and really maintains a high bar for her students and herself," Hart said. "She does everything fully engaged and is always there for other teachers."
Marieni looks forward to big plans for retirement: she hopes to explore a multitude of things she hadn't had the chance to try before, from learning Spanish, art and piano to traveling and participating in volunteer work.
"I'll miss thinking about math on a daily basis as in-depth as I have been," Marieni said. "And I'll miss the people, interacting students on a daily basis, as well as my colleagues here and the friendships and connections I've made over the years. But there are lots of things on my list to do."