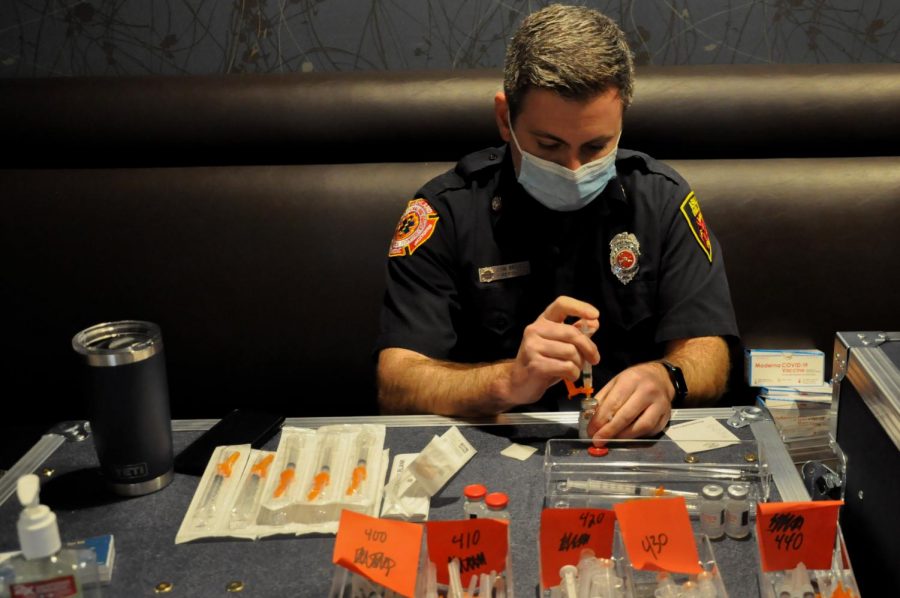 Ben Schanzer
On April 15, a vaccination site opened in Westborough to serve residents of Ashland, Bolyston, Holliston, Hopkinton, Northborough, Southborough and Westborough.
According to Dr. Kristin Black, the Northborough Health Agent, all seven towns are responsible for staffing the facility. A majority of the vaccinators are firefighters, but Black and other organizers are working to get more volunteers from local Medical Reserve Corps (MRC) and Community Emergency Response Teams (CERT).
"Every shift, we have at least six volunteers, and we are looking to increase that with even [more] trained vaccinators in the future," Black said.
The vaccine distribution at the site is divided between the towns and people who have signed up with the state pre-registration system. 
"We receive 25% allocation for our communities," Black said. "Then the other 75% goes to anyone who's pre-registered with the state system."
According to Black, the 25% is then divided equally between each of the seven towns, meaning that each town gets about 60 doses a week for their residents or employees, which includes teachers who live outside of the seven towns.
"I think I can speak with confidence [the towns'] priority is to vaccinate their teachers," Black said. "I think we found overall that our teachers are extremely resourceful and many of them have already received the vaccine."
Black noted that setting up a vaccination site was a difficult process that took several months of collaboration with the Department of Public Health (DPH).
"I think it's been a challenging, but obviously incredibly rewarding experience overall," Black said. "And now that we're in play, it's actually been a great professional relationship with all of our colleagues, so it's been fabulous but challenging at times for sure."
Black, working with DPH, has secured one set (two days, three weeks apart) of Pfizer vaccines for student vaccination day.
"The MetroWest-Westborough Regional Collaborative is excited to offer a private Pfizer vaccine clinic for our high school students ages 16 and older," Black said in an email sent to students. "Given limited supply, this clinic will first be offered just to students in our communities. If there are unused appointments next week, we may extend to other eligible family members and individuals in our communities."
The clinic will take place on May 8 from 8:30 to 5:30 pm and is for first doses only. Students can register here.
District Wellness Coordinator Mary Ellen Duggan responded "yes, yes, yes, yes, yes" when asked if students should get vaccinated.
"The reason [to get vaccinated] is evident," Duggan said. "While we're learning about this virus, we want to contain it so it can't mutate and can't spread as rapidly and change. The vaccine is going to help us to do that."
Duggan believes that all students over the age of 16 (the youngest age for which there is an approved vaccine) should be able to get vaccinated by the end of the school year.  She also hopes that, with the current trajectories, students 12 and up will be able to be vaccinated by the end of 2021.
Duggan stressed that everyone, even if they aren't eligible yet, should pre-register to get vaccinated, so they can be notified via text once they are eligible.