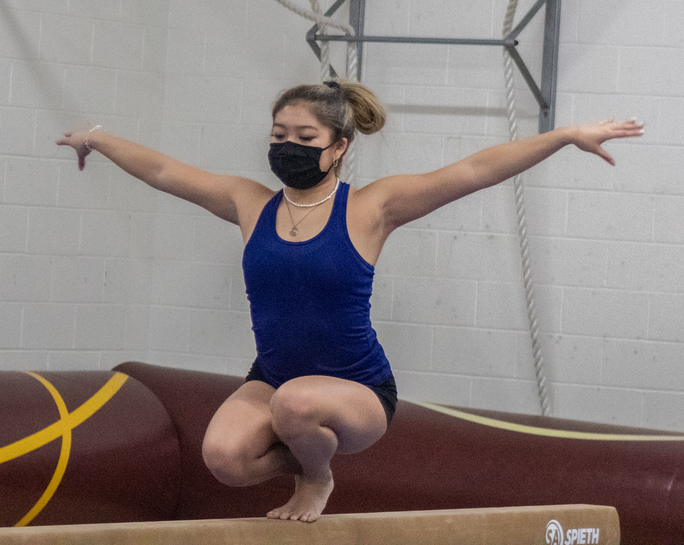 Grace Herdman
As an exciting culmination to her high school gymnastics career, senior Acacia Truong will compete in the National High School Gymnastics Association (NHSGA) Senior Showcase Invitational this May. 
The NHSGA Senior Showcase Invitational, or Senior Nationals, is an annual competition for the most talented 20-25 high school senior gymnasts from each participating state. The competition will take place in Fort Myers, Florida on May 20-22. Each state's Senior National coaches selected their team carefully, focusing on the gymnasts' current skill level and their performance throughout high school. 
When Truong made the team, she was overwhelmed with excitement and emotion. She immediately contacted her friends from the Algonquin team, as well as her three coaches. 
"They were all really excited for me and happy for me, which I'm so thankful for," Truong said. 
Truong has been training at Shen's Gym in Holliston twice per week and attends two practices for the Massachusetts Senior Nationals team every month, in which she works towards the competition in May. 
"I'm working on getting more new skills, getting more consistent and cleaning up the skills I already have," Truong said. 
Truong is specifically focusing on improving her vault, floor and beam routines, as she is planning to compete in these three events. 
"I feel really accomplished when I do a good beam routine and when I get new skills," Truong said. 
Truong's mentor, Algonquin gymnastics head coach Jordan McStay, said she admires Truong's strong work ethic and emphasized how much Truong has grown as a gymnast over the three years she coached her. 
"She's basically trying to always be better than what she is at that current moment," McStay said. "And that's a difference between sophomore year and now. Then, I feel like she just did what she knew how to do, and now she wants to do the best that she possibly can."
McStay believes Truong's strongest events are floor and beam.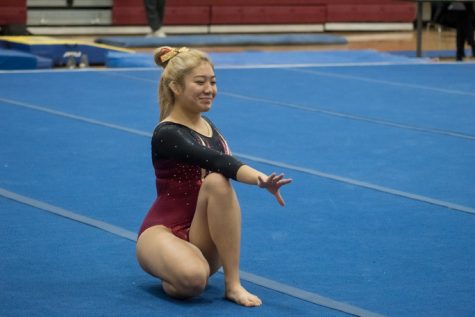 "She shows off on floor, and everyone loves her floor routine," McStay said. "But, with beam, she is solid, she doesn't wobble, she gets up there and she does what she knows how to do. The hardest skills that she has look like the easiest ones when she does them."
Due to COVID-19, many meets during the Algonquin gymnastics season were canceled, including Leagues, Sectionals, States, State Individuals and the Senior Superbowl. Luckily, with the required safety precautions in place, the Senior Nationals competition will still take place this year. 
"She [Truong] is somebody that just enjoys that drive and adrenaline at the big meets that really mean something," McStay said. "I'm happy she can have one more meet like that before she graduates."
Truong's three Algonquin coaches will accompany her to Florida, where she will compete in team events on the first day of the competition. The following day, the highest-scoring individual gymnasts from each state team will compete in the finals. As the competition approaches, Truong reminds herself to have fun, enjoy herself and not get overly stressed. 
"I need to keep telling myself don't overthink it and get too worked up if you have an off day, cause then you will just get in your head," Truong said.  
Truong says her time on the Algonquin gymnastics team has been a highlight of her high school experience. Being a part of the close-knit team helped her stay motivated and feel supported. 
"[Being on the team] is my absolute favorite thing ever," Truong said. "Since sophomore year, it has really felt like a second family to me. Everyone on the team is so welcoming and we really made our own community."
 As co-captain this past season, Truong took a collaborative approach and inspired others by leading by example. 
"A lot of her strengths as an athlete are also big strengths when it comes to being in school or being a friend," McStay said. "She's crazy supportive of everybody else on the team, whether she is competing in every single event at that meet or she is not competing at all."
Truong is grateful to have the opportunity to perform at Senior Nationals and show off the skills she has been perfecting as an Algonquin gymnast for the past four years. As she finishes her high school gymnastics career, she cherishes her memories of being on the Algonquin team. 
"I'm going to miss the team a lot," Truong said. "I think that's definitely the biggest part because Algonquin gymnastics was a major part of my high school experience and it made it so much more enjoyable."