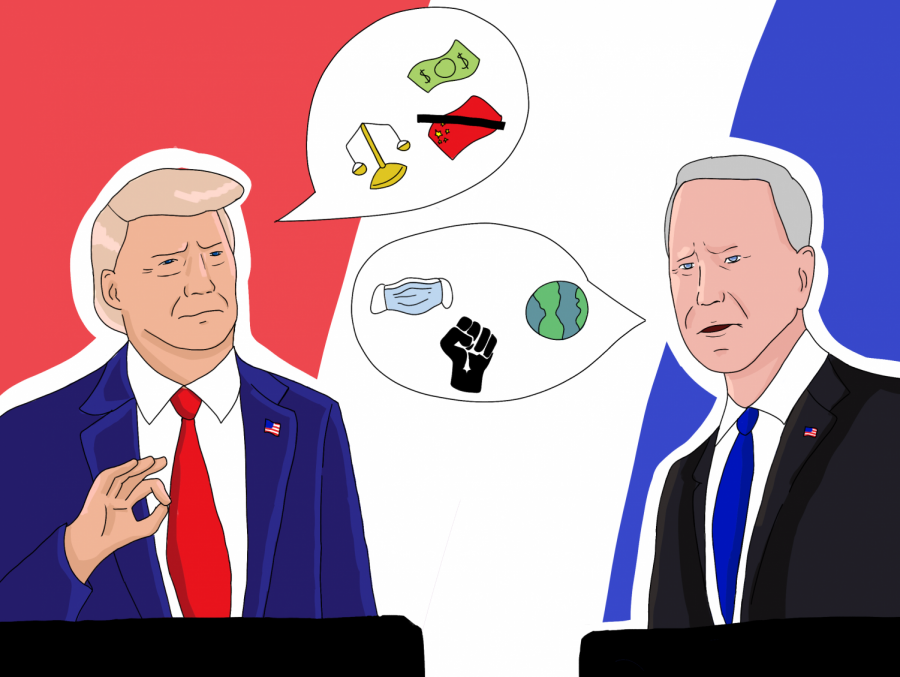 Dana Gaudette
While over 70 million Americans have already cast their ballots through early voting as of Oct. 29, a majority of voting is still expected to take place on Election Day.  
When casting a ballot, it is important for voters to weigh their values against the plans the candidates have put forth.  
According to a Harbinger survey of 272 students, which was conducted via Google Forms, from Oct. 16 to Oct. 22, four of the most important issues to students are: COVID-19 Management, Climate Change, The Economy and Racism.
COVID-19 Management

The COVID-19 pandemic has shaken the United States for the last seven months.  According to the survey, 95% of students believe the handling of COVID-19 is an important issue in this year's presidential election.
Junior Alexandra Varner feels former Vice President Joe Biden will do a better job controlling COVID-19.
"[Biden] wears his mask, he believes in science and he supports everything scientists believe in," Varner said in an interview via Zoom.  "[President Donald] Trump doesn't believe in science… and he's not doing anything to protect the country from it."
A sophomore who supports Trump, and asked to not be named due to concerns for their safety, admits there is more Trump could have done, but also believes Trump has done a good job protecting personal liberties while keeping Americans safe.
"I think [COVID-19 restrictions] have to be broken down into regional laws," the anonymous sophomore said. 
The Biden Plan
Biden's campaign has released a full and detailed plan on how COVID-19 will be handled if he is elected.  According to Biden's Plan to Beat COVID-19, the highlights of Biden's plan include:
Testing – Biden will increase testing capacity by 200% and hire at least 100,000 Americans to work as contact tracers.
Personal Protective Equipment (PPE) – Biden will use the Defense Production Act to replenish the national stockpile of PPE and distribute it to "hard-hit areas."
Vaccines – Biden will ensure every American receives a safe vaccine, at no cost to the individual.
Masks – Biden wants to implement a national mask mandate.
The Trump Plan
The Trump Campaign has not issued a full plan on how he will handle COVID-19 if he is elected to a second term. Trump has sent mixed messages regarding the pandemic, but the following can be presumed based on past messaging:
Vaccines – Trump has promised to create 300 million doses by January 2021.
Masks – Trump is personally opposed to masks and opposes a national mask mandate.
Climate Change
Scientists agree that humans are impacting the rate at which the Earth's temperature is increasing. 
According to the survey, 92% of respondents feel climate change is one of the most important issues.  
Senior Miranda Slingluff believes climate change is "the most pressing matter in the world right now." 
Varner is hopeful that under a Biden Administration, the US will reduce carbon emissions and rejoin the Paris Climate Agreement.
Alternatively, senior Andre Knapp feels climate and carbon emission issues should be dealt with at the state level.
"In Massachusetts, we are far ahead of the curve in terms of climate change," Knapp said. "I do not think we need a lot of federal legislation regulating what we can and can't do."
Despite an overwhelming majority of scientists asserting otherwise, the unnamed sophomore does not believe humans are causing climate change.
"What many people do not realize is that the climate has always been changing since the Earth was formed," the sophomore said. 
According to The Mercator Research Institute on Global Commons and Climate Change, as the global temperature continues to increase and as ocean levels rise, the next four to eight years will be crucial to saving our planet from irreversible climate change.
The Biden Plan
Biden's campaign has laid out a clear plan for how he will approach this issue.  The plan includes:
Net-zero emissions – By 2050, Biden hopes the US will have a clean energy economy.
Paris Climate Agreement – Biden pledged to rejoin the Paris Climate Agreement.
Build off Green New Deal – Biden agrees with the key principles of the Green New Deal and will incorporate parts of it in his plan.
The Trump Plan
The Trump campaign has not created a clear plan regarding how he will address the climate change crisis and will not admit the changing climate is primarily due to human involvement.
Clean water and air – The administration has held a position that it wants clean water and air.
Economy – The Trump administration has argued that many of the liberal climate policies would destroy the economy by removing millions of oil and coal jobs.
Environmental Protection – Trump has removed many Obama-era environmental protections in favor of policies that better affect large corporations.
Racism in America

According to the survey, 94% of respondents feel racism is one of the four most important issues.
So far in 2020, according to The Washington Post, over 250 people of color have been shot to death by police.  Black and Hispanic Americans are killed by police at a rate of 32 and 34 per million respectively, while white Americans are killed at a rate of 13 per million.
Over the summer, this issue was highlighted when millions of Americans protested the killing of George Floyd with calls made to "defund the police" and redistribute law enforcement funds to non-violent interventions. Counter protests ensued with slogans like "back the blue" and "blue lives matter."
While neither candidate supports defunding the police, Biden is in favor of increasing spending on police and criminal justice reform and non-violent interventions.  Alternatively, Trump supports increasing armed police presence.
"Joe Biden believes in Black Lives Matter, and wants to protect the black community from police brutality," freshman Madelynn Mitchell said in an interview via Zoom.  "Trump doesn't believe in Black Lives Matter, he says All Lives Matter, and he downplays [Black Lives Matter].  He doesn't care."
The Biden Plan
Biden has a clear plan on his goals regarding criminal justice and police reform.
Rooting out Racial Disparities – Biden will work to root out racial disparities that are ingrained in the U.S. criminal justice system.  Biden will also work to have unconstitutional and unlawful policing incidents federally investigated.
Fighting Against Violence – Biden will work to reduce hate crimes and support victims of community violence.  
Separation of Rioting, Protesting – Biden supports the Black Lives Matter movement and has made it clear that rioting and protesting are two separate things.  
The Trump Plan
Trump claims to be the "law and order" president and has often associated the recent Black Lives Matter protests with violence. He claims Biden and Democratic governors endorse this violence even though Biden has specifically stated otherwise.
Systemic Racism – At the first presidential debate, Trump did not acknowledge that systemic racism exists in America.  
Providing Black Jobs – According to the Wall Street Journal, before the pandemic, Black unemployment dropped below six percent for the first time in about 50 years and the poverty rate for Black Americans fell below 20% for the first time since WWII. 
The Economy & Jobs

Many Trump supporters argue Trump will do far more for the economy than any Democratic president.  The economy is one of Trump's top priorities and he argues that Biden's policies will hurt the economy.  
On the other hand, Biden has an economic plan, but will not necessarily prioritize the economy over safety from COVID-19 or environmental reforms.  His economic plans focus on raising taxes for the rich, creating new jobs and helping the middle class.
Compared to 14% of all respondents, 67% of the respondents who prefer Trump, rated the economy as one of their most important issues.  
Part of the reason the anonymous sophomore supports Trump is due to his prioritizing of the economy.  
"Before COVID-19, the Trump administration had provided many, many jobs to lots of communities," the sophomore said.
The Biden Plan
Biden has a detailed economic plan as he pledges on his campaign website to "create millions of good-paying jobs" and "give America's working families the tools, choices and freedom they need to build back better."
COVID-19 Relief – Biden pledges to provide more economic relief to working families and small businesses.
Creating New Jobs – Biden wants to hire at least 100,000 Americans to help fight the pandemic. 
Prioritizing Working Families – Biden wants to create a universal $15/hour minimum wage and pass the PRO Act to give workers more opportunities to bargain with their employers. 
The Trump Plan
Trump has not detailed many new economic policies, but hopes to rebuild the economy after the pandemic, and allow it to run under many of the policies Trump established in his first term.
Trump Tax Cuts – Trump has argued to maintain the tax cuts he put forth in his first term, even for big businesses.  
COVID-19 Relief – Trump favors another stimulus bill despite Senate Republicans like Mitch McConnell opposing the current proposal.  He argues that the economy should take priority right now over COVID-19 due to low death rates.
Employment – Trump will work to decrease unemployment among minority groups.