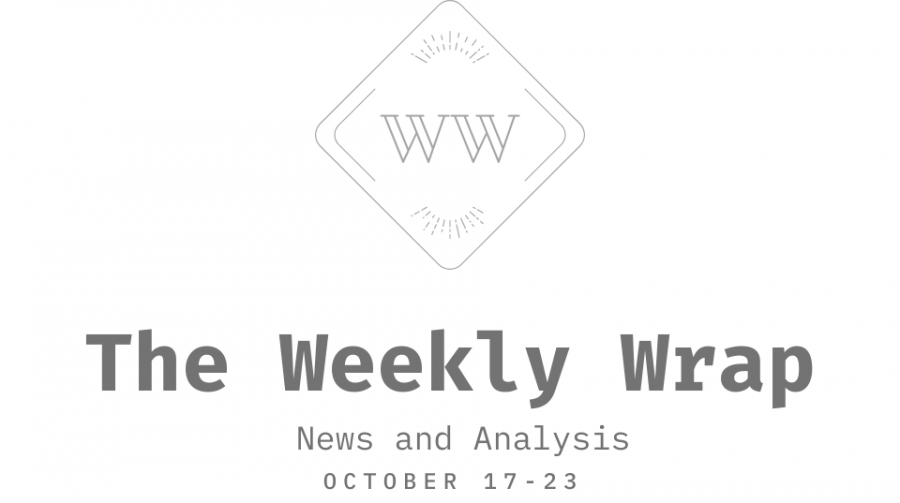 Ben Schanzer
Welcome back to the Weekly Wrap!  A lot has happened in the past week and Election Day is in less than two weeks.  As a reminder, every news story is constantly evolving, so it is possible that more update-to-date information exists elsewhere.  For this reason, I will link to many of my sources so you can learn more.  With that being said, let's get into what happened this week, and what I think about it.
Trump, Biden face off in final presidential debate
Thursday night, President Donald Trump and former Vice President Joe Biden faced off in the last presidential debate before the election. Thursday's debate much resembled a typical presidential debate.  The candidates were, for the most part, polite and allowed their opponent time to speak.  During the first debate on Sept. 29, Trump was constantly interrupting Biden and almost no policy was discussed.  This made Thursday's debate much more watchable and allowed the voters to learn a little bit more about the candidates' policies.
One issue which came up during the debate, which is important and often understated, is a national minimum wage.  Trump argued that because some small businesses can't afford to pay their employees more, the national minimum wage should remain at $7.25 per hour. Biden argued that many Americans are forced to work multiple jobs, something that shouldn't happen, so the minimum wage should be raised to $15.00 per hour.  It should be noted that Massachusetts is currently undergoing a phased raising of the minimum wage by increasing it by 75 cents each year until 2023 when it will be at $15.00 per hour.  
New record for most new COVID-19 cases in one day set
Friday, Oct. 23, the United States reported over 80,000 new COVID-19 cases.  This is the highest number of new cases since the pandemic began.  
On Friday, US Surgeon General Dr. Jerome Adams said, "This week, we will probably have our highest number of cases that we've ever had on a daily basis in the United States."
Adams also cautioned that US hospitals are, once again, nearing capacity.  If the hospitals in our country fill as they did in the spring, the death toll would be unfathomable.
If we continue on the same trend as we are on now, it would be possible for the United States to reach 1 million deaths by March of 2021.
On the plus side, and that is a grim statement, Adams stated that the current death rate is down 85%.  He said this is because medical experts now have better treatment standards than when the pandemic began.  Adams cited steroid treatments, like the one President Trump received, and remdesivir as two major factors for decreased mortality.
Global protests sparked over Nigerian special police unit 
Protesters across the world have begun calling for the end of a Nigerian special police unit which has been accused of committing brutal acts against citizens.  The unit, formally called the Special Anti-Robbery Squad (SARS), has been responsible for atrocious acts since its foundation in 1992.  Outrage and protests were restarted in early October after a video surfaced of SARS dragging two people out of a hotel and shooting one of them.
Over the last week, #ENDSARS went viral after numerous celebrities posted online about the subject. After public outrage in and outside of Nigeria, the government announced that it would disband the unit.  While many protesters considered this a success, they returned to the streets after finding out the SARS officers would be redistributed into other police units. 
Then, on Tuesday, Oct. 20 at least ten Nigerians were killed in an alleged military attack on its own people.
United States Secretary of State Mike Pompeo tweeted on Tuesday saying "The United States strongly condemns incidents of military forces firing on unarmed protesters in Lagos. Those involved should be held to account under the law."
Many nations, including the US, and the UN have condemned the Nigerian Government for their actions, and protesters hope they can prompt more reforms within Nigeria.
Trump Administration accuses Google of monopolizing search engine industry
On Tuesday, the Department of Justice and a number of Republican states filed suit against Google for monopolizing the search engine industry through "anticompetitive and exclusionary practices."
The suit primarily claims Google has violated many sections of the Sherman Antitrust Act of 1890 which was the first law to limit the power of corporations and to ensure fair trade.
According to the suit, Google processes over 90% of all search queries.  They achieved this control by paying billions of dollars to be the default search engine on many different phone and computer companies' devices.
Google argues that "People use Google because they choose to, not because they're forced to, or because they can't find alternatives."  
Google's argument is essentially: the people choose us because our opponents aren't as good.  The suit argues Google has prevented its opponents from achieving its level of success.  And to be fair, it does feel like there is no alternative to Google when trying to find information online.
Fauci suggests national mask mandate
Dr. Anthony Fauci, director of the National Institute of Allergy and Infectious Diseases, told CNN that a national mask mandate, like Former Vice President Joe Biden supports, may be necessary to control the spread of COVID-19. 
Face masks, which have been recommended since early April, are the most crucial tool for stopping COVID-19 from spreading.  
President Donald Trump is strongly opposed to masks, yet has not offered clear reasoning as to why.  Meanwhile, Biden promises to create a mask mandate if he is elected.  Throughout this entire back and forth, Fauci has remained out of it.  He has encouraged masks, but also said that a mandate may not work and that we should trust Americans to do the right thing.
This messaging changed on Friday, Oct. 23 when Fauci told CNN "If people are not wearing masks, then maybe we should be mandating it."
According to a new study, if 95% of people wore masks in public we could prevent between 100,000 and 1 million deaths in the United States.  If a mask mandate were to be instituted, the ramifications for our country would be amazing.