Coronavirus prompts MIAA to adjust sports seasons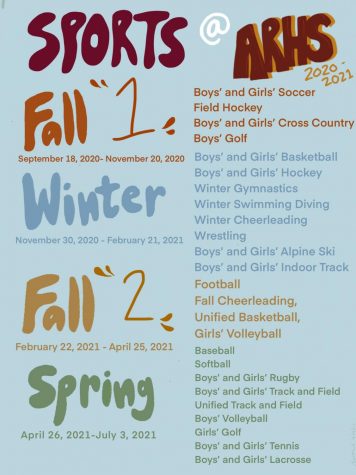 Due to COVID-19 risks, the MIAA decided on August 19 to divide the regular fall season into two seasons, Fall I and Fall II, and reduce the length of the winter and spring seasons.  
The new plan was based on guidelines published by the Massachusetts Executive Office of Energy and Environmental Affairs (EEA) and by the Massachusetts Department of Elementary & Secondary Education (DESE).
According to the Athletic Department's August Update, the Fall I season will begin on Friday, Sept. 18 and consist of golf, cross country, field hockey and soccer.  
The Fall II season, which starts on February 22, 2021, after the winter season, will include football, fall cheerleading, unified basketball and girls' volleyball.
As of Sept. 9, the winter and spring seasons will include the same sports as normal. Though the update states, "All plans are subject to change based on current health data. We will reassess the winter/spring sports situation in the coming months."
Athletes who were planning on participating in a sport that has been moved to the Fall II season are eligible to participate in a Fall I sport in addition to the Fall II sport, creating four athletics seasons instead of three. Due to the increase in seasons and decrease in length of each season, the $200 per season athletic fee has been reduced to $150 per season.
According to the Midland-Wachusett League update issued on August 27, "[Fall I sports] must undergo modifications, some significantly changing the look of the game, to adhere to the EEA/DESE guidelines."  
While it is not yet clear what these "modifications" will be, the American Academy of Pediatrics (AAP) recommends prioritizing noncontact activity, maintaining practice groups in consistent pods of small sizes that do not mix athletes and limiting the use of indoor sporting facilities.
In addition, the AAP recommends limiting adult spectators and having all athletes wear cloth face masks.
"Our students' health and safety are paramount in any and all of these future decisions," the Midland-Wachusett League update states.