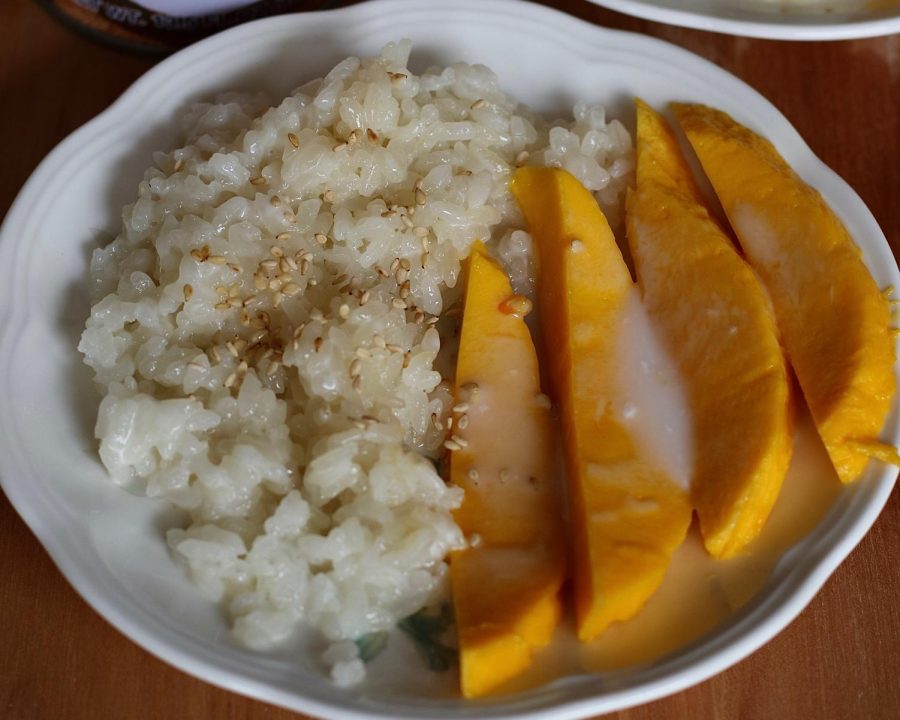 Brianna Tang
Mango sticky rice is a dessert that's super easy to make at home and perfect for the warmer weather. It is a traditional Thai dessert made with glutinous rice, fresh mango and coconut milk.  Glutinous rice, also called sticky rice or sweet rice, can be bought at Wegmans or Asian grocery stores. I'm not sure if this is the most authentic way to make it, but it is still very delicious. 
Ingredients:                             
1 cup glutinous rice 
1.5 cups water 
1 can coconut milk 
2 large mangos 
2-4 tbsp sugar
Pinch of salt 
Procedure:
1) Combine 1 cup glutinous rice, 1.5 cups water, ½ can coconut milk, 1 tbsp sugar and a pinch of salt in a rice cooker. Let the rice soak for at least 20-30 minutes prior to cooking (this applies for both the rice cooker and stove top method). 
2) Cook the rice on the "sweet" setting for about 50 minutes. This mixture can also be cooked on the stove top by bringing it to a gentle boil, then reducing the heat and letting it simmer for 20-30 minutes. The coconut milk should be absorbed by the rice when it is done cooking. 
3) To make the sauce: heat the rest of the can of coconut milk and add a few spoonfuls of sugar (adjust to your desired sweetness). Don't boil the sauce, you can heat it over a pan or microwave for 30 seconds. 
4) Assemble the warm cooked sticky rice with mango slices, and drizzle the sauce on top. 
5) Enjoy!
This makes about 4-5 servings of sticky rice. The cooked sticky rice and any leftover canned coconut milk can be kept in the fridge for a few days.