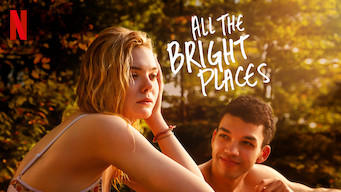 Courtesy Netflix
Director Brett Haley's "All the Bright Places" is a touching tale of two teenagers struggling with the emotional burdens of their past. The Netflix original is based on the book by Jenifer Niven, who also does the screenplay for the movie. 
Theodore Finch (Justice Smith) attempts to change a cynical Violet Markey's (Elle Fanning) view on life and impact her forever with his live-in-the-moment attitude. Finch takes Markey through a tour of the rather pathetic landmarks of the fictional town of Bartlett, Indiana and shows her that even the smallest of moments are worth living for. Throughout the film, viewers realize that even though Finch helps change Violet's attitude for the better, he carries struggles of his own.
The actors do a phenomenal job portraying each of their characters as they are represented in the book. Justice Smith manages to perfectly portray the eccentric and impulsive yet brooding Finch. Elle Fanning does an amazing job contrasting the dulled Markey at the beginning of the film with the optimist she develops into towards the end of the film. 
Markey's mental transformation is accompanied by a corresponding physical transformation. The costume and art departments do a wonderful job of physically showing the changes Markey goes through. At first, Markey sports long, heavy-looking overcoats and looks sun-deprived and sickly. By the end of the film, Markey ditches her sister's glasses, a representation of her unresolved death that seemed to weigh her down, wears brighter clothing and the color is brought back into her face. Even her hair seems to get blonder. 
The drawbacks of the film can only be found when it's compared to the book. There were many details left out of the movie that seemed central to the novel. The movie lacked in carrying any narrational feel, and the signature back and forth perspective switch that the book contained was noticeably missing. There were one too many montages of sparkling waters and lens flare, that could have been substituted with dialogue or character development that would help bring to the movie the certain rawness so apparent in the book. Still, tackling such a heavy topic as mental health without glorifying it can be hard, and for that alone, the movie deserves praise.
For watchers who have not read the book first, the movie is terrific overall, an intensely emotional tear-jerker that manages never to get too dark. But I personally felt that as good as the movie was, it didn't live up to the experience of reading the book. Something about flipping through the actual pages and getting to create your own images of the characters was a whole other experience in itself.