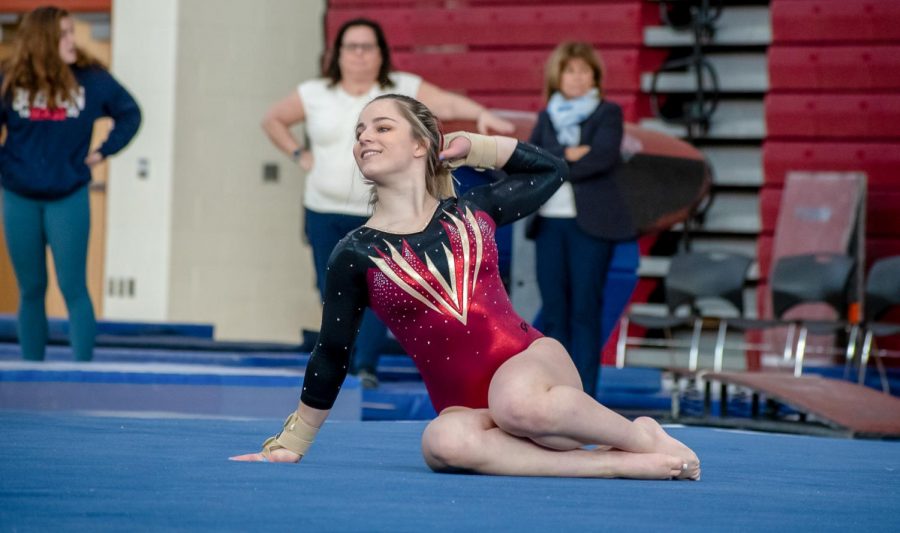 Photo Owen Jones
With one of their best scores of the season, the gymnastics team placed first at the MIAA Girls' Gymnastics South Sectional Championship on Saturday, Feb. 22. 
The gymnastics team was seeded fourth entering Saturday. Head coach Jordan McStay wanted her team to perform the best that they can at Sectionals. 
"I came into this meet with them telling them I just want them to hit and have the best meet of their life, and I don't care what place we come in," McStay said. "So the fact that we won is the icing on the cake."
McStay was thrilled about her team's energy level just after their first event. 
"You could just tell that everybody was thrilled and so happy and proud of each other [after the first event], and I think that was the moment I realized this is a championship team," McStay said. "Even if they don't win, in my heart they've already won."
Sophomore and all-arounder Lizzy Debroczy led the way for the team scoring 9.625, 9.5, 9.55 and 9.8 in all four events: floor, vault, bars and beam. All of her scores were team highs. Debroczy's highest score of the day came on the beam which was the last event for the team. 
"We knew we had a lot of pressure on us because we knew we were going into the last event as the first-place team," Debroczy said. "We all had to remain calm, but when everyone stuck it was the best feeling ever," Debroczy said. 
Both senior captain Demetra Safiol and McStay expressed great appreciation for the team's efforts. 
"I am so proud of our team," Safiol said. "Our score just skyrocketed towards the end of the season and we've gotten closer as a team, better as gymnasts, and we're always encouraging each other at practice."
"I have never been so proud of a team in my entire life," McStay said. "They went out there and did everything they know how to do, and they did it perfectly."
McStay credits the team's success to the family-like atmosphere the team has built. 
"They come in every day, and they enjoy being together," McStay said. "They enjoy coming to practice. They'll come early to practice to hang out longer. They'll stay late after practice. Just the fact that everybody gets along and treats each other like family, it helps." 
McStay wants her team to do what they just did at Sectionals when they compete for the State Championship on Saturday, Feb. 29 
"What they did today was exactly what I want for them at States regardless of placement," McStay said. "I don't like them to look at scores, I just want them to go out there and if they feel like they did the best routine they could've done, then that's all I can ask for."