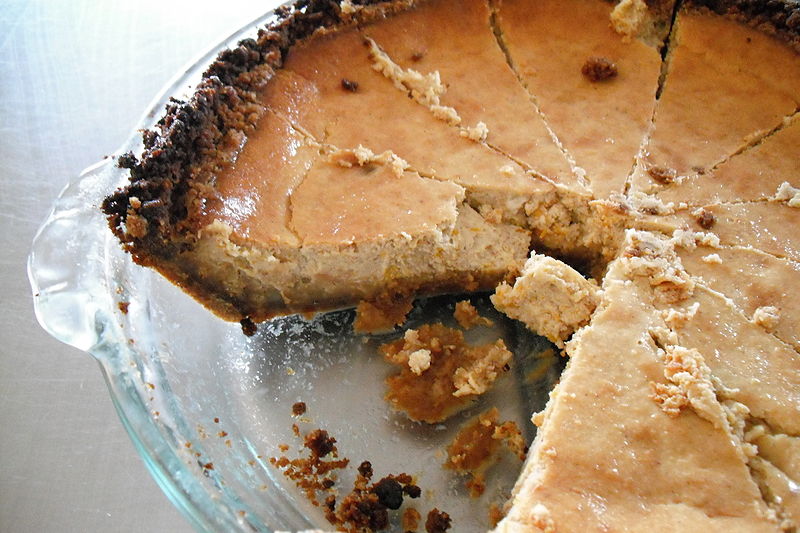 Permission Ken Mayer
Crust ingredients 
9 whole graham crackers (about 4 ounces), broken
1/4 cup sugar
1 teaspoon ground cinnamon
1/4 cup (1/2 stick) butter, melted
Filling  ingredients
4 8-ounce packages cream cheese, room temperature
1 1/2 cups sugar
3 large eggs
1 15-ounce can pure pumpkin
1 cup whipping cream
2 teaspoons vanilla extract
2 teaspoons ground cinnamon
1 teaspoon ground ginger
1/2 teaspoon ground nutmeg
1/2 teaspoon ground allspice
1/4 teaspoon ground cloves
For crust:
Position rack in center of oven and preheat to 350° F. Wrap double layer of heavy-duty foil around outside of 10-inch-diameter springform pan. Combine graham crackers, sugar and cinnamon in processor. Blend until graham crackers are very finely ground. Drizzle butter over. Using on/off turns, blend until crumbs begin to stick together. Press crumbs onto bottom (not sides) of springform pan. Bake until crust is slightly golden, about 10 minutes. Transfer to rack and cool while preparing filling. Maintain oven temperature.
For filling:
Using an electric mixer, beat cream cheese and sugar in large bowl until smooth and fluffy. Beat in eggs one at a time. Add pumpkin and remaining seven ingredients. Beat just until blended. Pour filling into prepared crust. Place springform pan in large roasting pan. Add enough water to come halfway up sides of springform pan.
Bake cheesecake until slightly puffed and softly set and top is golden, about 1 1/2 hours. Transfer springform pan to rack and cool. Cover and refrigerate cake overnight.
Using a knife, cut around sides of pan to loosen cake. Release pan sides. Cut cheesecake into wedges and serve.