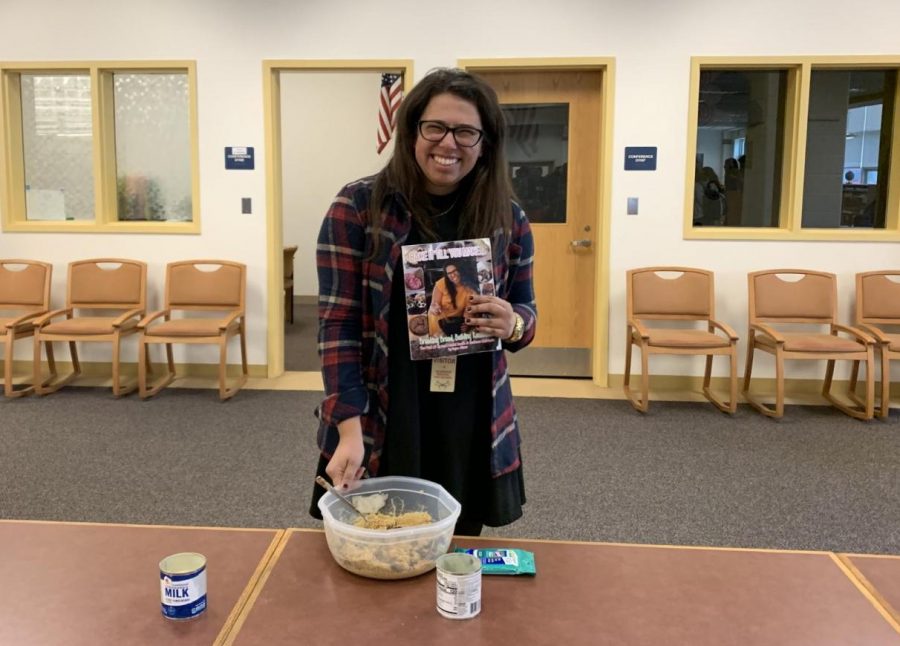 Photo Jenny Lambert
Algonquin alumna Dayna Altman spoke to several classes about her mental health struggles and her cookbook, "Bake It Till You Make It," in the library on Thursday, Nov. 14 during periods one and two.
Altman struggled with eating disorders throughout her entire experience at Algonquin. She explained that many people were unaware of her struggles in high school. Since then, Altman has sought help and recovered.
"I'm happy that I am able to talk to all of you and advocate for mental health today," Altman said. "It definitely tends to be a topic people are hesitant to talk about."
She published her book in June 2019. It includes recipes by over 40 different bakers, ranging from 15-82 years old. Each recipe is accompanied by a unique story from the baker who has overcome a struggle. 
Altman used her graham cracker brownie recipe as a metaphor for her life during the presentation. Each ingredient represented a stage in her mental health.
"Now I'm going to pour some graham cracker crumbs into the bowl to represent a time in my life where I felt things were starting to crumble," Altman said.
When she explained a more recent time in her life where she began to get help and practice mindfulness, she added chocolate chips because they are sweet and make her happy.
In her presentation, Altman read two stories from the book. The writers of the stories explained how their recipes helped them overcome their personal hardships.
"My favorite part [of the presentation] was when she read different passages from her book because they were spoken from a different perspective," junior Grace Madden said. "It wasn't her own writing but it was from other people."
Many times throughout the presentation, Altman emphasized the idea that those struggling with their mental health are not alone.
"Collecting these stories helped me realize that you are not alone," Altman said. "And especially that everyone has their own story."
Altman graduated from Northeastern University with her master's degree in public health in 2018. She works as the Substance Use Coordinator at Girls Inc. in Lynn. She hopes that her book inspires others to tell their stories. 
At the end of her presentation, Altman advised students who are struggling with mental health to take advantage of the resources they have. 
"I thought that [Altman's] story was really inspiring that she was able to advocate for herself when she knew she needed help," senior Sara Prendergast said.
"It was really interesting to hear from a former student and hear what she had to say about mental health," Madden said. "She was definitely a very positive speaker."