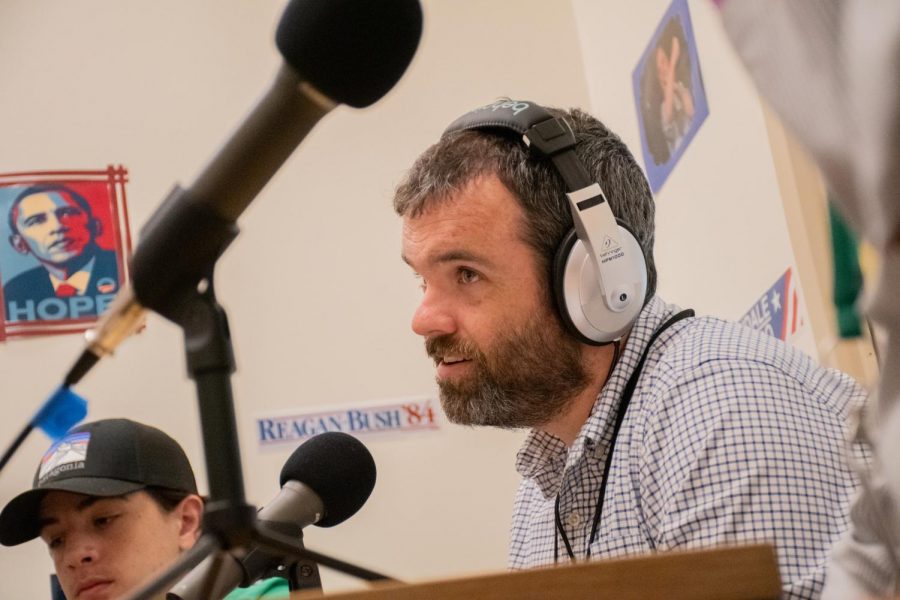 Jonny Ratner
With the goal of encouraging students to informatively speak about important political topics, social studies teachers Brian Kellett and John Barry founded the Algonquin Politics Podcast in May 2019.
Last school year, three episodes of the podcast were published on multiple platforms including Apple Podcasts and Spotify.
While at a professional development course themed around getting kids more comfortable in basic civil discourse, Barry came up with the idea to start a podcast.
"The podcast just heightens the expectation [for students to voice their opinion]," Barry said. "It's more than a casual conversation. It brings out the best in kids to stick their neck out."
The two teachers guide the podcast discussion for a couple of students in the school library.
Kellett and Barry want the podcast to be an extension of their jobs as teachers; they want to encourage discourse while helping students find their voice through the podcast.
"Anytime you're speaking in a different sort of environment, I think there's room for growth, and that's what we're trying to do throughout our jobs," Kellett said. "[The podcast] is another way to do it."
 After being approached by Kellett in class, junior Gavin Weinberg was a guest on one of the first episodes about the Electoral College and the 2020 presidential election.
"I think definitely being on the podcast helped me with public speaking skills," Weinberg said. "Learning how to talk to people in a different way is a really valuable skill."
As the podcast grows, Kellett and Barry hope to increase the amount of student voice. Their goal is to try to talk less each episode, ultimately allowing students to talk the majority of the time.
"We want this to be a place where student voice is at the center," Kellett said. "We try to help [students by] directing the conversation to make sure we hit on certain issues that we feel are worthy of discussion. But the student opinions and the student ideas, I think, are at the forefront of why we want to do this."
Controversial political topics like the ones covered on the podcast are usually not addressed in a school environment, but Kellett and Barry aren't afraid of that; in fact, they are excited for it.
"We want [students] to feel comfortable talking about controversial issues in a classroom," Barry said. "In many ways, we also want [to] put them in places where they're learning how to construct an argument about…an uncomfortable topic. I think that the podcast is [a] place where they can practice that."
Weinberg also expressed his support of this philosophy.
"I think there should be very few things that are off limits in a school, as long as it's respectful and as long as it's intelligent discourse," Weinberg said.
Since the podcast began, multiple students have signed up to be a guest. However, Kellett and Barry want the podcast to not only benefit these students, but to also strike up conversations between students listening.
"It's also something that we hope kids who aren't participating can at least use as a vehicle for creating a discussion about political issues," Kellett said.
Going into this year, Kellett and Barry hope to continue the podcast with the objective of centering the topics around the 2020 presidential race. Their goal though, is to discuss different viewpoints instead of just stating facts.
"What we want to do is let CNN tell us who's winning in the polls, but go beneath it [and dig deeper]," Barry said. "Why are they leading in the polls? What's changing in the electorate in this country?" 
As the new school year progresses, Kellett and Barry look forward to seeing the effect the podcast has on the community. 
"Maybe we can play a small part in fostering a community that is thinking about issues, talking about issues, listening to the other side,"  Kellett said.