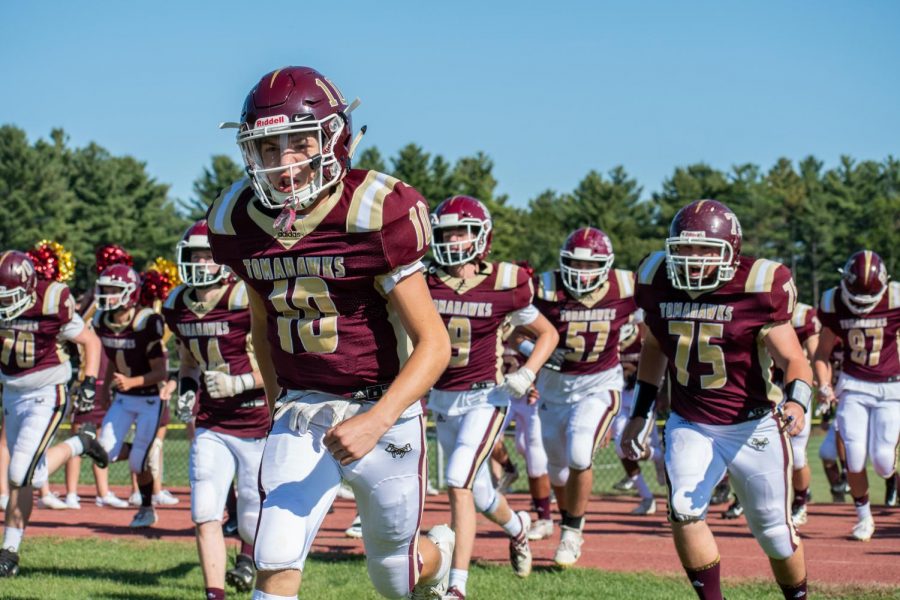 Jonny Ratner
The football team is looking to formulate success this season through several program changes involving team culture, coaching staff and uniforms.
Head coach Taylor Allen says that improving team culture, the attitude the team has towards each other and achieving a common goal, is a top priority this year. 
"Focusing on the team culture is number one this year," Allen said. "I think this year we've improved our team culture. We look forward to continuing to build off of that team culture and hopefully that can correlate to great success on the field."
The captains are also trying to change the team culture. 
"Some of the things that we're trying to change as captains are how we look at practice and games, our attitudes towards the teams we play, the dynamic in the locker room as well as in school," junior captain Rio Ferguson said.
Senior captain Nick Alessi is also trying to create change in his own way by being a role model for his teammates.
"I'm just trying to lead by example, push kids harder, get morale higher than it was in the past years," Alessi said.
Along with a change in team culture, there have been some coaching additions. Andy Brooks is the new offensive line coach who was on the coaching staff during the 2016 season and previous seasons as well. 
 "In 2016, we went to the district championship game and he was a major piece of that," Allen said. "He's been a huge help so far and can't thank him enough for joining the staff."
Another addition to the coaching staff is James Finn, who was also a part of the 2016 staff.
"He's a special teams guy, d-line guy, o-line guy, so he's a great addition and the kids love him," Allen said. "He's our strength and conditioning coach as well."
The team also received new uniforms to help boost team morale.
"When you look good, you feel good and when you feel good, you play good," Allen said. "It's fun to see them get excited about the little things and obviously it's a big expense for our program, but it's certainly worth it when gameday comes around."
For the last two years, the team has been using a drone to capture film which they can then use to help prepare for games. 
"We utilize film every single day as a staff and at least once a week as an entire team when we prepare for a team," Allen said. 
Film is essential to a football team's success according to Allen.
"As a coaching staff we want to see it on film and break it down and make sure that what we drew up for the players to execute on the field is actually working," Allen said. 
The team has already amazed the captains and their head coach. 
"The team's heart has really impressed me this year," senior captain Derek Blanchard said. "We probably have more kids committed than last year and the year before that combined."
Ferguson was impressed with how players have been filling in roles left behind by last year's seniors.
"We have a lot of juniors and sophomores that are really stepping up and are helping the team out in a big way," Ferguson said.
Allen thinks that the brotherhood that the team shares is their strength.
"The strength of this team is the comradery that we have in the locker room and you can see it on the practice field and on game day too–everyone has each other's backs," Allen said.