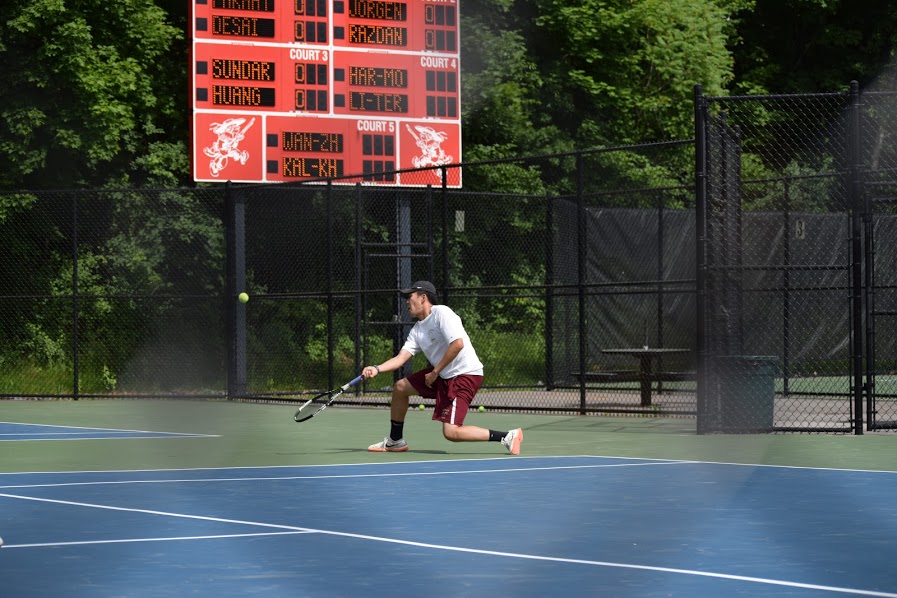 Photo Andy Zhao
Both the boys' and girls' tennis teams won the Central Massachusetts title on Monday June 10. This was the boys' fourth consecutive year advancing to CMASS finals, but the first time they won the championship. For the girls, their win brings their undefeated season to 20-0.  
The boys' beat Shrewsbury 4-1 with wins from senior captain Christian Jorgenson and sophomore Bharathan Sundar for singles and doubles teams of senior Christopher Wang and freshman Ethan Zhang and senior Josh Harmon and sophomore Curran Moholkar. The girls beat Westborough 3-2 with wins from freshman Olivia Almy, senior captain Darby Kim and the doubles team of senior Mia Barletta and freshman Lily Lyadova.  
Both teams had to overcome the nerves that come with playing such an important match, but according to Jorgenson, the boys' team took advantage of the nerves in a way Shrewsbury did not.
"I feel in this match, Central Mass finals, everyone's a little nervous, so it's hard to say whether or not someone can play well," Jorgenson said.  "I definitely would pay attention to how [my opponent] played in the warm up and the first few games, and I noticed that he was a little nervous, so I played accordingly. I gave him the initiative in making points, so he would make a lot of mistakes, and that's why I think I was able to win."
In addition, the boys have felt cursed with their past three CMASS appearances ending in losses.
"It's kind of been a curse the past three years, especially the last year and the year before that," Jorgenson said.  "Both of the matches we had were pretty winnable, and we lost them both. So this time we can't mess it up one more time."
The girls' team had a quick win from first singles player freshman Olivia Almy, who was quickly followed by senior captain Darby Kim playing in the second doubles position.
Almy felt the nerves while Kim did not.
"This was one of our biggest matches all season and I didn't want this to be the one match I lost," Almy said.  "I also have played this girl three times already, so I was expected to win, which made me really nervous as well."
"I've played this girl many times throughout my high school career and have always been successful in beating her, but going into the match I didn't want to set any expectations or underestimate her and just wanted to play my game," Kim said.  "She played absolutely incredible, but I was luckily able to rely on my skills and experience to pull through the win for the team."
Both teams won their states semis on June 17 and will be playing in state finals on June 19.
"We're all so excited and supportive of one another," senior Mia Barletta said.  "We're 20-0 going in so we want to keep that going as we head into states."
The boys' hope to use the Central Massachusetts title as momentum for a future without the seniors.
"It sets a high bar for us next year, we have a lot of seniors leaving, so our goal is to get back here, obviously win again, but we'll see how it goes," freshman Ethan Zhang said.