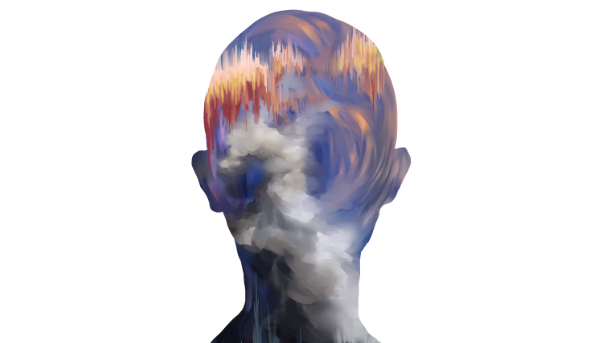 "We're not talking about them," Director of Southborough Youth and Family Services Sarah Cassell said. "We're talking about you and me. We all have brains. In the same way that our heart beats and that we breathe, we all have mental health."
According to a Harbinger survey of 186 students from May 21 to May 27 through Google Forms, 43 percent of students have been diagnosed with a mental illness by a health professional. Forty-four percent of respondents say they have struggled with a mental illness not diagnosed by a mental health professional, with the most common reasons for not seeking help being "I think I can handle it on my own," "I don't know how to ask for help" and "I'm too embarrassed."
"It really is true that more people out there are struggling or have struggled and found recovery than we think," adjustment counseling intern Jane Campion, who has organized efforts in connection to Mental Health Awareness Month in May, said.
What is awareness?
According to Cassell, awareness helps end the stigma of mental illness, which can allow those who are suffering to get help.
"Struggling with mental illness can be a very lonely and isolating experience and, unfortunately, I know many people go untreated because there's a very big stigma attached to getting help and, as a result, people are afraid to share what they're experiencing," Cassell said. "It exacerbates their symptoms which just makes the whole thing harder."
Senior Wolf Kane believes that an understanding of mental health issues could have helped him receive support earlier when he was struggling.
"When I first was figuring out myself, one thing I didn't realize was how depressed I was," Kane said. "I didn't realize that being in that low point wasn't a normal thing that everyone experiences."
For junior Lauren Hardman, who says she has been diagnosed with ADHD, anxiety, depression and high-functioning autism, awareness helped her gain acceptance.
"Awareness really opened my eyes about that it's not my fault that I'm going through these things and that it's normal," Hardman said.
Awareness also motivated Hardman to seek help and support.
"I was denying that I was having issues for a long time," Hardman said. "I didn't think that anybody could help me or anybody could talk to me through this stuff, but I came to a point where I realized that I needed to."
Campion believes awareness goes beyond simply knowing the textbook definition of a mental health illness.
"[Awareness is] digging deeper into what it feels like to be a person who's gone through some of these things and… trying to have some perspective," Campion said.
Awareness at Algonquin
According to Principal Dr. Sara Pragluski Walsh, it is important for the school community to have an awareness about mental health.
"We do have a responsibility to spread awareness about mental health issues because we as a school believe in inclusivity and supporting the differences in each other and supporting each other in general," Walsh said. "We want to create a safe learning environment for all of our students."
In May, several efforts were organized in connection to Mental Health Awareness Month. Students in Wellness and Graphic Design classes collaborated to create posters on mental health conditions, which were displayed outside the cafeteria.
"We wanted to show that it's not a bad thing to have mental health challenges," senior Eli Cohen-Gordon, a student in the Wellness class, said.
Kane saw the impact of the posters first-hand.
"Someone would be looking at the board with all the different mental disorders like 'Hey, I didn't even know some of these were a thing,'" Kane said "…It's good that we can advertise all these different illnesses, so people are more aware."
Furthermore, Kane and Campion organized a collaborative art piece to engage students in a discussion about mental health. During all three lunches on May 15, they invited students to write strategies for keeping mental wellness on glass support stones. The stones were then glued to a painting of a tree.
The tree, along with some of the posters, was on display at Southborough Youth and Family Services' "Celebrate Wellness" event on May 30. Campion plans for the collaborative painting to be hung somewhere in the school.
"My overall goal was to help students understand a little bit more and to know if they've experienced this, that they're not alone," Campion said.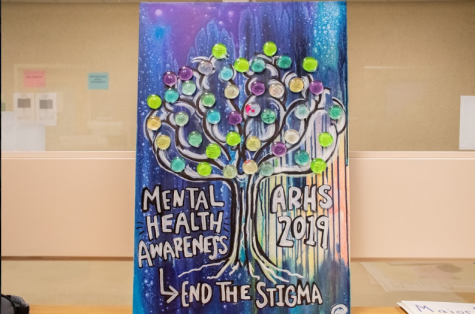 Also on May 15, Southborough Youth and Family Services and Northborough Family & Youth Services provided information about their programs to Algonquin students during lunch periods.
Despite efforts, 50 percent of The Harbinger's survey respondents did not know that May was Mental Health Awareness Month.
According to Walsh, awareness about mental health issues is woven into the school's curriculum in the sciences, PE, Health and Psychology classes. Guidance workshops, such as Break Free From Depression for freshmen, serve to promote an understanding of mental health as well.
Sixty-eight percent of survey respondents felt there should be more efforts to raise awareness during May. Only four percent indicated that they were pleased with the efforts, with 12 percent saying they were indifferent and the remaining 15 percent believing the efforts were adequate.
Ending the stigma
Of the 44 percent of students who say they have struggled with a mental illness and not seen a health professional about it, 30 percent indicated that it was because they did not know how to ask for help and 21 percent indicated that it was because they were too embarrassed.
Adjustment Counselor Beth Mintz hopes that the stigma around mental health will vanish.
"[My hope is] that people can start to destigmatize mental health and just as you would treat diabetes or you would treat a broken ankle, you would treat mental health with the same care and compassion and non-judgement," Mintz said.
Moving forward, Mintz believes there needs to be a discussion to help determine how to best offer support to students who may be struggling with mental health illnesses.
"There are definitely more conversations that are going to need to happen around how to help students with mental health challenges because they're calling it an epidemic," Mintz said "…Anxiety and stress and all that is coming to epidemic proportions with teenagers."
Junior Brendan Bernier, who has struggled with his mental health, thinks people need to start paying more attention to the issue but solutions exist.
"It's a fixable problem," Bernier said. "I just don't think enough people really care about it."
According to Bernier, the school community helping students foster connections could make a difference because "a lot of depression lies in loneliness and not feeling like there's anyone there for you."
Cohen-Gordon believes that hiring more adjustment counselors, who support students in the building that struggle with mental health, is essential.
"The [adjustment counselors] don't have time for us, and it's not their fault," Cohen-Gordon said. "They care about us very much. The adjustment counselors are the best, but they're so overworked."
Mintz believes the school is lucky to have the amount of adjustment counselors it does but recognizes the need for more.
"We have four adjustment counselors, and I think that's way more than most school districts," Mintz said. "We're very fortunate in that respect. I know that the caseloads are really large. I know students try to access adjustment counselors and can't sometimes because there are large caseloads."
However, Mintz notes that this need is not limited to the school and extends to the outside community, where professionals are facing high caseloads across the board.
"I think we need more mental health [support] in the schools, but I also think people need better access to counseling outside of school," Mintz said.
Another step that needs to be taken, according to Campion, is having mental health integrated more directly into the school's curriculum.
"There are required math, science, history classes, but we don't necessarily have a required wellness class, psychology, things like that," Campion said. "But I think it needs to be taken a little more seriously as a real need. To not just have a poster on the side of the school but have it really implemented as programming."
Mintz believes that it would be helpful for teachers to have a greater understanding of mental issues.
"If the teachers had more mental health awareness or understanding, they would be able to help students directly get through the mental health challenges that are getting in the way of them reaching their academic threshold," Mintz said. "…But they also have to teach, so they also have a huge amount to do already just managing the academic piece and the relationships and the behaviors in the classrooms, so I don't know how realistic it is."
English teacher Virginia Fitzgerald thinks teachers can play a crucial part in helping students but, ultimately, more support is needed.
"There is an obligation as a teacher to let that student know you're going to talk to guidance or to move that person along in a direction where you can get the help that they need," Fitzgerald said. "I don't think it can stop with the teacher because teachers are not guidance counselors; we're not psychologists. We're just hopefully kind people who want to help students learn and help them feel as happy as they can while they're at school and hopefully outside of school."
Walsh is looking into school-wide training for educators about awareness and indicators regarding mental health to happen early next year.
"We want to make sure that our educators are informed and empowered on identifying potential signs or symptoms that could help us be proactive," Walsh said.
Overall, Walsh believes there is room for improvement when it comes to awareness about mental health issues at Algonquin.
"We, as an educational facility, can always do better at spreading awareness about the various concerns, challenges and difficulties our students face," Walsh said.
Resources
According to Walsh, Algonquin has tiered intervention, meaning that mental health support starts with guidance counselors and then works its way up to other support services as needed, like adjustment counselors and the school psychologist. The school also offers programmatic supports and can help students get in contact with outside therapy services.
The four adjustment counselors serve to help students find coping strategies, work with teachers to help them succeed in the classroom and access resources within the school, according to Mintz.
"A big part of what we do is stress reduction with students because so much is going on in school with academics and relationships at home and relationships with friends and all the extracurriculars and social pressures," Mintz said.
Mintz said that unless a student may hurt themselves or others or has disclosed abuse, students' information shared with an adjustment counselor will not be shared anywhere else.
Adjustment counselors can also help students get in contact with Northborough Family & Youth Services or Southborough Youth and Family Services for further mental health counseling.
"With support, I think people can find a way to kind of break the barriers that get in the way to help them live a fulfilled life," Mintz said.
This article appeared in the June 2019 print issue of The Harbinger .