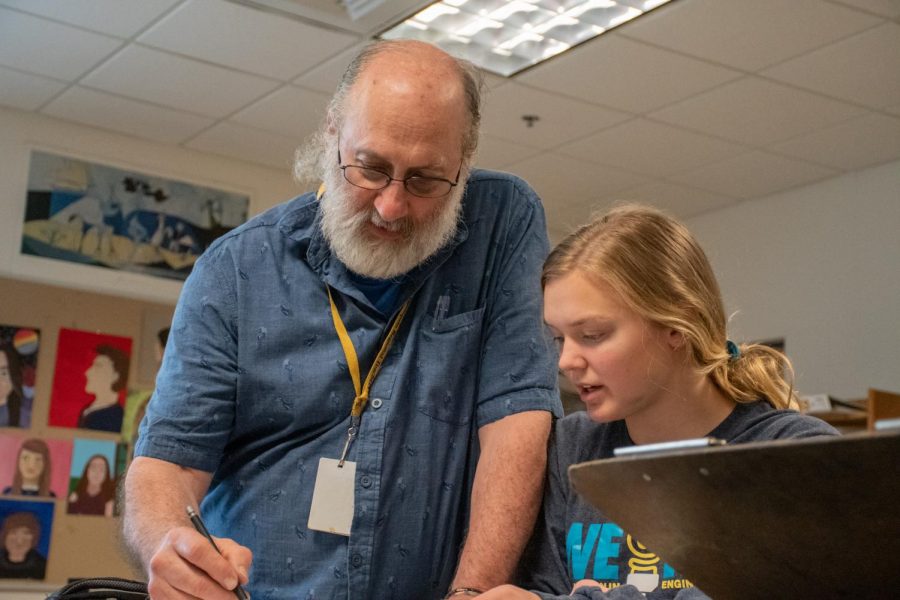 Jonny Ratner
After making an impact on  many students and teachers, Fine and Performing Arts teacher George Hancin will be retiring at the end of the school year after 24 years at Algonquin.
"[I'm going to miss] all the great memories I've had with all the wonderful students and teachers I have worked with over the years," Hancin said. "There are a lot of sweet memories, and I will hold onto those."
Hancin's passion for art allows him to help his students and colleagues exceed their potential.
"There are a lot of times when I'll have kids painting or drawing in class or National Honor Society, [and] I will reach a point where I don't know how to tell them to fix that painting any better," Fine and Performing Arts teacher Michelle Sheppard said. "I just need them to go and see a painter, and the best painter that I can hope for to have across the hall is Mr. Hancin."
"[Hancin] can get kids to paint still lives of apples or squash in ways that I don't know anyone else can, because he understands the importance of it since he is such a wonderful and accomplished painter," Sheppard said. "It makes him truly a great teacher because of that."
Hancin leaves a lasting impression on the friends he made here and the students he had.
"Mr. Hancin is one of my earliest Algonquin friends…because he was right next door I got to know him a little bit," Applied Arts and Technology teacher George Clarke said. "We sort of counseled each other frequently on how to work with different students, and how to work within the building [since] we were both relatively new to teaching…We helped each other through the process of learning to be a teacher."
According to freshman Colleen Mulligan, Hancin is an extremely caring teacher and artist, and will always find a way to help out anyone he can.
"He keeps the class upbeat and makes it fun. He cares about everyone improving as an artist." Mulligan said. "He cares about his students beyond the art. He cares about his students personally and gets to know them well."
Over the years, Hancin has brought a sense of happiness and laughter to Algonquin. He finds a way to make ordinary moments memorable.
"One time Mr. Hancin and I were at a yoga class, and he tried to do a handstand," English teacher Emily Philibin said with a laugh. "He fell over and took me and four other people out."
Before Hancin came to Algonquin, he taught adult-ed and worked as a psychology counselor. He also worked in a co-op art gallery.
"Desperation [brought me here]. I was looking for a college art teaching job, and there was none to be found," Hancin said. "I saw this opening for Algonquin, and I applied for it."
Hancin is looking forward to some down time to work on his own artwork. But since he cannot stay away from helping others with their art, he will be teaching adult-ed classes at the Worcester and Boston Art Museums.
"I'm looking forward to having the time to do my artwork in a more focused, intense manner," Hancin said.