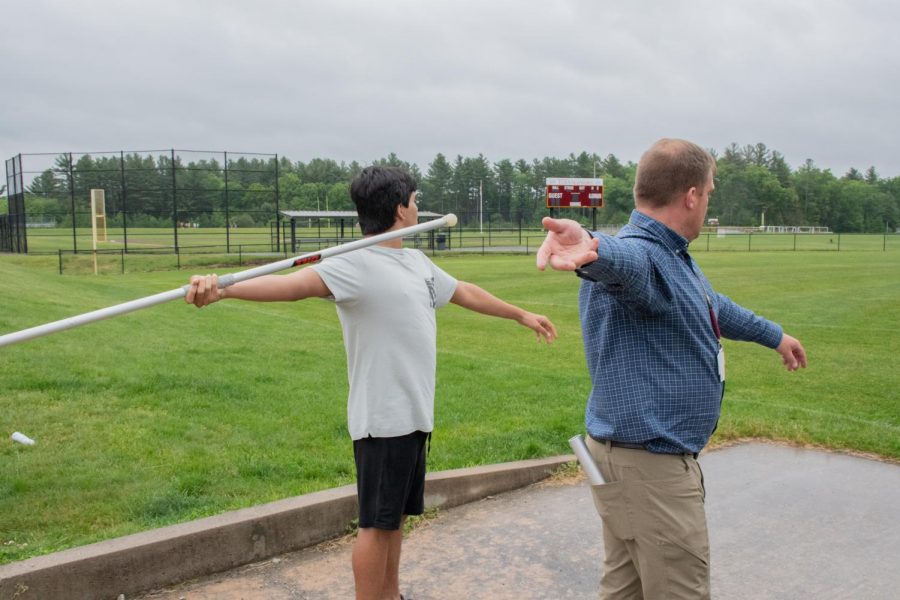 Jonny Ratner
Unified track head coach Kevin Hausmann was named Unified Track Coach of the Year for Massachusetts.
"I was completely shocked," Hausmann said. "Someone had nominated me and I just care a lot about this sport, and I always have but it's not really clear who had nominated me."
Hausmann was chosen out of 65 other teams in the state. This award acknowledged Hausmann's love, dedication and tremendous time commitment that he has shown for years to this program.
"I work very hard at it and it was just a complete honor to have that effort be recognized," Hausmann said.
Hausmann participated in track and field in high school, and he wanted to continue to spread his knowledge to unified track athletes. He began coaching the team about seven years ago and included students from Westborough High School too. This is the first year that Westborough students are not apart of the Algonquin team. He has many leadership experiences, such as coaching lacrosse, and is currently  the adviser for Best Buddies.
"I saw [Unified Track] as a great way to have students that I knew from Best Buddies to represent the school as athletes," Hausmann said. "I try to share my love of competition, friendship and seeing people for their abilities and their strengths."
One of the most memorable moments for Hausmann was getting to compete against Westborough at a meet. The unified track team was originally made up of Westborough and Algonquin students, so getting to compete against them was a fun time for both the coaches and the athletes.
Unified champion schools have grown tremendously since Hausmann started the team with Algonquin and Westborough. Unified champion schools are the schools that offer unified sports and other inclusive activities and programs.
"I have tried to take my strengths as a coach and as someone who understands what unified champions schools are about to help other schools get started," Hausmann said. "I've helped newer coaches learn some great strategies for organizing a team."
The attention that the team gets is one of Hausman's favorite parts of coaching.
"The photographers that are roaming around [during the meets] capture these moments of like a hug after a race or a high five," Hausman said. "These moments all happen because the students reach out to each other which is definitely the best part of unified track."
Being the first and only unified track coach at Algonquin for the past seven years, Hausmann hopes to stay involved with unified sports in the future and continue to grow the number of members on the team.