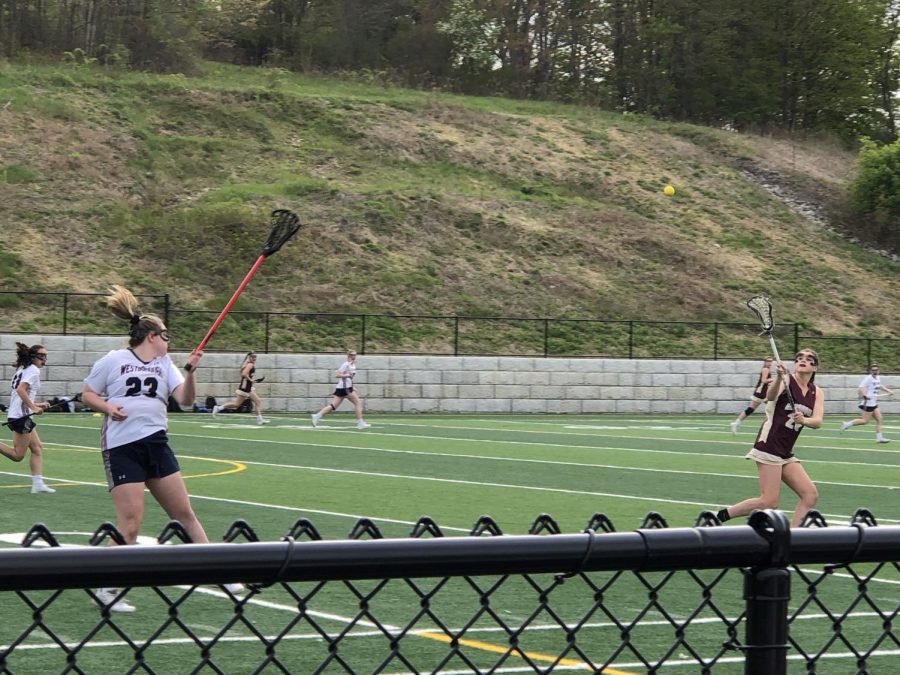 Heather Hodgkins
Girls' lacrosse dominated the field in a 20-10 win against Westborough on May 9.
The team started the game strong, with junior Ella Kea scoring their first goal only 50 seconds into the game. They continued this scoring streak, ending the first half 10-6.
"We're so close on and off the field, so when we get on the field everything works out so well," Kea said. "We work as a team and we trust each other which I think is a huge part of [our success]."
Algonquin kept their lead through the whole game and at one point had a five-goal streak. This was their second time playing the Westborough Rangers, both times bringing home a win.
The team believes a large part of their success comes from their motivation and bonding in and out of practice.
"Going to practice every day with a positive attitude really helps us to come into the game with that same positive attitude," senior Sophie Scearbo said.
Scearbo, who will be playing lacrosse at Merrimack College next year, scored three goals along with an assist. Freshman starter Lucy Rodgers scored two goals.
"It was a really good game," senior captain Erin Blake said. "We all went together and every single player really contributed to the game as much as they could."
Head coach Emma Decker has had her position on the team for three years.
"The team is awesome," Decker said. "I love the dynamic of the girls."