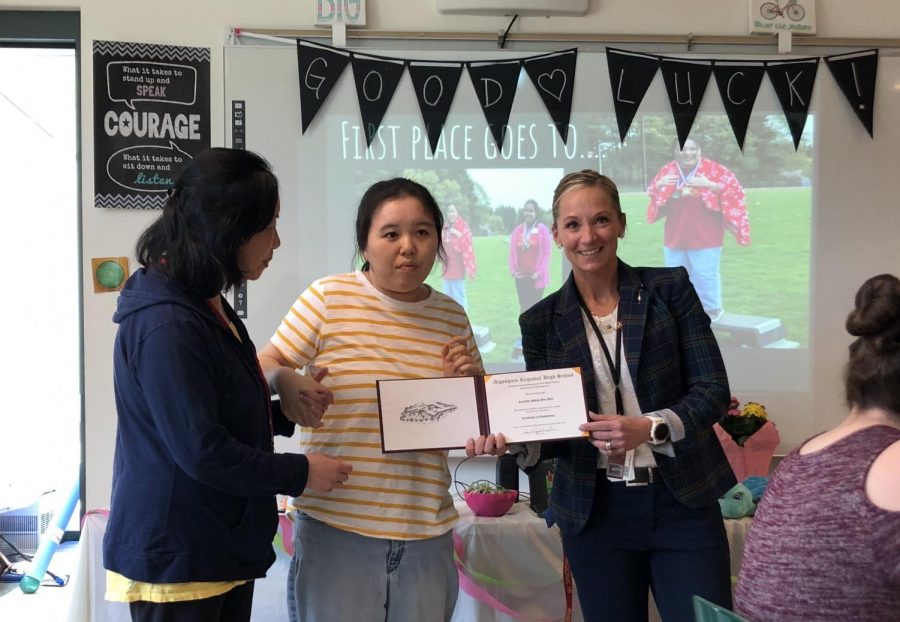 Catherine Hayden
Postgraduate Caroline Wan celebrated her transition from the CAP/NECC partnership amongst teachers, friends and family on May 7.
Wan, who has spent eight years at Algonquin, will be missed by many.
"No matter the day or the time or what she's doing, she is smiling and laughing, and it's really hard not to love that," special education teacher Caitlin Hynes said. "It's not going to be the same without her around."
Through the CAP/NECC partnership program, Wan has learned to be more independent.
"She has grown a lot," Wan's mother Jane Lin said. "She has learned a lot of vocational skills…and she has improved a lot in all aspects of her life, especially her daily living skills and emotional regulation."
Special education teacher Lisa Doherty also speaks to the progress Wan made while part of the program.
"We've seen her communication improve, her ability to participate in the community and be around peers, things like that have all really improved," Doherty said.
Doherty has enjoyed working with Wan for the past four years.
"Caroline is one of the sweetest students that I've ever worked with," Doherty said. "I think everyone will miss her happiness. She makes you happy no matter what kind of day you're having."
At school and in the local community, Wan participates in Best Buddies, Thrive, an after-school program for students ages 14 to 25, and has volunteered with Special Olympics, the YMCA and the Northborough library.
Wan will be continuing on to the Worcester based Seven Hills ASPiRE! program, which helps adults aged 22 and older.
"[The program]'s a lot of continuation of the same community skills, vocational skills and teaching her to be more and more independent as she gets older," Doherty said.
Though she is looking forward to attending the ASPiRE! program, Wan will miss the people she has gotten to know at Algonquin.
"Caroline loves to be with her teachers and her peers," Lin said. "We're going to miss everyone."