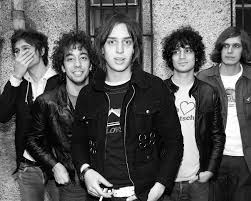 Roger Woolman [CC BY 3.0 (https://creativecommons.org/licenses/by/3.0)], via Wikimedia Commons
The Grammy nomination of the Arctic Monkeys' sixth studio album, "Tranquility Base Hotel and Casino," for Alternative Album of the Year reinforces the group's status as elder statesmen of alternative rock. However, this revitalization of rock music that spurred the success of bands including Arctic Monkeys, The Killers and Franz Ferdinand originated with the 2001 release of The Stroke's debut album "Is This It," an album full of passion and drive reflected in both the songwriting and instrumentals.
The future of rock music was uncertain in 2001. Yes, Oasis was ruling the charts with their brand of Britpop, and the aftermath of grunge was still being felt in the United States, yet the genre was still missing a lead act. Bursting onto the scene with a gritty, garage rock energy and indie rock spirit, The Strokes were deemed the saviors of rock and roll by music critics and rock fans alike.
"Is This It" is built on the Strokes' fast, tenacious instrumentation. Lead guitarist Nick Valensi passionately strums basic chords on his electric guitar, including unpredictable and explosive guitar solos throughout, such as the intro to song "Hard to Explain." Alongside Valensi's guitar-playing, bassist Nikolai Fraiture and drummer Fabrizio Moretti keep the band on track.
Although the instrumentation supplies the energy, songwriter and vocalist Julian Casablancas adds lyrical depth and a unique vocal delivery. His harsh, discordant growl pushes this album from an ordinary alternative rock release to something of rock folklore. Yet while his voice can sound abrasive, it perfectly compliments his infectious hooks and songwriting. Casablancas has cited songwriter Lou Reed, of the pivotal rock group The Velvet Underground, as a major influence. Although both songwriters poignantly depict life in New York City with vivid storytelling and candor, Casablancas croons in an angsty snarl whereas Lou Reed softly sings in a gentle, almost soothing cadence.
The album's opener, appropriately titled "Is This It," introduces us to Casablancas lamenting over a complicated and fledgling romance. He pessimistically sings at the song's start "Can't you see I'm trying? I don't even like it/I just lied to get to your apartment/Now I'm staying there just for a while/I can't think, 'cause I'm just way too tired." Despite his longing for human connection, Casablancas is lost in the big city and unable to follow through with his commitments to his significant other, his voice fluctuating from resigned sighs to guttural yells, charting his frustration.
This resigned attitude persists throughout the album. As a listener, it is impossible not to feel sympathy for Casablancas as he plays the rock and roll superstar doomed to losing connections with his roots. Casablancas delivers melodic hooks that are upbeat in tempo, yet melancholy in subject, a juxtaposition that serves the atmosphere of New York City well, a city inhabited by reluctant participants in the rat race of life. In addition, with the 9/11 attacks occurring shortly before the album release, Casablancas's problems served as a much needed respite from the more serious challenges the city faced.
Despite the appeal of the album's opening track, the real highlight is the middle section, with the charting singles "Someday" and "Last Nite" and fast-paced "Hard to Explain." "Someday" and "Last Nite," in addition to being the most commercially successful tracks, are also resounding personal favorites. Whenever my vinyl record reaches one of these two tracks as I'm listening on a Sunday afternoon, I am able to reflect on the week behind with Casablancas's confessional songwriting yet also feel energized to continue moving forward. It is the perfect album to listen the whole way through as every melodic hook will have you rocking with Casablancas and the band.
While the subject may seem repetitive, "Is This It" is a lesson in brevity. At a running time of thirty-five minutes, Casablancas gets to the point: the future is bleak, especially his. And while The Strokes did enjoy future success and Casablancas continued his career with the Voidz, "Is This It" remains the undisputed high point of his career.
The impact of this album is indisputable. One has to look no further than the opening line of the new Arctic Monkeys' album with Alex Turner confessing "I just wanted to be one of the Strokes" to see why.