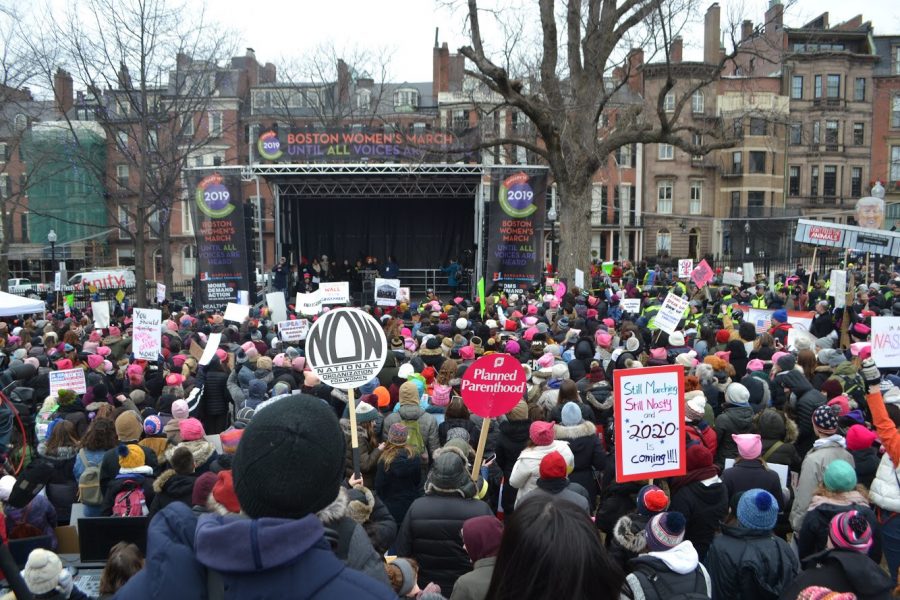 Photo Mariam Ibrahimi
Through the presidential elections of 2016 and into his presidency, Donald Trump demeaned women, mocked people with disabilities, disrespected immigrants, claimed that Muslim Americans were linked to terrorism and was unaccepting of members of the LGBTQ+ community.
That is not even the half of it.
In the moments that followed Trump being announced as the new president, millions of people across America said, "hell no." They were not ready to let bigotry and hatred become the face of America.
I was one of them.
Standing in a sea of women and men wearing pink "pussy" hats and waving hundreds of handcrafted signs, I felt a feeling of warmth, even though it was five degrees outside. This was one of the greatest things I had ever been a part of. History classes had always taught us that change can be made by speaking up for what you believe in through exercising our right to vote or protesting, giving examples from electing the first black American president in the 2008 elections to protesting for equal rights for all races during the Civil Rights Movement in the 60s. Here, I was doing the latter.
I think men and women are often afraid of words like feminism or movements like the Women's March because the stereotype is that women are trying to get rid of men altogether. But feminism is defined as the equality of the sexes, not the eradication of men.
So, to the men who understand and take the time to listen, not fearing for their masculinity, and instead empowering women, and to the thousands of men who came to the march and supported their sisters, mothers, daughters, wives and grandmothers: thank you. I know it means the world to me.
This past election, more than 100 women reclaimed a seat in the House of Representatives. In the past, no more than 84 of the 435 seats have been occupied by women. In November, the first-ever Muslim women, Ilhan Omar and Rashida Tlaib, were elected by their constituents. The first ever Indigenous women were elected into Congress. The youngest person ever to be in Congress is also a woman. The first ever black women from Massachusetts and Connecticut were elected to Congress this midterm election.
The Women's March was not just about celebrating the women who brought power to the House, or the millions of women who make our nation and our world remarkable. It was about the prejudice and oppression that Latin Americans, Jewish Americans, Muslim Americans, immigrants, refugees, black Americans and so many other marginalized groups continue to face. It was about coming together, reclaiming our power to be American and working towards being allies for each other.
While it is called the "Women's March" and truly is about empowering women through understanding the struggles they face, it is far more than that. The movement binds together minority groups across America. They to come together and use the racism, stereotypes and prejudice they face and turn it into power. Themed #WomensWave, the march aims to inspire; to give little boys and girls the empowerment they need to believe that they can do anything they want.
I brought my twelve-year-old brother with me because I think it is important we teach our boys what it means to be a man from a young age.
Wearing pink doesn't make you less masculine. Supporting women's rights does not mean you are less valuable. And most importantly: you must acknowledge your privilege. You are able to use your power in a positive way instead of ignoring sexism, sexual harassment, toxic masculinity or unknowingly demeaning women because you were never taught better.
As we marched down Beacon Street, a middle-aged woman walked up to my brother with tears in her eyes and exclaimed, "This makes me so happy, it makes me cry. Thank you."
I hope that is something he remembers for the rest of his life: that his solidarity means so much to women all over the world.
The idea that you refuse to participate in politics is a representation of your privilege. It is the fact that your rights are not affected, so why should you do anything to change it?
America, it is time to wake up and smell the bigotry. We do not have the luxury to simply stand by and not care anymore. It is time to act. Use your privilege to be an ally. Stand in solidarity and help the people who cannot afford to stay quiet: the people who need a louder voice even though they are yelling at the top of their lungs. Speak up. March. Protest. Vote. Make a change.
So, I ask of you: what are you doing for your nation? What are you doing to protect America's democracy?