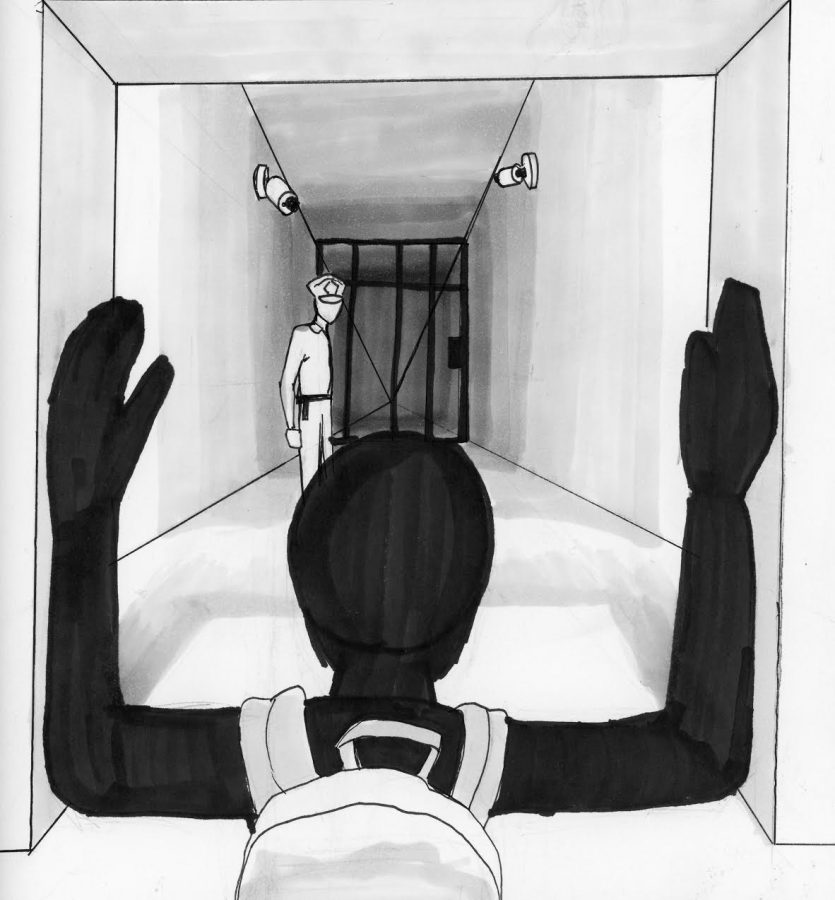 Graphic Mary Tambascio
On February 14, 2018, Nikolas Cruz took 17 lives. 17 lives that should have been protected. 17 lives that had brothers, sisters, parents, friends and teachers. Many students across the country thought,  "that could have been me."
Throughout the past month, the nation has been divided on a plethora of issues surrounding gun violence, a vast majority proposing different solutions to these monumental issues. School safety has been at the forefront, sparking conversations among students and teachers across the country as they reconsider school safety procedures.
School Safety
According to the March 9 Sun Sentinel article "Timeline: How the Stoneman Douglas High School Shooting Unfolded", the school had safety measures in place. Upon seeing Cruz, a student immediately reported him and the school went into Code Red, or total lockdown. However, at 2:21 p.m., Cruz pulled the fire alarm, sending students and teachers out of their classrooms.
"The [shooter] realized he could use the behavior of high school kids against them and pulled the fire alarm, knowing in doing that, he would get the outcome he wanted… What's it like to live in a time in which you can't trust a fire alarm anymore?" social studies teacher John Barry said.
According to the CNN article "There has been, on average, 1 school shooting every week this year." There have been 17 school shootings in the United States in 2018 alone.
Algonquin has ALICE set in place as a response method to potentially active shooters or other dangerous threats. Despite this existing protocol, some students, such as freshman Joanna Soliman, feel that their safety is being compromised.
"I honestly don't feel safe at school," Soliman said. "Because of all that has happened, it just makes me think that it could happen at our school."
According to Principal Dr. Sara Pragluski Walsh, the school aims to instill  decision-making skills in students.
"What we have here [at Algonquin] is that from a very young age, students have been taught to analyze a situation and then respond what's best for their individualized needs," Walsh said.
In response to these issues, many ideas are circulating on social media and in casual conversation in terms of how to handle the issues and enforce school safety, ranging from arming teachers to requiring clear plastic backpacks.
 According to the New York Times article "Florida School, on Edge Since Shooting, Requires Students to Carry Clear Backpacks," as of March 21, Parkland survivors have been required to wear clear backpacks and identification badges.
While measures such as these may make a building more "safe," Barry argues that implementing them could have detrimental effects on learning.
"We could make this place lockdown safe if we want to spend the money," Barry said.  "But if we turn this place into 'Fortress Algonquin', the sheer unsafe reality that created the fortress isn't going to put you in the right frame of mind to write a poem. That's when you lose the kid."
For jJunior Nellie Zhang, this is a valid concern expressed similar sentiments.
"I don't want to feel like every day I'm at school, my life could be in danger, whether or not it is," Zhang said.  "I don't want my school to become a military compound."
According to Walsh, the administration's main goal is to ensure that students feel safe when coming to school and to implement practices that are beneficial, yet not disruptive ofto learning.
"The whole purpose is to remove any safety concerns so that you can sit in a class and learn," Walsh said.
Effectiveness of ALICE
ALICE is a form of active shooter protocol training practiced at Algonquin.  It involves a five step series: alert, lockdown, inform, counter and evacuate.  
"ALICE is a safety program that provides individuals in a dangerous situation with an effective array of choices to decide between in order to be as safe as possible," school resource officer Michael Bisset said.
Algonquin's use of ALICE, according to Walsh and junior Luke Brogna, is effective because it trains students to think analytically and react.
"What we do [at Algonquin] is create reality and say anything could happen and how would you respond to it," Walsh said.  "We have to continuously train ourselves to think in the moment so that we make the best outcome possible."
"I think ALICE is better than what we had before, which was to just hide," Brogna said.  "The fighting back is definitely a better method."
The first step in ALICE is reliant on 'alert'. According to Barry, this poses potential problems when a threat is not easily identifiable.  
"ALICE is predicated on someone seeing a kid walking around with a gun," Barry said. "The Parkland kid just said 'Oh, I got it. Just don't walk around the hallway with a gun. Pull the fire alarm, then take out the gun.' What ALICE is going to help you there?"
Barry believes that it may be more beneficial to find the root of the issue rather than focusing on the methods a shooter could have used.  
"Our ALICE video, as wonderful as it is, it only caters to a specific kind of attacker," Barry said.  "We all want a conversation in which we say, 'What's better: trying to figure out all the different ways the Parkland shooter could have inflicted harm, or found out all the different ways we missed the chance to be better people to the Parkland shooter before he was the Parkland shooter?'  I think that's where the resources have to go."
Mental Health
Some people within the community believe that being proactive regarding mental health is as important as physical safety procedures.
"We should focus more on proactive, preventative measures, instead of reactive concerns," senior Daphne Binto said. "So, for example, I think there should be more of a focus on mental health and wellness, and less of a focus on which doors are locked in the mornings. The driving cause behind school violence isn't that fact that a door wasn't locked, it's so much more often the fact that a student is mentally unwell and I think it would do us well to focus on that more, especially since Algonquin is such a high stress environment."
According to adjustment counselor Sarah McNulty, physical and mental safety are closely linked.
"If people are confident they have physical safety, then that will promote psychological safety," McNulty said.  "And the flip side of that, if people aren't sure if they are in fact safe, that only promotes worry and anxiety."
The Guidance Department aims to collaborate with other faculty members to address these issues. Over the years, they have implemented programs such as Day for Change and peer mentoring to emphasize both the awareness and the relationships regarding others.
"The goals of programs like Break Free From Depression are to inform members of the community the warning signs of someone going through a rough time and to break the stigma surrounding mental illnesses," director of guidance Lisa Connery said.
Despite different opinions on how to best handle these issues, safety is the number one priority of students and faculty alike.
"There are always going to be contradicting opinions, but I'm sure everyone can agree that they want to be safe and be able to learn and grow in an environment that is capable of handling potential threats," junior Laura Dunderdale said.