REVIEW: Green Leaf Restaurant satisfies all vegetarian and vegan cravings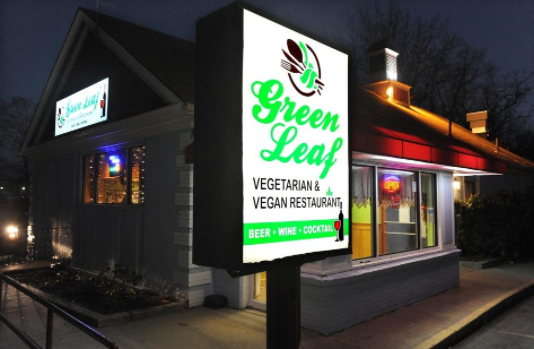 Hang on for a minute...we're trying to find some more stories you might like.
With its fresh flavors and healthy menu, the leaves are always green at the Green Leaf Restaurant.
Located at 62 Water Street in Framingham, The Green Leaf Restaurant caters to vegetarians and vegans. They serve a variety of dishes, from falafel to salads. Many of these dishes contain an abundance of vegetables, including the entreés. They also serve breakfast and lunch on weekends.
The restaurant has a semi-formal atmosphere. Slow music plays softly in the background while portraits of produce grace the walls. The dining area is small, but cozy.
There were not too many people around for a six o'clock dinner, so it was relatively quiet. The restaurant is open from 11:00am to 9:30 or 10:00 in the evening, depending on the night. On weekends, it opens two hours earlier for breakfast and lunch.
I ordered the French lentil soup with sweet potato fries. It came to the table within fifteen to twenty minutes. The soup tasted excellent with atypical vegetables in it, including squash and peppers, but it was a bit chunky for my liking. The sweet potatoes were nicely and mildly seasoned, but were extremely rich due to being thickly cut. They had a mild, satisfying crunch.
Although I could only finish half of my meal, the portions are average sized and filling. The cup of soup was smaller than in most restaurants, about only four ounces as opposed to the typical six to eight, but it was a perfect size for me.  The bowl-sized portion would be more likely to satisfy someone with a bigger appetite.
For dessert, I ordered a small portion of apple pie with vegan ice cream, costing me $9.00. Unfortunately, the pie crust was very dry and bland, while the spices overpowered rather than complemented the apples in the filling. The vegan ice cream was surprisingly delicious, while light enough for my liking.
Although the food was not perfect, the staff was friendly, but not invasive. They let me take my time ordering the food from their menu.
The restaurant also delivers through some food delivery apps. It does not state this information on their website, so you'd have to check in at the restaurant to see which ones do. It is also about $11 to $15 for an entrée, and $8 to $10 for an appetizer, soup or salad.
Overall, Green Leaf Restaurant has excellent food. There were so many delicious choices that even those with restricted diets can indulge in.