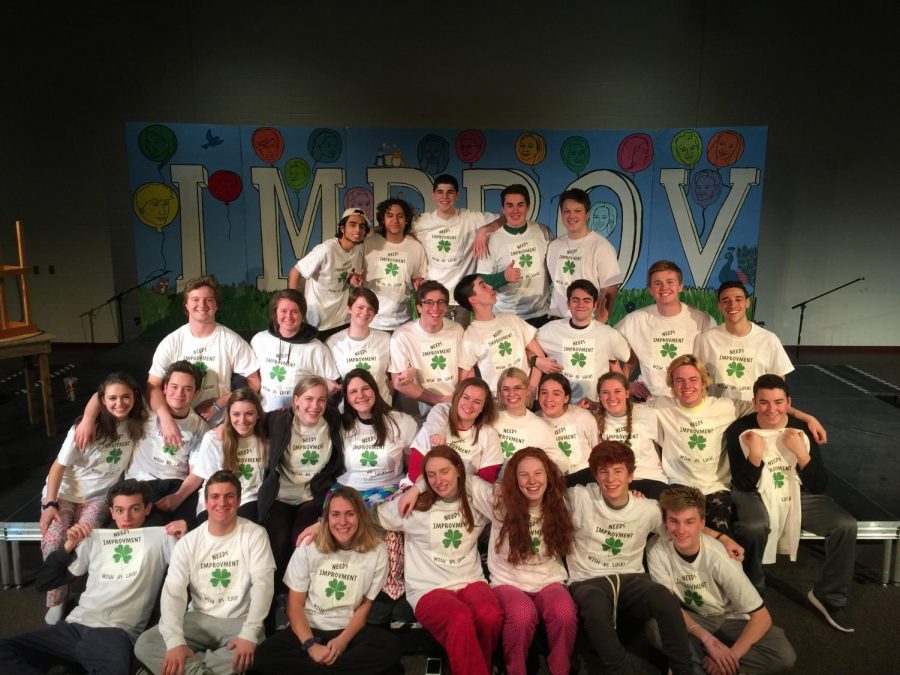 Submitted Ali Saeed
Needs Improvment performed their improv and sketch comedy show in the black box on March 16 and 17, overcoming missed rehearsal time and forming lasting friendships between cast members in the process.
In the two weeks leading up to the show, the group missed four rehearsals due to snow days.
"We didn't have as much time [as years past], but I feel like the actual quality of the content was similar, if not better," junior and cast member Olivia Reilly said.
The show's content consisted mostly of comedy scenes.
"Basically what we do is write a backbone, memorize that background, and then Ms. Morrison gives us free range to put our own ideas into it and say lines that we think might be funny," senior and cast member Kevin Jacobson said. "One of my favorite moments was when my boy [senior] Andrew Hartnett said his Fortnight and Vaping line."
According to cast members, some favorite scenes included "Lounge Singer," "Sitcom," "Adventure Dad" and "DECA".
"At the end of the day, DECA was the shining star of the show," junior and cast member Katherine Moffa said.
"I was a little worried that everyone would think we were crazy for writing a satanic cult scene," junior and cast member Lauren Earley said. "We kind of took a risk, but it definitely paid off."
After the scenes were finished, each show had a unique ending, including a promposal on Friday, and improv games on Saturday.
"[Jacobson] promposed to me at the show, and now people now come up to me and they're like 'Congratulations!' and I'm like, 'I don't know what to say back to that! Thank you!'" Reilly said.
The cast as a whole has grown a unique and loving bond from working together.
"This group had a scavenger hunt after the show on Saturday, and that's probably my favorite part of the whole experience," improv director and drama teacher Maura Morrison said. "I didn't want to see the pictures, I didn't want to know the details, but just knowing that they wanted to still hang out together really meant a lot."
The cast's offstage friendships help them perform better onstage as well.
"Everyone's got each other's backs and that's such a refreshing thing," senior and cast member Cristina Guarino said. "It makes you so much more confident because you know that if you screw up, the person beside you is gonna help you get back on your feet."
"It's really interesting watching everyone from the start to the end because you get to know them and you're like, 'wow some people are really good at certain things, I really want to see them do this,'" junior and cast member Nick Giurleo said.
Some cast members believe that improv has changed their daily lives.
"Improv and Needs Improvment has been the thing that defines my high school career," senior and cast member Andrew Hartnett said. "Being able to go and be on stage and just be myself and make a fool of myself and not care what anything thinks is a beautiful thing."
"The reason I keep doing it and just keep loving it so much is the idea that if there is just one kid in the stands that is like 'oh, this is actually pretty cool, I think I'm gonna try this out,'" Jacobson said. "Then that's just golden, just inspiring at least one person, golden."