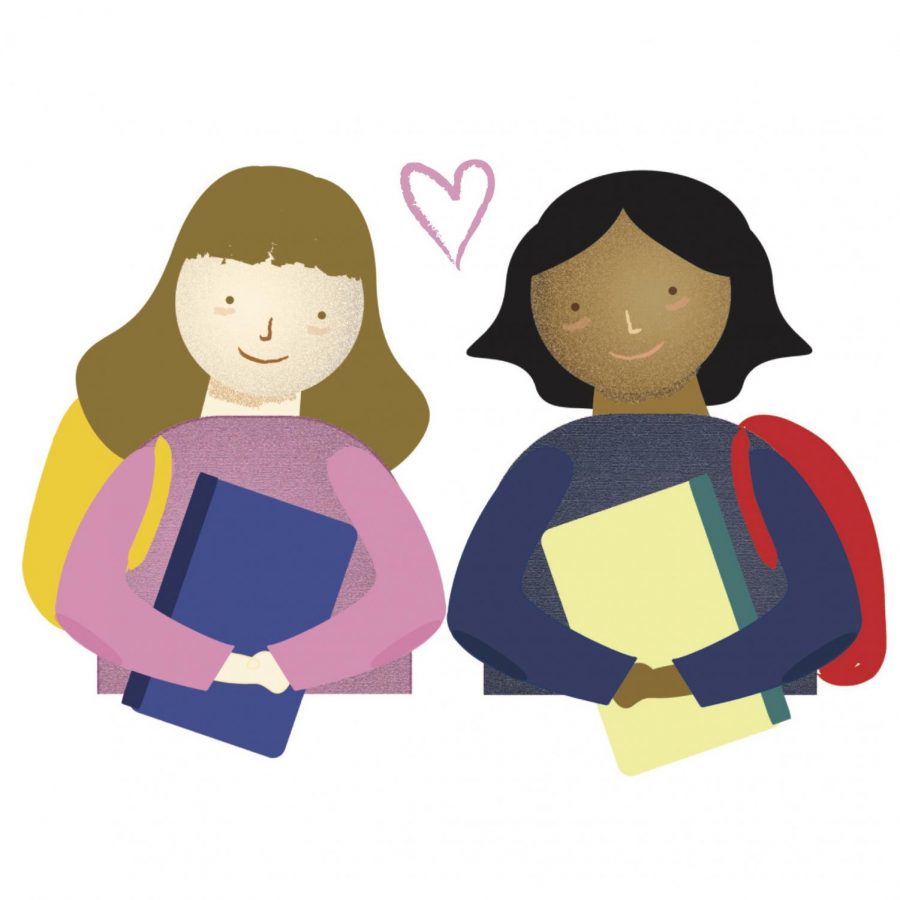 Cassidy Wang
For some couples, the existence of love in high school is a no brainer. However, others are more skeptical and believe many aspects have attributed to the general downfall of romance in high school.
According to a Harbinger survey of 148 students, a majority of students believe that high school relationships can be meaningful.
Definitions of romance differ among students. Some engage in relationships for casual fun, while others look for something deeper. Junior Megan Loeffel, having been in many relationships before, understands the difficulty of finding someone with similar intentions.
"I don't know if [romance] is so hard to find, but it's hard to find someone who is on the same page as you and wants the same thing," Loeffel said.
Another significant aspect that arises is that parts of the brain are still developing and teenagers are in the process of finding themselves. According to a study conducted by Harvard Medical School in 2005, the levels of dopamine, a feel-good neurotransmitter, drastically increase when people are in a newly developed relationship. This suggests that the apprehension that people usually have can become lost, maybe causing teenagers to think more optimistically.
"What is a bit scary is if you have someone involved in this process of finding yourself, you could be a totally different person," junior Natalie Ng said. "They could influence you in a good way and help you find yourself, but there are also many ways they could lead you away from the person you could be. You would have to wait longer to find out who you are."
As a whole, some students' perception of romance in high school have changed due to factors like social media and popular culture.
"Nowadays, is [online dating] the only way to put yourself out there?" senior Jessica Yin said. "Because people don't ask out the girl in the coffee shop. That's only in the movies. It scares me that you can present yourself in any way [on social media] you want to. You can share one photo from one second of your life."
Displays of affection have greatly decreased over the years, perhaps due to social expectations changing.
"When I first started working here, I saw couples everywhere in the hallway," science teacher Christine Thompson said. "No PDA was a huge rule that was enforced. I think these days people are more afraid of showing physicality than before."
This decrease could also be due to social media offering a sort of substitute to the traditional ways couples communicate.
"The culture has changed," Ng said. "Everything is quick and simple. Even with its benefits, [social media] opens up so many doors for trust issues."
Juniors Aimee Holland and Harry Boyden are currently in a relationship and acknowledge how rare it is to find the authentic love they have and how some people get into relationships for the wrong reasons.
"Some people get into relationships because they feel like to have to, or to fit in," Boyden said. "If you're going to be in a relationship, you shouldn't base it off what other people think or anyone else's opinions."
"A lot of people have pressure to be in relationships, and it's all or nothing," Holland said.
For some, definitions of romance are not black and white, especially during this age where many are experiencing love for the first life.
"I haven't even been to college yet, or paid my own bills or made any real adult decisions," senior Michael Wu said. "So how do I know if I'm in love with someone?"
"There's mature and immature romance in high school," Holland said. "I feel like you just have to find it. Some people think they have it but it's not genuine. I look at some couples and can feel that there's no emotion involved. But also, I don't know how those type of people define romance."
Overall, high school relationships has its pros and cons involving the future.
"I don't think you should think too much into the future about [high school relationships] and just go with it and see what happens," Ng said, "You have to be really flexible to be in a relationship in this type of environment because both people are still growing up."