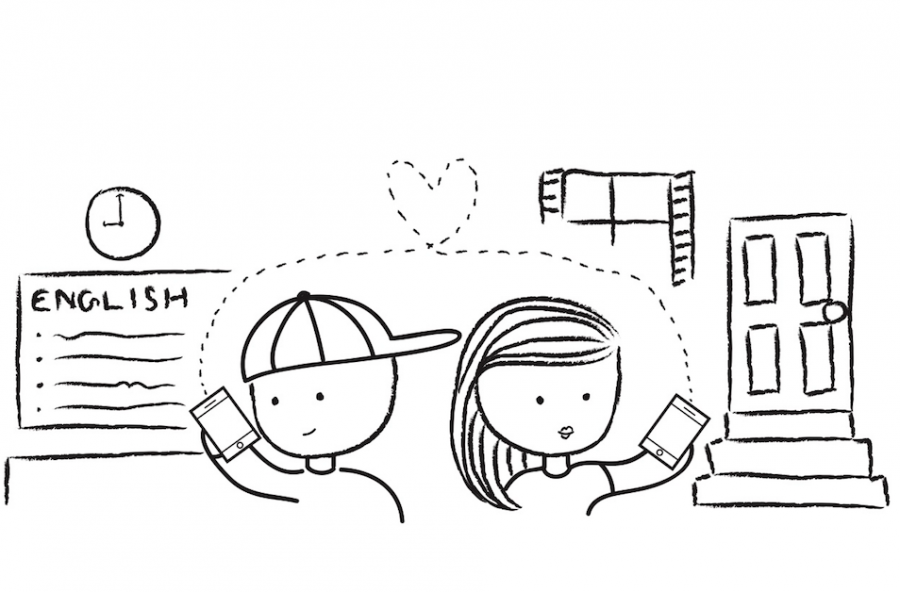 Ever since Tinder's launch in 2012, over 50 million people have joined the popular matchmaking app. Among those 50 million users are Algonquin students; some are legal users age 18 and over,  and some are lying about their age for entertainment, hook-ups and even love.
The app allows users to connect with one another through "swiping right" on the photo of a user a person is interested in connecting with. If the same user swipes right on the person who swiped right on them, a match is formed. Once there is a match, the two users can chat via text messages through the app. It is up to them where the relationship goes from there.
"Tinder brings people together," the Tinder website states. "With more than 20 billion matches made to date and millions of new matches made daily, our community is constantly growing."
Users must link their Facebook profile in order to use Tinder. Users choose their location, gender, sexual orientation and customize what age range they want their matches to be. Despite some level of choice in who a user can be matched with, critics worry that unsafe matches can still occur. An underage person can simply change their age on Facebook to over 18 in order to use Tinder.
Concerns
Principal Dr. Sara Pragluski Walsh has concerns with Tinder's anonymity. She believes it is difficult to identify who is on the other side of the screen, which can put student users in danger.
"There is the danger of the unknown," Walsh said. "Our support community is not aware of who's on the other side of Tinder. You don't meet the person or know the person, and because of that you don't really have that network of support you normally would have in a face-to-face meeting."
In 2016, Tinder banned those under age 18 from using the app. The previous minimum age was 13 years old.
Senior athlete Walter* (names of students have been changed to maintain anonymity) is 17 years old and joined Tinder in September 2017 because many of his teammates were joining. He goes on Tinder about three times a week and is usually "swiping randomly just for fun."
While on Tinder, Walter has noticed users trying to "catfish" others. Catfishing is when a person uses a fake social media profile for various purposes. A catfish pursues online relationship while hiding his or her true identity, and in many cases he or she attempts to solicit money from a victim.
"You can just tell when people are trying to catfish you or not, and that can be extremely dangerous," Walter said. "I have heard of crazy stories of people going and dying from their use of dating sites like Tinder. There's definitely risk involved, which is why I think you should be 18."
Mark,* an 18-year-old senior, is homosexual, and has been active on Tinder since May 2016. After the age restriction was implemented, he chose to lie about his age by changing his age on Facebook. He has been in an uncomfortable situation while on Tinder.
"I can say I have been offered money to Skype, and I have thought about it but [never did it]," Mark said.
Karly* is a 17-year-old senior and an active Tinder user, logging on about once a week. She lies about her age to dodge the 18-year-old requirement.
"I first joined Tinder sophomore year, and then my account was deactivated because they changed the age rules," Karly said.
Karly has since made a new Tinder account after the age requirement was implemented. Though she regularly uses the app and communicates with other users, Karly sees how it can pose dangerous situations for minors.
"If you're having trouble meeting people in high school, it is a good way to meet others, but I don't think everyone should be on it because it's a little risky," Karly said.
Karly has been offered incentives (sports tickets, dinner, etc.) to meet up with other users, but she has not pursued any of the offers.
Walsh encourages students to be safe about using online platforms such as Tinder.
"[I want students to be] social media responsible and respectful to themselves," Walsh said. "Once it's up on social media in any shape or form, it never goes away."
The Age Gap
Mark uses Tinder about three times a week for entertainment purposes. He has "hooked up" with one user he met on Tinder, as well as other encounters with men from the gay dating app Grindr.
"It's honestly really entertaining and it's a really big ego-builder," Mark said. "I don't use it to actually find love."
Walsh feels that Tinder is associated with the wave of "hookup culture" becoming popularized in recent years. She believes that parents in the community feel similarly.
"There's that understood aspect of it in the dating world that if you're on Tinder there's more of a push towards meeting up for sexual encounters," Walsh said. "That could be a social misconception, but that is an overall generalized perception in the adult community."
Mark understands how Tinder's reputation for fostering sexual encounters can be associated with dangerous situations, and believes a revived teenage version would be beneficial.
"I think they should have kept the old Tinder, where they allowed 13 to 17 year olds, because kids still use it and fake their age," Mark said. "Now they are in a bigger pool with older people. I guess it can lead to dangerous situations."
While Karly has never met with anyone from Tinder in real life, she continues to use the app for her own amusement.
"I use it mainly because I think it is funny what the people say," Karly said. "It's kind of just entertainment for me. That's really it."
Walter also uses Tinder to relieve boredom, and has had many instances where he recognizes the girls he has to swipe on, which is "pretty funny and starts up cool conversations."
According to Walter, there is a fine line between using Tinder as a joke and entering an unsafe situation.
"I think that a lot of teenagers do it as a joke, but at the same time as they go through Tinder, maybe they see somebody that they actually are interested in," Walter said. "That's where I think it gets dangerous with teenagers because you're looking at people who are 20 and 21 and you're in your teenage years."
Tinder Romance
Jane* is an 18-year-old who joined in October 2017 because, "I was single and I was kind of over the people in this school."
After two Tinder encounters that entailed "hooking up" without any commitment involved, Jane found an older boyfriend from the app.
"I completely believe in [Tinder romance]," Jane said. "I guess it is not the way I wanted to get a boyfriend, but I don't think there should be anything to be ashamed about because I'm really happy. I found someone who I really like, and we just click."
Jane explained that she faced backlash from classmates because she met her current boyfriend on Tinder.
"I know a lot of people have [made fun of me] for being on it and being with someone older than me, but it is legal," Jane said. "I think 18 is a fine age for it."
Jane believes the shame surrounding Tinder among high schoolers is unnecessary and hopes students can respect the nature of the app.
"I think it is a very valuable thing, and I don't think it should have so many negative stereotypes around it, but I know that Tinder is kind of seen as the 'hook-up' dating app," Jane said. "Tinder has a stigma around it and I don't think it should because I know multiple people in this school have solid relationships from it."
Walsh believes in the value of face-to-face interaction and hopes students remember the importance of in-person communication in the digital age.
"The world has been thriving for years prior to Tinder, and I would like to see us continue those communication skills instead of automatically defaulting to online dating," Walsh said.