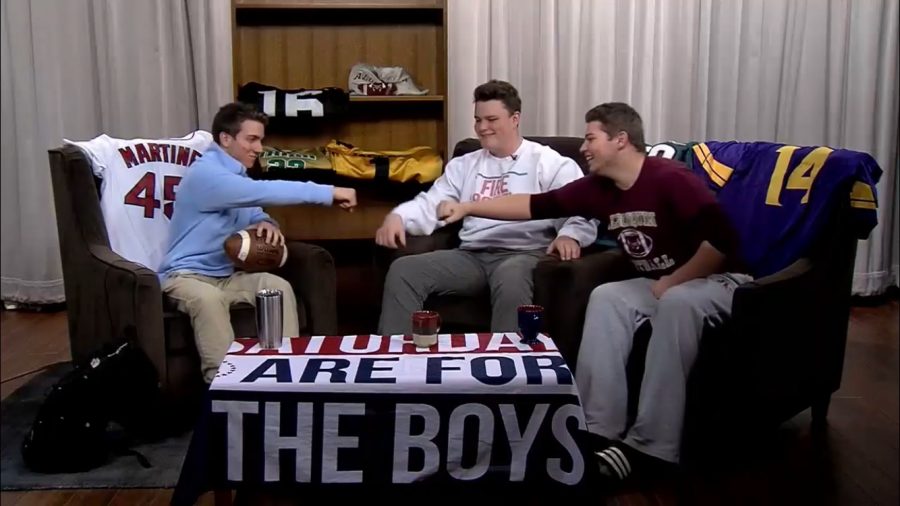 Submitted Matt DeGregorio
Seniors Matt DeGregorio, Drew Courtwright, and John Polymeros recently started a sports talk show called "Unscripted" in collaboration with Northborough Cable Access TV, providing humor to the communities alongside providing an educational experience for those interested in video production.
The possibility of hosting a TV show had been an option for DeGregorio, Courtwright, and Polymeros in the past, however the three had recently decided to take action.
"During football season the three of us [DeGregorio, Courtwright, and Polymeros] wanted to bring some humor back to the school," DeGregorio said. "I think we got a huge wake up call toward the end of football season because of the lack of time we had left at Gonk. We had the option in the past to start a sports show through Northborough Cable Access TV but never were too serious. So when we got that wake up call we decided, 'Hey, screw it; we only have a little time left at Gonk, so let's make the most of it.'"
Through the production of the show, the group hopes to leave a positive impact in the community and learn more about broadcasting.
"I think the three of us all have different goals with this show but we all share one main goal which is to bring humor to peoples days in and out of the community through sports," DeGregorio said. "Between the three of us, my goal is to get experience, because I am majoring in sports broadcasting while Drew and John do it for a good time."
The group hopes that producer junior James Mahoney will continue the show and establish a more prominent audience after they graduate.
"For the next year I'll have to look for a couple of guys who bring similar knowledge to the show," Mahoney said. "They have to have general knowledge in most sports and have the same school pride."
With the show comes many opportunities and experiences for the group to participate in .
"It really is cool having guests on as well. We were recently able to have an opportunity to interview the Worcester Telegram & Gazette writer Carl Setterlund, and we had so much fun interviewing him," DeGregorio said. "We also get a lot of compliments and great feedback in the hall from faculty and students who are friends of the program so that is really cool to get recognized."
Although they have enjoyed hosting the show, DeGregorio wishes he had begun earlier in his high school career.
"I think our message is very simple and that is to not wait until the last possible minute to do something you admire," DeGregorio said. "I think the three of us all wish we had done this earlier but the great thing is other people still have time to take advantage of opportunities that are available."
DeGregorio, Courtwright, and Polymeros are open to gathering ideas from their audience and the community for their show through their instagram and twitter, @Gonk_Unscripted.