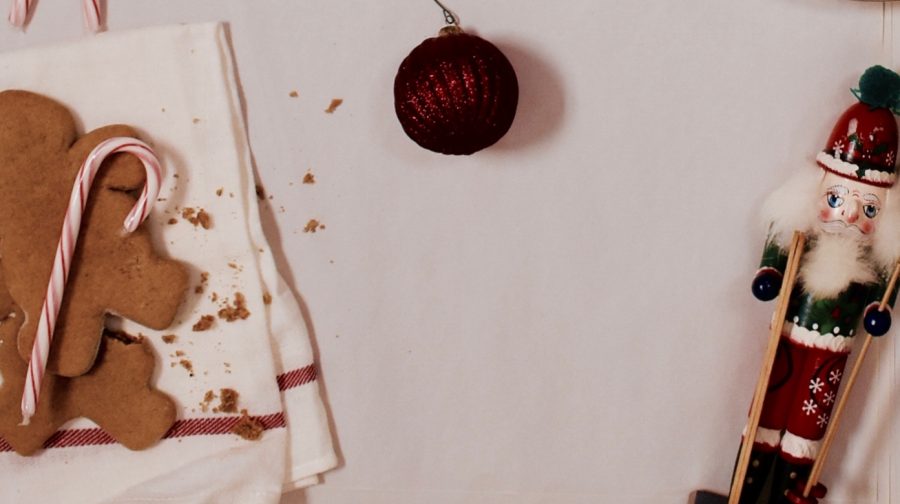 Rebecca Poretsky
People celebrate the holidays in different ways. However, the festive spirit that permeates kitchens and the shared joy of food, across cultures, exists in every household. Two students share traditional recipes that their family usually prepares for the holidays and describe the customs in their culture.
Indian
Biryani
From senior Jyothi Polackal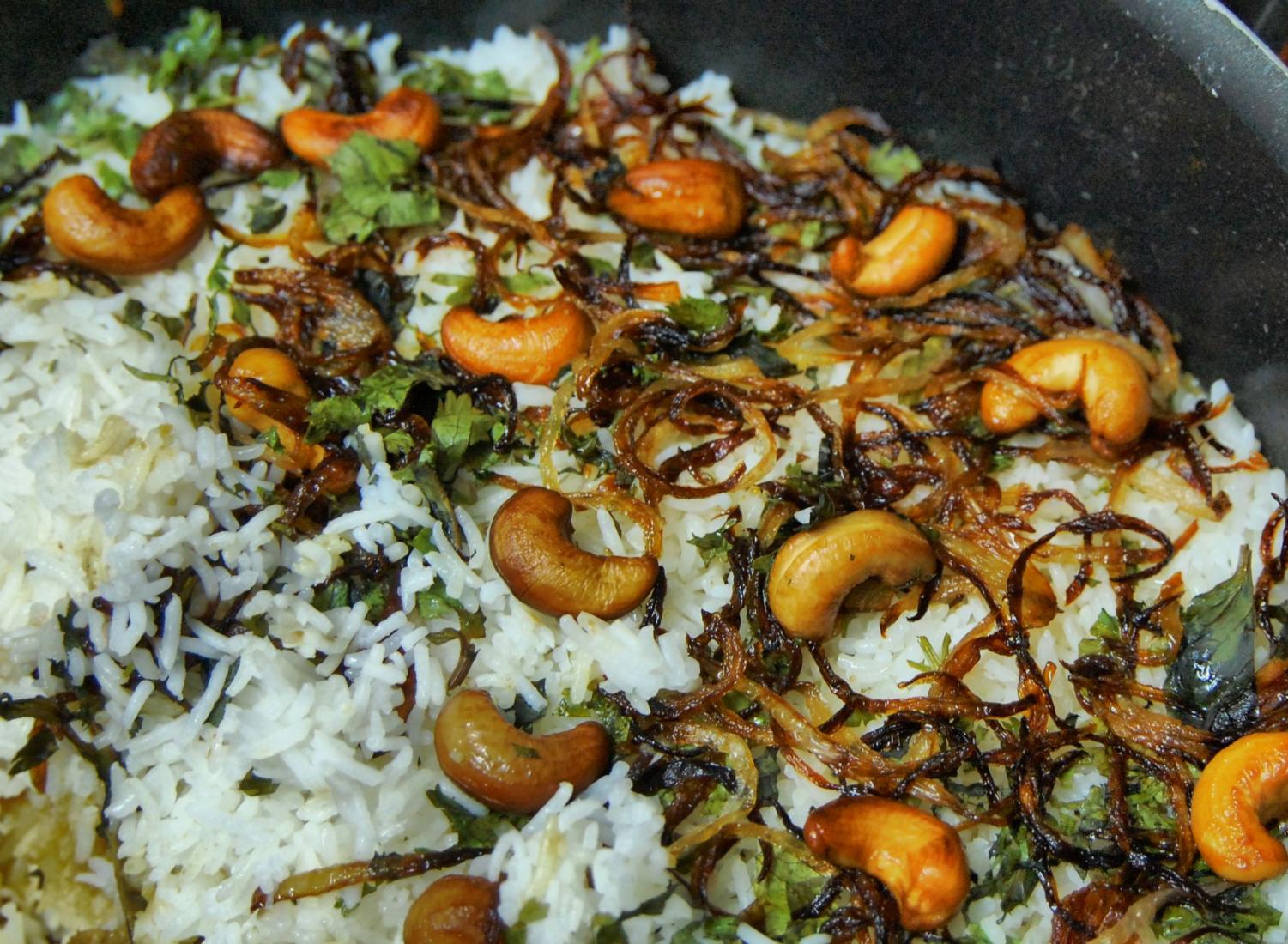 What you need
Rice
2 cups basmati rice
4 cups water
4-6 cloves
4-6 cardamom pods
1-2 cinnamon sticks
1-2 bay leaves
2 tsp lemon juice
Salt (to taste)
Marinating chicken
1 pound of chicken
¼ tsp turmeric powder
1 tsp chilli powder
½ cup plain yogurt
½ tsp biryani masala
Salt (to taste)
Chicken masala
4 medium onions (chopped)
2 medium tomatoes (chopped)
3-4 green chillies (optional)
1 inch piece ginger
8-10 cloves garlic
Biryani masala
½ tsp red chilli powder
2 tbsp coriander powder
¼ tsp turmeric powder
¼ cup mint leaves (chopped)
½ cup cilantro (chopped)
2 tsp ghee
The following ingredients are optional.
Nutty paste
1 tsp fennel seeds
1 tsp poppy seeds
3 tbsp grated coconut
10 (nos) cashew nuts
Garnishes
Cashew nuts
Raisins
3-5 tbsp Ghee
½ cup onion (thinly sliced)
Coriander leaves

How to make
Nutty paste:
Soak the "Nutty Paste" ingredients in water for half an hour. Grind with grated coconut to a smooth paste.
Chicken Masala:
Cut chicken into medium pieces.
Grind ginger, garlic, green chillies into paste. Set aside
Marinate chicken with "marinating chicken" ingredients for 1 hour at room temperature. Then, shallow-fry chicken.
Heat ghee in pan. Add thinly sliced onion. Saute until translucent. Add ginger, garlic, green chillies. Saute until brown. Add chopped tomatoes.
Add biryani masala, turmeric powder, red chilli powder, coriander powder.
Add chopped coriander and mint leaves. Mix well.
Add fried chicken. Cover and cook over medium heat for 10 minutes. Add water (if needed), and/or adjust with salt.
Add nutty paste. Cook for a couple minutes, then remove from heat and set aside.
Cooking Rice:
Soak rice for 30 minutes. Drain the water completely.
Boil water with half of masala (cardamom, cloves, & cinnamon). Add some olive oil & salt.
Heat ghee in pan. Add masala. Add cleaned/drained rice. Add boiled water and cook rice uncovered for 8-10 minutes.
Drain rice and spread rice on tray. Sprinkle with lemon juice, and set it aside to cool.
Garnish:
Heat ghee and fry onions until golden and crispy for 15 minutes.
Fry cashew and raisins until golden. Drain and remove onto paper towel and keep aside. Mix
Altogether:
Preheat oven to 350 degrees F.
Grease oven-proof dish. Spread half of chicken masala and some rice.
Layer with biryani masala, fried cashews & raisins, fried onions, chopped coriander leaves, mint leaves, and any leftover ghee.
Seal with aluminum foil
Bake for 20-30 minutes.

Jewish + Vegan
Vegan latkes
from senior Emily Milnamow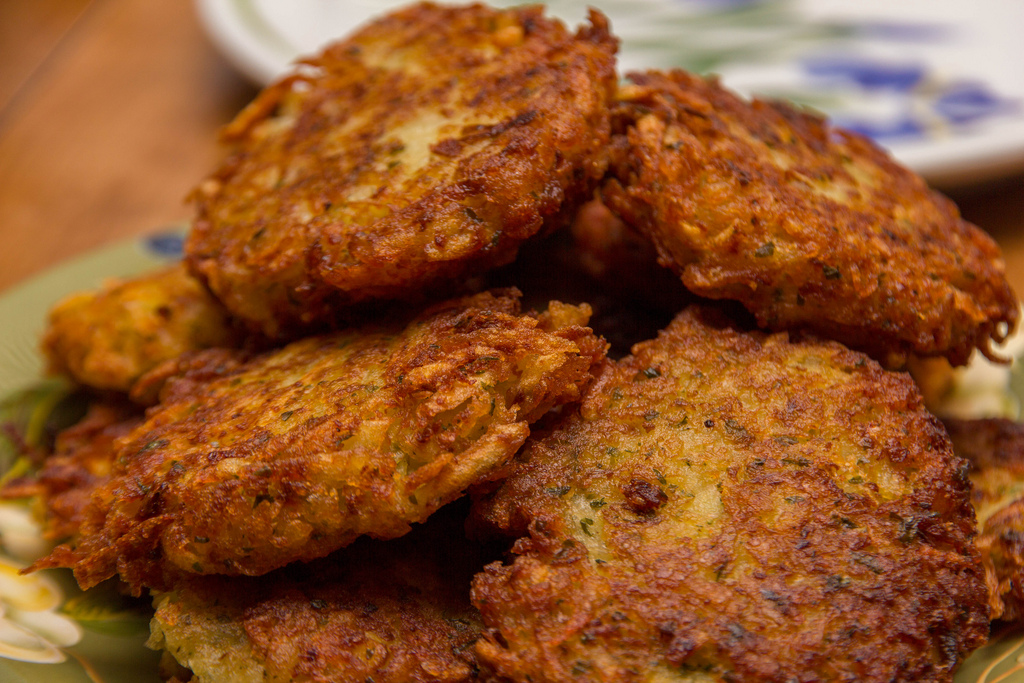 What you need
2 cups packed, grated, and drained potato
1/3 cup unbleached all purpose flour
3 tbsp sliced green onion
3 tbsp unsweetened nondairy milk
1 tbsp cornstarch
1 1/4 tsp salt
1/2 tsp baking powder
black pepper, to taste
vegetable oil, for frying (canola, olive, or coconut all work well)
The following ingredients are optional.
2 tbsp fresh, chopped dill
1/4 cup vegan cheese shreds
How to make:
Grate potatoes and squeeze out as much moisture as you can using paper towel.
Combine 2 cups grated potato, flour, green onion, almond milk, cornstarch, salt, baking powder, and black pepper (optional: add dill and vegan cheese.) Mix well to develop the gluten in the flour (which helps with binding.)
In a frying pan, preheat a generous amount of vegetable oil over medium heat.
Spoon 1/4-1/3 cup of potato mixture into the pan. Use a spatula or pancake flipper to flatten the patty to about 1/4″ thick. Fry until golden brown, flip, and fry the other side. Drain excess oil on paper towel if necessary.
Serve with your favourite toppings (we used sliced green onion, tzatziki, and black pepper.)

The Classic
Gingerbread men
What you need
3/4 cup unsalted butter
3/4 cup brown sugar, packed
3/4 cup molasses
1 teaspoon salt
2 teaspoons cinnamon
2 teaspoons ground ginger
1/4 teaspoon allspice or cloves
1 large egg
1 teaspoon baking powder
1/2 teaspoon baking soda
3 1/2 cups all-purpose flour
How to make
In a saucepan set over low heat, or in the microwave, melt butter, then stir in the brown sugar, molasses, salt, and spices.
Transfer the mixture to a medium-sized mixing bowl, let it cool to lukewarm, and beat in the egg.
Whisk the baking powder and soda into the flour, and then stir these dry ingredients into the molasses mixture. 
Divide the dough in half, and pat each half into a thick rectangle. Wrap well, and refrigerate for 1 hour or longer.
Preheat your oven to 350°F. Place several baking sheets.
Once the dough has chilled, take one piece of dough out of the refrigerator, and flour a work surface. Roll the dough 1/8″ to 1/4″ thick. Flour both the top and bottom of the dough if it starts to stick. Alternatively, place the dough on parchment, and put a sheet of plastic wrap over it as you roll, pulling the plastic to eliminate wrinkles as necessary when rolling; this will keep dough from sticking without the need for additional flour. 
Cut out shapes with a floured cookie cutter, cutting them as close to one another as possible to minimize waste. 
Transfer the cookies to ungreased cookie sheets (or, if you've rolled right onto the parchment, remove the dough scraps between the cookies). Bake the cookies just until they're slightly brown around the edges 8 to 12 minutes, or until they feel firm. Repeat with the remaining dough. 
Decorate!